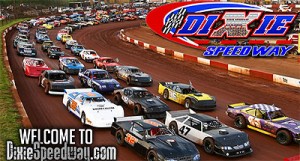 WOODSTOCK, Ga. — Thirty-one events await the fans and race teams that attend Dixie & Rome Speedways this season. Half a million dollars in purses and awards money, combined with many special events and added attractions will provide something for everyone in 2012.
"We're gearing up for a big season! I think we've about covered everything that anybody would want to watch or participate in at Dixie and Rome in 2012. The support of our many fans and race teams is what allows us to put together a season like this for them. The excitement is building as the first event draws closer and closer. I truly believe 2012 will be a great year," said Mickey Swims, President of Dixie and Rome Speedways.
The tracks will offer a strong line up for fans in the upcoming season headlined by the weekly "full racing program" that consists of the Super Late Models, Limited Late Models, Crate Late Models, Pony Stocks, Super and Econo Bombers, and Cruisers. Fans will be treated to over four hours of high speed action with adult grandstand admission just $10.00 and children 8 years old and under are admitted free of charge most Saturday nights.
The Pre-season racing action at Dixie will begin with two practice nights for all divisions Saturday nights, March 24th and 31st. Admission is free in the grandstands. The 9th Annual Spring Championships is set for Saturday night, April 14th.The USCS Winged Mini Sprint Nationals will make an appearance on Saturday night, April 21st along with a full racing program.
The official 2012 season opener and first points race of the season will take place Saturday night, May 5th. The AnnualM.U.S.T. Ministries food drive is scheduled for Saturday night, May 19th when grandstand admission will be just $5 when 5 non perishable food items are donated. Dixie's 43rd Anniversary Celebration on Saturday night, May 26th with a full racing program and the first Demolition Derby of the season.
Super Late Model drivers may have additional championships added to the 2012 schedule as they battle to accumulate points to win the title of 2012 Super Late Model Champion and the $2,500 points fund prize money. The Limited Late Models division that competes in the weekly full racing program will also have some "big bucks" to look forward to in their championship races. The Econo Bombers, Super Bombers, Crate Late Models, Pony Stocks and Cruisers will also have their night in the spot light with Championship races throughout the season. All 7 regular divisions compete for points each race and the top 5 finishers in each division receive point's money at the end of the season.
The USCS Winged Outlaw Sprint Cars come to town for a big night on Saturday night, July 14th for the USCS Outlaw Sprint Car Nationals. "Ladies Night" will be Saturday night, August 4th ladies will get a price break with only $5 adult grandstand admission.
Holiday weekends will be plenty festive again this year. Independence Day weekend, Dixie Speedway will host stock car racing and fireworks on Saturday night, June 30th. Labor Day weekend the track will also have a full stock car racing program along with a Championship Demolition Derby on Saturday night, September 1st.
Other special events at Dixie will include Kids Nights on the 2nd Saturday of each month with the ever popular Bicycle Races. All children are invited to bring their bicycle and helmet and compete by age group in a 1 lap race around the track. The top three finishers in each age group will be awarded a trophy. The Bike Races n Saturday night, August 11th is extra special, the winner in each age group will go home with a new bike.
The Monster Trucks will return to Woodstock for "The Fall Monster Truck Nationals". A star studded field of the nation's fastest Monster Trucks will wow the fans on Friday and Saturday night, September 21st & 22nd.
Dixie fans can also expect to see some of the best Super Late Model drivers in the country when they come in to challenge the "hometown heroes" for the $10,000 top prize money when the Lucas Oil Dirt Series comes to town. The season finale event at Dixie will be Saturday night, October 6th. The Lucas Oil Series moves to Rome Speedway on Sunday night, October 7th for the Lucas Oil Rome ShowDown paying another $10,000 to win.
The 2012 schedule of events for Rome Speedway in Rome, Georgia consists of6 specialevents. The season at Romekicks off with the 2012 Season Opener on Memorial Day weekend Sunday night, May 27th with a full racing program and $2,000 to win Super Late Model championship. On Sunday Night, June 17th the nation's fastest half mile clay oval will host $2,000 to win Super Late Model championship plus full racing program. Rome will celebrate the Fourth on July on Sunday night, July 1st with another Super Late ModelChampionship paying $2,000 to win plus a huge fireworks and a full racing program. Then on Sunday night, July 22nd theSouthern Nationals Series SuperLate Model Series makes a stop at Rome paying $5,300 to win, plus a full racing program. The 43rd annualRome Boss for Super Late Models will be on Sunday night, September 2nd plus a full racing program.
Come out and experience the excitement of Dirt Track Racing at the nation's longest running premier dirt tracks- Dixie Speedway in Woodstock GA and Rome Speedway in Rome GA.
For a detailed schedule of events for both tracks and/ or a 2012 rulebook visit www.dixiespeedway.com or call 770-926-5315.