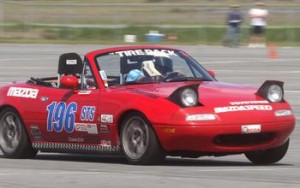 CECIL, Ga. — The Tire Rack SCCA Solo National Tour opened last weekend at South Georgia Motorsports Park, where the Dixie Region SCCA hosted 277 competitors.
A mild winter across the country had drivers itching to open their season, and, as a result, the entry list in Cecil was up 15 percent from a season ago.
The action on the Robert Lewis-designed course knocked off the winter rust with the close competition that goes along with a National Tour event. The Street Touring Sport class led the way with a miniscule 0.027-second margin of victory, with Knoxville, Tennessee's John Brown leading the way in a Mazda Miata. Tom O'Gorman, of Mason, Ohio, just missed the win in his Full Throttle Indoor Karting Honda CRX Si.
Street Touring Xtreme was nearly as close, with Jason Ruggles claiming a 0.137-second win behind the wheel of the Awesome Fossums Hair Care Mazda RX-8. Jim Fossum was the runner up in a Mazda RX-8, but only 0.458-second separated the top four drivers, with Dennis Sparks and Randall Prince also earning trophies. Prince held the opening day lead, but a big Sunday run by Ruggles was enough to claim the victory.
Multi-time champion Jinx Jordan moved from F Street Prepared to Street Modified FWD for 2012, and it's clear the attention to detail that served him so well in the former class has carried over. Despite trouble with the Hoosier/Karcepts/Hasport/OSGiken Honda Civic on both days, Jordan drove to a 0.212-second win over Taylor Carr's Honda Civic. Jordan's wife, Ginette, drove the car to a 2.342-second win in the Street Modified FWD Ladies class to complete the family's sweep.
The opener was also the debut of the supplemental Road Tire classes, which essentially takes the Stock Category classes and indexes them to determine a class winner. The class will spend the year testing the interest of competitors, and the enthusiasm for the opening weekend was apparent. Michael May (Road Tire FWD) in a Honda Fit, Daniel Shields (Road Tire RWD) in the Suncoast Porsche Porsche Boxster S, and Chris Harp (Road Tire AWD) in the Earl Duff Subaru/In10sity Subaru Impreza WRX go into the record books as the first class winners.
The Tire Rack Solo National Tour returns to action without a break, March 17-18, for the Texas National Tour at Texas A&M University in College Station, Texas. More information on the SCCA Solo progam is available at SCCA.com/solo.