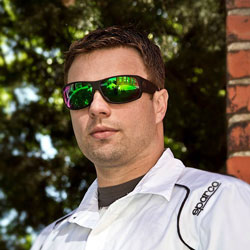 Formula DRIFT has announced Brian Eggert as the new judge for the 2012 Pro Championship. Eggert will be the third judge joining Andy Yen and Ryan Lanteigne on the panel.
Brian Eggert is an experienced drifting judge having worked with the USDrift Series and several other regional events. Eggert has also worked alongside Drift Association helping to co-create the Pro-Am Series for Formula DRIFT. Since 2003, Eggert has helped create regional chapters across the country in an effort to make safe and legal drifting accessible for enthusiasts of all skill levels. Through USDrift and NASA, Eggert has helped promote the sport of drifting and sanctions 8 organizations hosting events in over 20 states.
"I am very honored to be given the opportunity to work with Formula DRIFT and look forward to being able to continue help progress the sport of drifting," said Brian Eggert, Formula DRIFT judge. "The skill level in Formula DRIFT is unmatched and being able to work with the current judges will be a great experience. The judges in the Series have been made up of a remarkable group of people and I look forward to continuing my role in the Series."
Eggert will begin his role as judge at Round 1: Streets of Long Beach on April 6-7. He will be taking the position of Tony Angelo, who stepped down to return to the driver's seat and will be joining the current judges Andy Yen and Ryan Lanteigne.
"Brian is a great addition to the Series and the judging panel," said Jim Liaw, president and co-founder of Formula DRIFT. "His extensive experience and passion for the Sport will make him an asset and help make the proper judging calls throughout the season."
The 2012 Formula DRIFT season kicks off on the Streets of Long Beach on April 6-7.
ABOUT FORMULA DRIFT
Entering its ninth season, Formula DRIFT is recognized as the North American professional drifting championship. Established on the streets of Japan, drifting has evolved into a worldwide competitive sport that challenges each driver's driving ability and vehicle control. Formula DRIFT provides a forum for professional drifters to compete in 7 events nationwide for the coveted Formula DRIFT Championship crown. As the first official series in North America, Formula DRIFT has taken competitive motorsports to the extreme, attracting fans and car enthusiasts from all walks of life and establishes itself as the world-wide leader for the Sport. For a competition schedule and ticket information, visit: www.formuladrift.com.