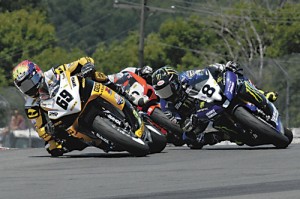 The lineup for the Historic Moto Grand Prix at this year's Triumph Big Kahuna Atlanta is growing by the day. Vintage racing veteran Alex McLean is the latest edition to the paddock, which will feature classic race motorcycles and former road racing champions in a special section of Braselton, Ga.'s Road Atlanta main paddock for the April 20-22, 2012 Triumph Big Kahuna Atlanta.
McLean and Bob McKeever's Norton Racing Team will be heading to the track with a four-machine stable of classic motorcycles including a Pre-40 Race Championship 1937 Norton, a 1948 Gardengate Norton Manx as raced at Daytona, as well as an original 1961 Norton Manx Featherbed Short Stroke and a 2011 replica of the same machine.
"Bob McKeever's Norton Race Team is thrilled to show and parade their race bikes at the Triumph Big Kahuna Atlanta in April," said McLean. "I'll be riding the Nortons, while guru mechanic Nobby Clark makes sure everything is in tune. Bob McKeever, only 92 years old, will see if his leathers still fit for some photo opportunities. Why not get a SuperBike/ SuperSport racer to bridge the gap and do a few laps? The invitation is open…"
Bob McKeever's Norton Racing Team not only has world-class vintage race machines, but is also full of world-renowned racing talent. Team owner McKeever, who earned a 14th place finish in the 1948 running of the Daytona 200, is joined by Nobby Clark, the famed mechanic and tuner for greats Mike Hailwood, Giacomo Agostini, Kenny Roberts and more, and the team is managed by Rob McKeever.
"The caliber of vintage motorcycles and raw racing talent that will be participating in the Historic Moto Grand Prix is just astounding," said Cameron Gray, CEO of M1 PowerSports. "I don't know that there has been a gathering of the world greats like this since the heyday of American motorcycle road racing. This part of the Triumph Big Kahuna Atlanta is sure to be a fan favorite."
Tickets for the Triumph Big Kahuna Atlanta begin at just $20 and that event is just the first of three M1 PowerSports-promoted events on the 2012 AMA Pro Road Racing calendar which make up the 2012 Triumph Big Kahuna Triple Crown. Get ready for Atlanta's biggest entertainment experience in years and grab your tickets now at the M1 PowerSports Big Kahuna Atlanta event page, located at http://www.m1powersports.com/big-kahuna-atlanta/. For tickets and information about the Big Kahuna Miami, scheduled for September 21 – 23, 2012 at Homestead-Miami Speedway in Homestead, Fla., visit http://www.m1powersports.com/big-kahuna-miami/. For tickets and information about the Big Kahuna New Orleans, scheduled for October 5 – 7, 2012 as the first professional motorsports event at NOLA Motorsports Park in New Orleans, La., visit http://www.m1powersports.com/big-kahuna-new-orleans/