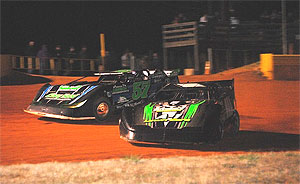 by Kelley Carlton
The second season of the ULTIMATE Super Late Model Series is set to get underway this Friday and Saturday night with a doubleheader at an outstanding pair of northern Georgia speedways. The series will visit Boyd's Speedway in Ringgold, Georgia on Friday night, March 30th and North Georgia Speedway in Chatsworth, Georgia on Saturday, March 31st. Both events will pay $4000 to the winner and mark the first ever visit for the ULTIMATE Super Late Model Series to each venue. Last weekend's scheduled season opener at Cleveland County Speedway was washed out and rescheduled for Friday, April 6th. So Mother Nature has moved the opening weekend back a week and so fat this weekend's early forecast looks very promising.
"This is going to be a great weekend of racing. We have been getting calls and emails from drivers and race fans from all over the southeast about these events. I have to admit that I am excited. Boyd's and North Georgia are two of my favorite race tracks to visit on our schedule. I have enjoyed so many awesome races at both. They are both very well known for exciting, side-by-side action and we expect nothing less than that this weekend. I appreciate the Harvey Family and Gar Dickson at Boyd's and the Ellis Family over at North Georgia for entrusting us to come in to their tracks and allow us to put on a show there. We realize that racers and race fans have choices and we want to give them the best program and entertainment for their hard-earned dollars. We are looking forward to both events and can't wait to get the season going." said ULTIMATE Series Director Kelley Carlton.
The weekend gets underway on Friday night at Boyd's Speedway in Ringgold, Georgia. Boyd's is a 1/3rd mile banked clay oval situated just south of the Tennessee / Georgia Stateline on I-75. Boyd's was built and opened in 1952 by namesake E.A. Boyd. It operated as an asphalt track from 1962 until 1976 and hosted many NASCAR legends and included many wins among the Allison's and the Petty's. The track returned to dirt in 1977 and has operated under several different names including Tennessee-Georgia Speedway and Stateline Speedway. After the Harvey family purchased the facility they chose to go with the track's original moniker. Also on the card at Boyd's will be Crate Late Models, A-Hobby, B-Hobby and Front Wheel Drives. Boyd's is located at 1481 Scruggs Road in Ringgold, Georgia. For more information on Boyd's Speedway including directions and ticket info visit www.boydsspeedway.net or call (706) 891-6803.
On Saturday night the ULTIMATE Super Late Model Series moves about an hour south down I-75 to Chatsworth, Georgia which is home to the all-new North Georgia Speedway. North Georgia Speedway is also a 1/3rd mile banked clay oval which is rich in history and heritage. North Georgia is beginning its first full racing season with the Ellis family at the helm. The Ellis', a racing family for generations, took over the lightning fast oval mid-season last year and revived the track and restored a strong weekly program. North Georgia is located at 300 North Georgia Raceway Road in Chatsworth, Georgia. North Georgia will also host a complete racing program in addition to the ULTIMATE Series event. For more information, including directions and ticket info, visit www.northgaspeedway.com or call (706) 695-3313.
The ULTIMATE Super Late Model Series would like to thank all of its marketing partners for their great and continuing support. Those 2012 sponsors include: Hoosier Race Tires, American Racer Tires, VP Racing Fuel, City Chevrolet, Vicci Apparel, RockAuto.com and FK Rod Ends. ULTIMATE would also like to welcome Cool Shirt, Five Star Bodies, Hooker Harness, Kooks Custom Headers, R2C Filters, Sisco Fire and Safety and Tiger Rear Ends to our line-up of product sponsors. If you are interested in becoming a sponsor of the ULTIMATE Super Late Model Series please contact Stan Lester at the FASTRAK Corporate Office at (678) 935-7304 or Series Director Kelley Carlton at (864) 871-1442. Visit the ULTIMATE Super Late Model Series online at www.ultimatesupers.com and be sure to like us our Facebook fan page.