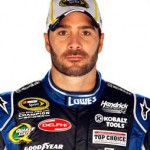 If last season's Victory Lane celebrations at Martinsville Speedway seemed a bit odd, consider that 2011 was the first time since 2002 that one of the track's current Big Three – Jimmie Johnson, Jeff Gordon and Denny Hamlin – failed to win at least one race.
The trio has combined to win 14 of the track's last 18 races.
Gordon had season sweeps in 2003 and 2005. Johnson did the same in 2007. Hamlin took care of business in 2010.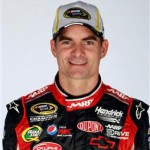 Interestingly, the only driver besides the Big Three to score multiple Martinsville victories in the past nine years is Tony Stewart, whose Tums Fast Relief 500 win last October was one of the keys to his third NASCAR Sprint Cup Series championship.
Hamlin returns to his home state track with plenty of momentum. He won in Phoenix and sat on the Coors Light Pole last week at Auto Club Speedway, where weather and pit strategy left Hamlin a disappointed 11th. He ranks seventh in points. By the way, Hamlin has six wins in his home state of Virginia. The biggest home state advantage? Richard Petty, with 54 wins in North Carolina.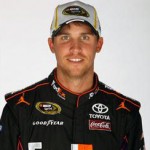 Johnson's fortunes continue to trend upward. He finished 10th in Southern California to reach the NASCAR Sprint Cup top 10 – a major rebound from a Daytona 500 finish of 42nd.
Gordon needs some Martinsville magic to restore the swagger the four-time champion enjoyed during last year's three-win campaign. He has a single top-10 finish during the year's first five races and stands 25th in points, 51 outside the top 10.
Based on last year, Gordon already may be thinking "wild card" qualification for entry into the Chase for the NASCAR Sprint Cup™. Brad Keselowski's three summer victories earned him a "wild card," but weren't enough to overcome a 50-point, top-10 deficit after five races in 2011.
No Waiting Around For Stewart This Time
Smoke's smokin' – and the calendar has just flipped over to spring.
Rarely a fast starter, Tony Stewart is the 2012 season's first double winner following his victory in Sunday's weather-shortened Auto Club 400 in Southern California.
In his NASCAR Sprint Cup Series career, Stewart never had won multiple races before May. Only six of the three-time champion's 46 wins – this year's included – have come prior to June. He climbed into a tie for 14th on the all-time series win list with 1956-57 champion Buck Baker.
All of which spells worry for Stewart-Haas Racing's driver/owner. Stewart climbed to fourth in the standings after winning in Fontana for the second time.
Just as Jimmie Johnson kept rolling after four of his five consecutive championships, Stewart is maintaining the momentum of his record Chase for the NASCAR Sprint Cup™ performance. He's won seven of his most recent 15 starts.
The last driver to go seven-for-15 over the end of one season and beginning of another was Jimmie Johnson. He did in 2009-10.
Stewart didn't just stand pat bringing aboard new director of competition Greg Zipadelli and crew chief Steve Addington.
"It's easy for teams, when they have success, to kind of slow down a little bit, take a breath, feel like they're exactly where they need to be," said Stewart following his most recent win. "That's probably the one thing I was most excited about through this winter, was watching our guys, listening to their comments about how excited they were to have the success we had, but how they were looking forward to next year and trying to be able to duplicate that."
Could Hendrick's 200th Win Belong to Junior?
Jeff Gordon and Jimmie Johnson have the wins. But Dale Earnhardt Jr. has the momentum. And the hunger.
Earnhardt's win drought has reached 134 races, but right now, it's no big deal. He's third in points, one of three drivers to have scored 30 or more points in every race and heads to arguably his best track.
In terms of Driver Rating, it is his best track. Earnhardt boasts a Martinsville Driver Rating of 99.0, his best at any track in the NASCAR Sprint Cup Series. Scoring three consecutive Martinsville top 10s coming into this race (including a runner-up finish last spring), Earnhardt certainly has the skill to take home the oddly elusive 200th win for Hendrick Motorsports.
Whichever driver it is, there would be no better spot for win No. 200 than the tiny Virginia track. You want storybook? This is it.
Hendrick has more wins at Martinsville (18) than any other track, and one more would tie Petty Enterprises for most all time.
The team's first win came at Martinsville, way back in 1984, so there's the "full circle" angle.
And emotionally, no track holds more memories – good and bad – for owner Rick Hendrick than Martinsville. In 2004, Hendrick lost his son Ricky in a plane crash that killed all 10 passengers. The plane, owned by Hendrick Motorsports, was on its way to the NASCAR Sprint Cup race at Martinsville that day.
Harvick's Martinsville Victory Proved Closer Role
Kevin Harvick's last-lap take-down of five-time NASCAR Sprint Cup Series Champion Jimmie Johnson in Southern California last year earned him the moniker "The Closer," and the repeat performance at Martinsville Speedway provided the exclamation point.
It also broke more than a few hearts.
Martinsville's victim was Dale Earnhardt Jr., on point to ending a still standing winless streak after dispatching Kyle Busch with the race's 30th lead change. It wasn't to be. Harvick nudged Junior aside with four laps remaining, moving up five spots in the championship standings.
Harvick, who will become the 50th driver to start 400 NASCAR Sprint Cup races on Sunday, went on to finish third in points for the second straight season. He enters Sunday's Goody's Fast Relief 500 second, seven points behind leader Greg Biffle, with a best finish of second at Phoenix International Raceway. Harvick finished fourth in Sunday's weather-shortened Auto Club 400.
He'll also do double duty competing for the first time in a Richard Childress Racing-prepared Chevrolet in Saturday's NASCAR Camping World Truck Series Kroger 250 – a race Harvick won in 2009-10.
Four of Harvick's 18 career victories have come on short tracks – Martinsville, Bristol and twice at Richmond. He has three consecutive finishes among the top five at Martinsville and has finished no worse than 12th in eight of the past nine races. His Martinsville Driver Rating of 94.4 is seventh best.
Vickers Faces Challenges To Maintain 'Super Sub' Status
Brian Vickers returns to Michael Waltrip Racing's No. 55 Toyota at Martinsville Speedway buoyed by his top-five finish at Bristol Motor Speedway in the combination's debut.
Five races into the 2012 season, MWR's plan is working. The combination of Vickers and Mark Martin has put the team into the top 10 in NASCAR Sprint Cup owner championship points along with the No. 56 of Martin Truex Jr. and No. 15 of Clint Bowyer.
Vickers has work to do at Martinsville, where a sixth-place finish in 2010 is his best of two top-10 finishes in 13 starts. He has yet to lead a lap around the 0.526-mile "paperclip" layout and has finished on the lead lap six times.
Bowyer led 91 laps of last year's Martinsville spring race and finished ninth. In the fall race, well, his luck wasn't as pronounced. Vickers' No. 83 Toyota was listed in five of the 18 caution periods.
NASCAR Sprint Cup Series, Etc.
The NASCAR Foundation is seeking passionate NASCAR fans who are making an impact with children in communities across the country to submit nominations for the 2012 Betty Jane France Humanitarian Award.  Nominations are being accepted through May 31 at NASCAR.com/foundation, with the recipient being awarded with $100,000 from the NASCAR Foundation toward the children's charity of their choice. … The Sprint Fan Vote is open for the NASCAR Sprint All-Star Race on May 19. Click here to vote. … Ryan Newman continues his journey to become the ninth driver to win 50 career NASCAR Sprint Cup poles. He has three career poles at Martinsville. … On Sunday, the Southern New Hampshire University's NASCAR Kinetics team will be hosting an official "Ms. Brown M&M's NASCAR Viewing Party" at Jillian's Billiards Club in Manchester, N.H.
Season-Opening Stretch Of 2012 Has Been Red Hot
With five races in the books, the NASCAR Nationwide Series heads into the first break of the season leaving fans begging for more. Not since 1995 have four of the first five races of the season been won by drivers who are not full-time in the NASCAR Sprint Cup Series. The great competition has broadened the spotlight on the brightest stars of the NNS.
Leading the series points-eligible brigade is Richard Childress Racing driver Elliott Sadler. He sits atop the series standings, 18 points ahead of 2011 series champion Ricky Stenhouse Jr. Sadler has posted one pole, two wins (Phoenix and Bristol), four top fives and five top 10s. He leads the series in season-to-date Driver Rating with 115.2.
Stenhouse isn't far off Sadler's pace. He's posted one win (Las Vegas), three top fives and four top 10s, picking up where he left off last season, contending for a championship. He's second to Sadler in season-to-date Driver Rating (114.7) but does lead the series in Average Running Position with a 6.524.
Stenhouse's Roush Fenway Racing teammate and 2011 Daytona 500 champion Trevor Bayne also is having a great start to his season. He is fourth in the standings, 34 points behind Sadler. Bayne has posted one top-five and three top-10 finishes this season with a season-to-date Driver Rating of 102.1.
Two of the newest faces to the series, Sunoco Rookie of the Year contenders Austin Dillon, third in the standings, and Cole Whitt, sixth, have been at or near the top echelon so far. Dillon is 27 points behind RCR teammate Sadler in series driver standings having posted three top fives and four top 10s. In doing so, he leads the rookie of the year standings – but just 15 points ahead of Whitt.  Whitt, driving for JR Motorsports, has posted one top five and two top 10s with a season-to-date Driver Rating of 83.9.
Sam Hornish Jr. has started strong as well this season for Penske Racing, currently fifth in the standings with two top-10 finishes.  His season-to-date Driver Rating is 91.6.
NASCAR Ladder System Proving Its Worth
Like other major sports with minor leagues and college athletics, NASCAR has a ladder system to identify the best and brightest drivers through strong competition across its developmental series. To be the best you have to beat the best, and the start of 2012 has given examples of how well the system works.
Numerous NASCAR Sprint Cup stars got their starts in NASCAR developmental series and currently comprise the majority of the top five in the NASCAR Sprint Cup Series standings heading to Martinsville. Greg Biffle, the NSCS standings leader, is a former NASCAR Camping World Truck Series (2000) and NASCAR Nationwide Series (2002) champion. Kevin Harvick, second in the standings, is a two-time NASCAR Nationwide Series champion (2001, 2006) as is third-ranked Dale Earnhardt Jr. (1998-99) and fifth-ranked Martin Truex Jr. (2004-05), the latter in the midst of a breakout NASCAR Sprint Cup season.
Competition Update: Five Races Into 2012 Season
0.259 seconds – The closest margin of victory (Phoenix) in the first five races this season.
1 – Point Standings leader throughout the first five races – Sadler
4 – Different drivers to win: Sadler (2; Phoenix and Bristol), Stenhouse (1; Las Vegas), James Buescher (1; Daytona) and Joey Logano (1; Auto Club Speedway).
4 – Different Coors Light pole winners: Logano (2; Bristol and Auto Club), Danica Patrick (1; Daytona), Sadler (1; Las Vegas) and Denny Hamlin (1; Phoenix).
12 – Different drivers have accumulated at least one Bonus Point – led by Sadler with 11.
41 – Number of Leaders: Daytona (16), Phoenix (5), Las Vegas (8), Bristol (5) and Auto Club (7). Forty-one is the sixth largest number of leaders in the first fives races behind 2010, 2007 (46 leaders); 2006 (44); 1997 (43); and 2008 (42).
74 – Number of Lead Changes: Daytona (38), Phoenix (8), Las Vegas (8), Bristol (5) and Auto Club (15). Seventy-four lead changes ties with 2006 for the third most lead changes in the first five races of the season behind 2007 (77 lead changes) and 1997 (76 lead changes).
NASCAR Nationwide Series, Etc.
When racing resumes at Texas next month, the top 30 automatic qualifiers will be derived from 2012 owner points vs. 2011 owner points that were in play for the first five races. ML Motorsports and Sunoco Rookie of the Year candidate Johanna Long find themselves in 31st, two points out of the cutoff spot. The No. 70 Chevrolet will have to qualify on time at Texas. … DeLana Harvick, owner of the No. 2 Chevrolet, leads the owner standings by 18 points over the No. 6 Ford of Jack Roush. … On March 27, Austin Dillon, his younger brother and NASCAR Camping World Truck competitor Ty and their team owner – and grandfather – Richard Childress toured the Walter Reed National Military Medical Center and attended the 8th Annual Armed Forces Foundation Congressional Gala in Washington, D.C. Jeff Burton and Kurt Busch also were scheduled to attend. … TriStar Motorsports driver Tayler Malsam, crew chief Eddie Pardue, team president Mark Smith and Jeffrey Loch, President and CMO of G-Oil, which sponsors the No. 19 Toyota, will visit with Two Guys Garage host Kevin Byrd this week to shoot an episode to air on SPEED later this spring.
Past Two Spring Winners Sauter, Harvick Ready To Battle Again
Two competitors with victories in the past three spring races at Martinsville Speedway will face off again in Saturday's NASCAR Camping World Truck Series Kroger 250.
Johnny Sauter, last year's race winner, returns with his No. 13 ThorSport Racing team hoping to erase the disappointment of a season that could have been. Sauter led the points through much of 2011 before finishing runner-up to now NASCAR Nationwide Series Sunoco Rookie of the Year contender Austin Dillon.
Sauter, now driving a Toyota, passed Kyle Busch to lead the final two laps a year ago then finished fourth – a spot behind championship rival Dillon – in the track's fall Kroger 200.
To successfully defend his 2011 victory, Sauter will have to out-race 2009-10 Kroger 250 winner Kevin Harvick. Harvick won in his own Kevin Harvick Inc. Chevrolet but returns to Martinsville to make his debut in a Richard Childress Racing entry.
Harvick finished fourth to Sauter a year ago but is among the top active performers in Martinsville. The Bakersfield, Calif. veteran counts his two wins among six top-five and eight top-10 finishes in his 13 starts. His 2010 victory was among the track's most dominant performances as Harvick led 187 of 250 laps.
Former series rookie of the year David Reutimann is the only other NASCAR Sprint Cup points-eligible driver entered in Saturday's race.
Red Horse Racing Hopes To Carry Daytona Momentum To Martinsville
This week figures to be a big one for Red Horse Racing, which hopes to back up its one-two and sixth-place finishes in February's season-opening race at Daytona International Speedway.
Red Horse, jointly owned by Tom DeLoach and Jeff Hammond, has enjoyed an extended celebration of the team's Daytona Speedweeks performance – and Sunoco Rookie of the Year John King's race victory and spot atop the NASCAR Camping World Truck points standings.
King will make his second Martinsville appearance Saturday, having previously finished 19th in the track's 2010 fall race at the wheel of an SS Green Light Racing entry.
Daytona runner-up Timothy Peters is no stranger to Martinsville. It's Peters' home track and the site of his first NASCAR Camping World Truck victory in the fall of 2009.
The organization's third entry is Todd Bodine, who's chasing a third NASCAR Camping World Truck championship on a race-to-race basis. Bodine, the sixth-place finisher in Daytona, remains winless on series tracks measuring less than a mile. He'd very much like to make his 17th trip to Martinsville the race that ends the streak. Bodine, who went to high school in nearby Rocky Mount, Va., has second-place finishes at the track in 2007 and 2009.
Kroger 250 A Coming Out Party For Series Newcomers
Martinsville Speedway is a great place to start your NCWTS career. The 0.526-mile track is the smallest on the schedule and arguably the most demanding, requiring driver-to-crew chief communication on the truck's set-up and the patience to keep the emotions in check while ignoring the bumping and banging.
Do well in the Kroger 250 and a driver is well on his or her way to success. Several newcomers hope to make their series debuts on Saturday:
•    Jeb Burton, 19, Halifax, Va., is the latest competitor to join one of Virginia's most storied families on the NASCAR national series level. His father, Ward, is the 2002 Daytona 500 winner. Burton's uncle, Jeff, is a 21-time NASCAR Sprint Cup winner.
•    Caleb Holman, 28, Abingdon, Va., made five NNS starts between 2003 and 2007.
•    Brennan Newberry, 22, Bakersfield, Calif., has nine K&N Pro Series West starts under his seatbelt with a best finish of fifth in last year's race at The Bullring at Las Vegas Motor Speedway.
•    Natalie Sather, 27, Shelby, N.C., finished second in NASCAR Whelen late model points at South Boston (Va.) Speedway. The Drive for Diversity graduate, whose nickname is "Speed," is a former Knoxville (Iowa) Speedway 360 sprint car rookie of the year.
NASCAR Camping World Truck Series, Etc.
Jeff Hensley hails from Ridgeway, Va., and has a knack for finding the right combination at his home track. In addition to winning with Peters in the fall of 2009, Hensley helmed Mike Skinner's Martinsville season sweep in 2007. He's bidding for NCWTS win No. 13 with 2010 Martinsville fall winner Ron Hornaday Jr. … Hornaday's owner, Joe Denette, is from Fredericksburg, Va.