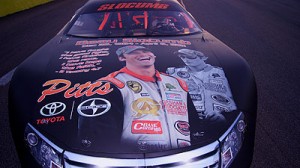 If you have to finish second in the biggest Pro Late Model race of the season, then doing it to your teammate is not a bad way to be the runner-up. TJ Reaid followed his Bill Elliott Racing teammate Chase Elliott across the line in the second-annual Beau Slocumb Memorial 208 at Gresham Motorsports Park (GA). For Reaid it was his second big podium finish after coming home the runner-up at the Rattler 250 last month.
"Tonight was really good for us," said Reaid after the race. "It had to have been an awesome show for the fans. There were three real competitive cars on three different strategies in final part of the race. The car got a little tight at the end, but we were able to hold off Augie (Grill) and get a solid finish on the podium again.'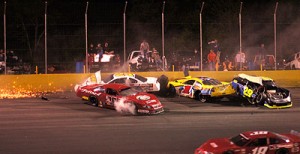 The race was broken down into three segments and Reaid finished fourth in the first one, third in the second and second in the final segment, which counted for the overall victory in the event. Reaid came in and got tires before the end of the second segment and followed his teammate Elliott back to the front.
"The transmission we had in our car wouldn't go on restarts," added Reaid. "When they would lug the restarts down, the car would never fire. We had to work around that and we got a good jump one time, but had to give it back. When we got (new) tires, we lost ground because of it. All in all it was a great one-two finish for Bill Elliott Racing."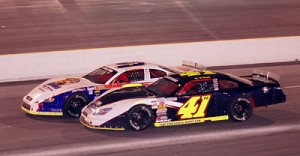 It was also fitting that Elliott and Reaid, two Georgia natives, won the race which honored the late Beau Slocumb, a Georgia Late Model driver who lost his battle with cancer last April. Both drivers raced against Slocumb and knew him well before he passed away.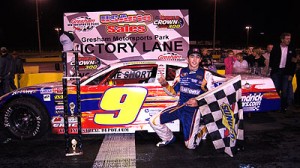 'Chase and I both did a lot of racing with Beau," added Reaid. "We rubbed wheels a lot with him in the past and I am sure he was watching tonight smiling as we ran the race."
It will be a short turn-around for Reaid as he will head to Anderson, Indiana for the ARCA / CRA Series opener at Anderson Speedway. The high-banked quarter mile will be a new venue for Reaid as he goes back with the Bill Elliott Racing team that almost won the Redbud 300 there last year.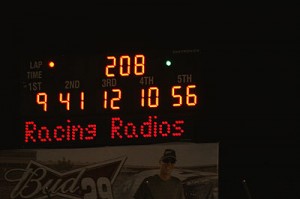 "We look forward to going up there," said Reaid. "I have never been to the place, but it's like I do really well at the places I have never been to."
For more information on TJ Reaid contact Matt Kentfield at matt@51sports.net and be sure to check out his website at TJReiad.com