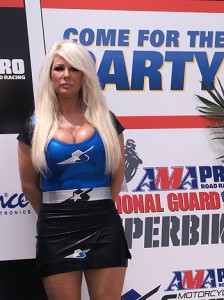 James Rispoli and Jake Lewis put on a show at Road Atlanta, with the two AMA Pro Motorcycle-Superstore.com SuperSport aces splitting the wins in Georgia. It was a tale of the king and the young challenger dueling to a draw.
Defending Motorcycle-Superstore.com SuperSport National Champion Rispoli (Orient Express Celtic Racing) won Saturday's race when he made it through lapped traffic better late in the race, but he never really shook the upstart 16-year-old. Lewis (Riders Discount Vesrah Suzuki) returned the favor on Sunday, aided by a red flag that stopped the race early.
The 20-year-old Rispoli was actually leading on the red flag lap, but as they were the only two riders on the lead lap, scoring was reverted to the last lap completed by the entire field. Lewis, who perhaps looked a little stronger on Sunday, was declared the winner.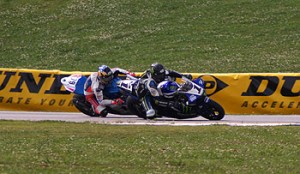 In Saturday's contest Rispoli, officially registered as a Motorcycle-Superstore.com SuperSport West division competitor but contesting all the races, had a "freebie" at his disposal but he made the most of it. A race-long battle meant he needed to make something happen to come out on top.
"We wanted to see who could run the pace. It was going to be hard once we had 'plus five' on the board. We were having a lot of fun," said Rispoli. "(Jake) was obviously stronger going down into Turn 10A, so I had to find something somewhere else. I went into Turn 1, got a good drive, and got it through."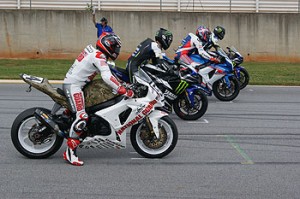 "James dropped the hammer," said Lewis, who complimented Rispoli on his race. Lewis earned the lap leader point on Saturday. "With James on me, I couldn't slow down very much."
Dustin Dominguez (Castrol Triumph) won the battle for third on Saturday ahead of Travis Wyman (Harv's Harley Davidson) and Stefano Mesa (Kneedragers.com Yamaha).
Hayden Gillim (RoadRaceFactory/Red Bull) led the battle for third but faded with tire issues. He still managed sixth, just ahead of Miles Thornton (Eyeball Yamaha), Elena Myers (SuzukiScoopFans SportbikeTrackGear.com M4 Suzuki), Tomas Puerta (RoadRaceFactory/ Red Bull) and Corey Alexander (National Guard Fairhills Group).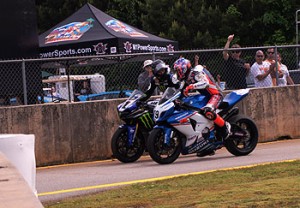 On Sunday, the 16-lap race was red flagged and called official after 11 laps, with Lewis getting his first AMA Pro win over friend and training partner Rispoli.
"I led most of the race and James and I had an awesome battle," said Lewis. "I felt more comfortable out front. Yesterday I got a little unlucky with a lapper and today I got a little lucky with the red flag taking it back a lap."
"It was a good overall race," said Rispoli, who crashed Sunday morning. "I could do a few more moves that Jake couldn't because it isn't a points paying round for me but congratulations to Jake."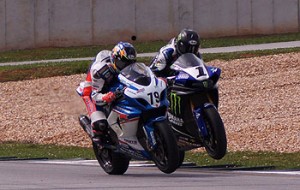 Dominguez was once again third but closer to the front on Sunday. "I didn't get the start I wanted but I put my head down and tried to charge as much as I could," said Dominguez. "I could see them ahead of me but I couldn't reel them in. It would have been fun to be up with them but we're happy with the points we got out of it."
Fourth was Gillim, who used a harder tire and stiffed up the suspension on his Yamaha for Race 2.
Mesa finished fifth again, ahead of Wyman and Puerta. Mesa now leads the chase for the $2,500 Sunoco "Go The Distance" Award, given to the rider that completes the furthest total distance in 2012 AMA Pro Road Racing race-weekend events, with 471.99 miles in 161 laps.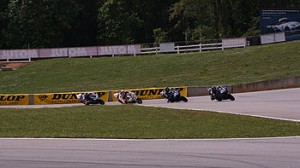 Myers finished eighth on the track but was penalized for repeatedly cutting the course in Turn 3. That elevated Ryan Kerr (RFC Kawasaki) one position. Local talent Jake Morman (Apex Racing Services) rounded out the top ten.
Lewis now leads the AMA Pro Motorcycle-Superstore.com SuperSport East division points by 15 over Mesa, 82-57. Puerta is a further eight points back with 59.
Next Event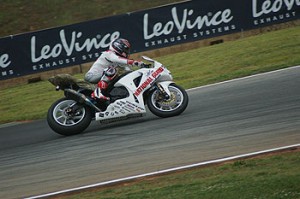 AMA Pro Road Racing will next head west for Round 3 with a stop at scenic Sonoma, Calif. The Great Clips West Coast Moto Jam will take place at Infineon Raceway in two weeks time, May 4-6. For tickets and event information, please visit www.infineonraceway.com.