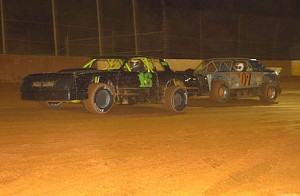 Mother nature was the only winner this past Saturday night, May 13, at Senoia Raceway.  For the second time this season, rain stopped the action at the 3/8ths mile speed plant.  The show was never able to get underway despite the efforts of track officials
Race fans and racers who were in attendance at Saturday's cancelled event can exchange their admission passes for entry into either of the events the next two weekends
This upcoming Saturday, May 19th, Senoia Raceway will introduce the newly created Jewel Series.  The three night series will begin with this weekend's Emerald race and will include double features for the Jodeco Auto Sales Late Models, Newnan Bonding B Cadets, Summit Racing Equipment Hobby Stocks, Mini Stocks and Bombers.  Drivers will accumulate points for each feature race during the Jewel Series events with the top finishers in each division receiving additional awards at the end of the season.  The points awarded each night will also be included in the overall season tally for track titles.  Other Jewel Series events are slated for July (Ruby Race) and September (Diamond Race)
Saturday, May 19th, the Jodeco Auto Sales Late Models will run Twin 20's with each feature paying $500 to win.  The Newnan Bonding B Cadets and Summit Racing Equipment Hobby Stocks will run a pair of 12-lap main events while the Mini Stocks and Bombers will each run a pair of ten lap features.  Both features pay a separate purse and award points.
The following Saturday, May 26th, Senoia Raceway honors our nation's heroes with a special Memorial Day weekend event.  All five weekly divisions will be competing along with the Modified Minis.  After the races there will be a huge display of fireworks.
"We hope the fans get to see a few sparks on the track," said promoter Tim Moses.  "Because we will light the sky with sparks afterwards.  It will be a special night for the fans and drivers of Senoia Raceway.
Gate times and ticket prices will remain the same over the next two Saturday night special events.  The pit gates will open at 5pm.  Grandstand gates will open at 6pm.  Hot laps are at 7pm with the first green flag set to fly at 8pm.  Ticket prices are $12 for adult grandstand admission, $5 for children ages six through twelve while children five and under are admitted for free.
For additional information on Senoia Raceway, visit the speedway website at www.senoiaraceway.com, join their family of friends on Facebook or call the speedway at 770-599-6161.
Current Top 10 Point Standings (As of May 13, 2012)
® denotes rookie of the year contender
Jodeco Auto Sales Late Models
1-Tod Darda #91 (288)  2-Jason Williams #73 (285)  3-Shane Fulcher #9 (268)  4-Glenn Morris #27 (264)  5-Dana Eiland #K9 (253)  6-Laddie Fulcher #29 (250)  7-Craig Scott #0 (244)  8-Trey White #16 (240)  9-Troy Tyson #T11 (236)  10-Joe Armistead, Jr. #21 (200)
Newnan Bonding B Cadets
1-Dow Kirkland #K3 (291)  2-Thomas Mewborn #18 (288)  3-Corey Payton #24c (264)  4-Jeff Carter #3 (248)  5-TJ Joiner #11 (240)  6-Bill Pitt #25 ® (182)  7-Buck Williams #03 (179)  8-Johnny Stinchcomb #21 (168)  9-Marcus Caswell #17 (164)  10-Mike Johnson #19 ® (163)
Summit Racing Equipment Hobby Stocks
1-Clifton Moran #007 (297)  2-Kerry Carden #12 (285)  3-Bill Brown #B15 (258)  4-Mike Jenkins #1J (244)  5-Dusty Jones #42J ® 191  6-Zack Sockwell #03z (170)  7-Blant Duke #01 (168)  8-Mike Parker #4 (166)  9-Gary Brand #07 (164)  10-Wayne Scott #22 ® (148)
Mini Stocks
1-Stephen Hill #16 (297)  2-Gary Parker #13 (267)  3-Dorough Bright #0 (265)  4-Bo Chambers #3 (246)  5-Brandon Bright #02 (224)  6-Rocky Johnson #21 (180)  7-Brandon Libri #23 ® 175  8-Robert Caldwell #27 (162)  9-Erik Hogsed #16 (94)  10-Matt Swancey #3 ® (91)
Bombers
1-David Johnson #7 (294)  2-Taylor Cozad #E15 (288)  3-Jonathan Hemmings #2 (262)  4-Lee Owenby #19 (188)  5-Pappy Powell #88 (180)  6-Casey Bruce #23 (168)  7-Robbie Hogeland #28 (97)  8-Jessie Wilson #6 (91)  9-Jay Conner #20 (88)  10-Russell Frost #F06 (84)