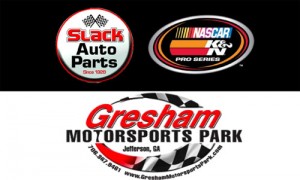 Discounts, discounts and more discounts! This year, Gresham Motorsports Park is giving fans more discount opportunities than ever and fans can receive a $5 discount to the Slack Auto Parts 150 NASCAR K&N Pro Series East race on June 9th.
Slack Auto Parts is offering a $5 discount coupon to race fans that stop in to any Slack Auto Parts locations. If you aren't familiar with Slack Auto Parts, now is a good time to check out everything they offer in the auto parts business. GMP is proud to partner with Slack Auto Parts, the official sponsor of the Slack Auto Parts 150 NASCAR K&N Pro Series East race.
In the parts business since 1928, Slack Auto Parts strives to provide the best service, with the best prices on the most recognized names in the industry. With locations all over Northeast Georgia from Buford to Dawsonville to Cornelia, there is most likely a Slack Auto Parts in your community. For more information about Slack Auto Parts, please visit www.slackautoparts.com.
The NASCAR K&N Pro Series races are quickly becoming some of the most popular and the most exciting races in the country! Some of the most recognized names in NASCAR including, Joey Logano, Denny Hamlin, Kyle Busch, Cole Whitt and Max Gresham, launched their NASCAR careers from the driver's seat of a NASCAR K&N Pro Series car.
With young drivers like Chase Elliott, Ben Kennedy, Stephen Nasse, Travis Pastrana, Darrell Wallace Jr., Brett Moffitt and many others, current NASCAR Sprint Cup drivers could have some heavy competition in the near future! On June 9, fans will have the opportunity to meet all of the local division drivers, as well as the NASCAR K&N drivers and some of the next Stars of NASCAR at GMP from 5pm-6pm for the on-track autograph session.
Only thirteen points make up the difference between fifth and first place in the standings. Elliott leads in points after the Blue Ox 100 with 115 points, pushing Kennedy to second place with 111 points. Corey LaJoie, Brandon Gdovic and Kyle Larson round out the top five in point standings for the NASCAR K&N Pro Series East. For a full list of point standings, please visit www.hometracks.nascar.com.
The Slack Auto Parts 150 will be on June 9, 2012 at GMP. Adult general admission is $30 (senior and military discounts are available) and kids 12 and under are FREE!
Trackside parking is sure to sell out early, buy an annual trackside space today! Unless you have an annual trackside parking space, parking spaces are sold on a first-come-first-serve basis. To reserve your trackside parking space, please call (706) 367-9461.
The Monster Energy Drink girls will be at the Slack Auto Parts 150! They will be giving out Monster apparel, so stop by the Monster tent to see them!
GMP will be giving away another pair of tickets to Talladega Super Speedway for the NASCAR Camping World Truck Race and the NASCAR Sprint Cup race on October 6-7. Sign up to win at the ticket gates (one entry per person, please).
Kipper Tool will be selling raffle tickets for $5 or five for $20. Winners of the raffle can win awesome prizes! Kipper Tool gift cards, tickets to Talladega, tool sets, a Honda generator, passes to Atlanta Motorsports Park, a Spa gift certificate, autographed NASCAR memorabilia and many other prizes will be given away at the Slack Auto Parts 150 and the Commerce Chrysler Dodge Jeep Ram World Crown 300.
The night of the Slack Auto Parts 150, Slack Auto Parts will be giving away FREE hats and t-shirts. Texas Roadhouse in Gainesville and WalMart in Commerce have donated gift cards to be given away in trackside parking.
Order your Coca-Cola combo meal from the concession stands! Dessert is a big deal, especially during the summer months, and fans can find Dippin' Dots, Pecan Pie and Homemade Strawberry Shortcakes at GMP!
He's back again by popular demand! Jacob Bryant, a native of Jasper, GA, will be opening the night's race events by singing the National Anthem during the opening ceremonies at 6 pm.
Make your lodging reservations now- hotels fill up quickly! Comfort Suites in Commerce, GA is offering a discount to anyone who stays with them for the Slack Auto Parts 150. Simply mention that you are staying for the race and receive a discount! For more information or to book your room, please call Comfort Suites at (706) 336-0000
For more information about the NASCAR K&N Pro Series East race at GMP, please visit www.RaceGMP.com. Follow GMP on facebook (Gresham Motorsports Park) and twitter (GreshamMP).