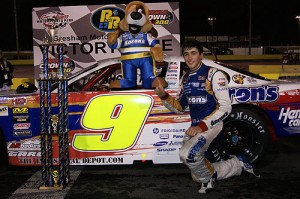 May 14, 2012 – Chase Elliott came home first for the second time at Gresham Motorsports Park in this 2012 racing season. The Racing Radios 100 Super Late Model event was the second race for the Georgia short track this year, the first being the Beau Slocumb Memorial 208 presented by US Auto Sales in April, which the pilot of the No. 9 also won.
Elliott's teammate TJ Reaid started on the pole after the top-four spots were inverted following qualifying where Clay Alexander set the fast time. Reaid led the first handful of laps and even extended that lead to almost a second over Elliott. After an incident on lap 16, Reaid jumped the restart and was shown the black flag. Alexander took over the lead.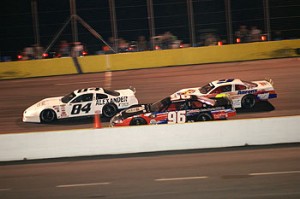 Nasse got around Alexander for the top spot on lap 20 and dominated the majority of the race with almost a two-second lead over second place. Elliott's third teammate, Ben Kennedy, worked his way through the field and whittled Nasse's lead down to a car length by lap 74. Just a few laps later Nasse's car began smoking from the right front and he headed to the pits giving Kennedy the lead.
Following a caution for debris on lap 83, Kennedy jumped the restart and was given a penalty that put Elliott in the top spot. The red flag was shown immediately after that restart when Brandon Jones and Jimmy Henderson came together on the front stretch sending Jones hard into the inside wall. Once the red flag was lifted, Elliott held off a hard-charging Bubba Pollard to take the checkered flag.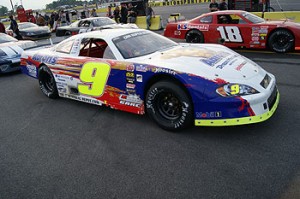 "It's always fun to race against Bubba Pollard," Elliott said. "He's always a clean racer and I've been fortunate enough to race against him a lot here in the past couple of years and I hope we do a lot in the future."
Elliott's teammates, Kennedy and Reaid, ended up fifth and tenth, respectively, after serving their penalties.
"I wish my teammates woulda had a better night. I really felt like TJ and Ben both had really fast race cars and they both would've been very hard to beat," Elliott said. "I hate that that happened but unfortunately that's racing and I'm sure they'll be just as good if not better next year."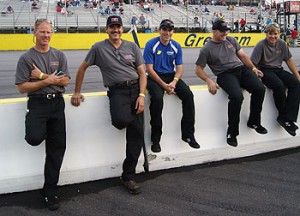 Paul Kelley came home third behind Elliott and Pollard with Alexander and Kennedy completing the top-five.
Racing action will return to Gresham Motorsports Park on Saturday, June 9th, with the Slack Auto Parts 150 NASCAR K&N Pro Series East race and the track's local divisions.
For more information, please visit www.RaceGMP .com or follow us on facebook (Gresham Motorsports Park) and Twitter (GreshamMP).
Unofficial Racing Radios 100 Results
1. 9 Chase Elliott
2. 26 Bubba Pollard
3. 10k Paul Kelley
4. 84 Clay Alexander
5. 96 Ben Kennedy
6. 10 Shawn Simpson
7. 98 Ryan Blaney
8. 75 David Odell
9. 56 Gus Dean
10. 41 TJ Reaid
11. 47 Allen Karnes
12. 36 Rodney Benefield
13. 33 Brandon Jones
14. 18 Jimmy Henderson
15. 51 Stephen Nasse
16. 71 Jimmy Doyle
17. 12 Scott Hensley
18. 2 Donnie Wilson
19. 23 Dalton Grindle