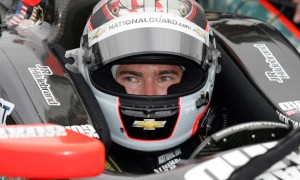 FORT WORTH, Texas — It didn't pay to be the leader of Saturday night's Firestone 550 IZOD IndyCar Series race at Texas Motor Speedway until nearly the final lap.
Misfortune overcame several leaders – including Grahal Rahal being just two laps away from his first win since 2008 – and it was Justin Wilson who capitalized with a stunning victory in the Firestone 550.
Wilson (No. 18 Sonny's BBQ Honda) seemed destined to finish second, but Rahal hit the wall in Turn 4 with just over two laps to go. He hung on, but his 1.5-second lead quickly evaporated as Wilson cruised by the damaged No. 38 Service Central Honda en route to his first IZOD IndyCar Series win since Watkins Glen in 2009. It was a span of 42 starts between wins for the 33-year-old Brit.
"Just really happy to get my first win on an oval," Wilson said. "It was a lot of fun. … Towards the end there, I was chasing him down getting closer and closer. I know we were pushing it pretty hard sideways a lot and when I saw him brush the wall, that's when I really knew we had a chance to pull this off. I passed him coming out of (Turn) 2. I was actually sideways myself because of that, had to lift, tighten my line. It was getting pretty loose."
Added Rahal: "Yeah, I just made a mistake. We should be in the winner's circle right now; there's no doubt. Something I'll learn from and move on. But after four years of not being there, it would have been a hell of a lot of pressure off my shoulders to be there tonight. Certainly keep working hard at it and we'll be back."
Rahal finished second, Ryan Briscoe (No. 2 Hitachi Team Penske Honda) third, James Hinchcliffe (No. 27 GoDaddy.com Chevrolet) fourth and JR Hildebrand (No. 4 National Guard Chevrolet) fifth.
The night seemed to belong to Scott Dixon (No. 9 Target Chip Ganassi Honda), who was coming off a win last week at Detroit's Belle Isle. He fast and dominant and by Lap 130 of 228 he had already clinched the two bonus points for most laps led.
Dixon led a race-high 133 laps and seemingly in control, but after losing the lead to Will Power (No. 12 Verizon Team Penske Chevrolet) on Lap 171 he got loose on the backstretch heading into Turn 4 and backed it into the wall.
Dixon was just the first of three leaders that succumbed to some type of misfortune in their bid for victory. Next up was Power.
Following the restart on Lap 184 after Dixon's single-car accident, Power and Briscoe, his Penske teammate, were battling side by side with Tony Kanaan (No. 11 Mouser Electronics/GEICO KVRT Chevrolet) in tow. Kanaan made an inside move on Power on the backstretch and Power dove down that resulted in contact that forced Kanaan to the pits to replace his nose piece.
INDYCAR officials deemed Power's move an illegal block and he was given a drive-through penalty on Lap 195 that ended his bid. He eventually finished eighth.
Briscoe inherited the lead, with Helio Castroneves (No. 3 AAA Insurance Chevrolet), Rahal and Wilson trailing. Rahal overtook Castroneves with 31 to go and finally passed Briscoe for the lead on Lap 200. He appeared to be on his way to snapping his 67-race winless drought, but slammed into the wall in Turn 4 and handed the win to Wilson with two to go.
Power, who entered the Firestone 550 with a 26-point lead over Dixon in the IZOD IndyCar Series championship, was able to extend his lead to 34 points, 256-222. Hinchcliffe moved to third in the championship with 208 points.