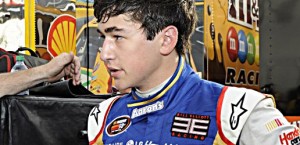 TOLEDO, Ohio — In the grand scheme of stock car racing apprenticeship, if you want to make it to the NASCAR big leagues, sooner or later you're going to have to get some road course experience.
And that is exactly young Chase Elliott's plan.
"Anytime you get a chance to race a stock car on a road course, it would be a huge help for the NASCAR Sprint Cup Series," said the 16-year-old stock car student and son of legendary NASCAR champion Bill Elliott.
The younger Elliott has already filed an entry for the July 1 ARCA 150 presented by Global Barter at New Jersey Motorsports Park.
The event will serve as the featured attraction for the All-American Race Weekend (June 30 – July 1) featuring, not only the ARCA Racing Series, but five additional support divisions including Formula Atlantic, F2000, F1600, the Trans Am Series and the Vintage Trans Am Series.
Elliott will be behind the wheel of the No. 9 Aaron's Dream Machine-HendrickCars.com Chevrolet when he takes to the 2.25-mile Thunderbolt road course in New Jersey along with the other competitors of the ARCA Racing Series presented by Menards.
"I'm really excited about it. It's something I don't get to do very often, and I really enjoy road racing."
Elliott is already seeking advice from his father in preparation for the race.
"He (Bill Elliott) always has run well at road courses, and I feel like he will be a huge help to me when we go up there for the race. We haven't tested there yet, but when we do, I think he will help in multiple ways, whether it may be shifting or just general help on how to approach a road race."
Elliott, who has two starts in the ARCA Racing Series at Mobile Int'l Speedway and Salem Speedway earlier this year, also commented on the series.
"It's an extremely tough series as well as impressive. There's a lot of young talent mixed with a lot of veterans in there, too. That's what makes it unique."
Elliott finished 10th in his series debut at Mobile after qualifying second. It got even better at Salem where he finished fourth after qualifying third.
2012 is the ARCA Racing Series presented by Menards' 60th Anniversary Season, featuring 20 races at 18 tracks. The complete 2012 event schedule is available at ARCARacing.com.
The ARCA Racing Series presented by Menards has crowned an ARCA national champion each year since its inaugural season in 1953, and has toured over 200 race tracks in 26 states since its inception. The series has tested the abilities of drivers and race teams over the most diverse schedule of stock car racing events in the world, visiting tracks ranging from 0.375 mile to 2.66 miles in length, on both paved and dirt surfaces as well as a left- and right-turn road course in its most recent season. This year, the series visited Alabama's Mobile International Speedway and Minnesota's Elko Speedway for the first time.
Founded by John and Mildred Marcum in 1953 in Toledo, Ohio, the Automobile Racing Club of America (ARCA) is recognized among the leading sanctioning bodies in the country. Closing in on completing its sixth decade after hundreds of thousands of miles of racing, ARCA administers over 100 race events each season in three professional touring series and local weekly events.