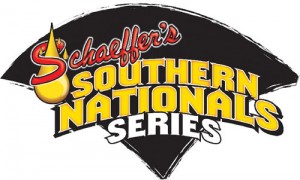 by Ryan Delph
BRASSTOWN, N.C. — Schaeffer Oil Southern National Series promoter Ray Cook announced this morning that the scheduled third stop on the 2012 tour at the Boyd's Speedway in Ringgold, Georgia will not take place. Due to an ordinance passed years and years ago, and unknown to current General Manager Gar Dickson, racing can only take place at the Chattanooga area facility on weekends. Therefore, the $3,500 to win Schaeffer Oil Southern Nationals Series showdown scheduled for Thursday, July 19 would break that ordinance without a special permit.
"It is unfortunate that the upcoming race at Boyd's Speedway has to be cancelled," stated Cook earlier this morning via telephone. "Once we lost North Georgia Speedway about a month ago, Boyd's stepped up to the plate and wanted the date. Unfortunately, the current management there didn't realize until this morning that a special permit would be needed to run a show there on a Thursday night."
"There are a lot of politics behind it and would require council members and judges in both Tennessee and Georgia to get involved," Cook went on to say. "We are trying our best to secure another track to take the July 19 date and an announcement could come within a day or so. Even with this setback, everyone associated with the Schaeffer Oil Southern Nationals Series is excited about the upcoming season and we hope that it is our best year to date!"
The lid lifter for the 2012 Schaeffer Oil Southern Nationals Series schedule will be this Monday night, July 16 at the Wythe Raceway in Rural Retreat, Virginia. From there, the barnstorming tour will snake through the states of Tennessee, Georgia, and Alabama to sanction a total of nine races through July 28. A star-studded list of drivers have announced their intentions on competing in all or most of the series events including reigning series champion Chris Madden, Clint Smith, Tony Knowles, Vic Hill, Brian Reese, Casey Roberts, Austin Dillon, Ty Dillon, Billy Ogle, Jr., Daniel Baggerly, Donald Bradsher, and many more!
2012 Schaeffer Oil Southern Nationals Series Schedule

Monday, July 16 – Wythe Raceway – Rural Retreat, VA – $3,500 to win
Tuesday, July 17 – Smoky Mountain Speedway – Maryville, TN – $3,500 to win
Thursday, July 19 – To Be Announced
Friday, July 20 – Swainsboro Raceway – Swainsboro, GA – $5,300 to win
Saturday, July 21 – Screven Motor Speedway – Sylvania, GA – $5,300 to win
Sunday, July 22 – Rome Speedway – Rome, GA – $5,300 to win
Tuesday, July 24 – East Alabama Motor Speedway – Phenix City, AL – $3,500 to win
Thursday, July 26 -Cleveland Speedway – Cleveland, TN – $3,500 to win
Friday, July 27 – Volunteer Speedway – Bulls Gap, TN – $5,300 to win
Saturday, July 28 – Tazewell Speedway – Tazewell, TN – $5,300 to win
The Schaeffer Oil Southern Nationals Series would like to thank all of our marketing partners for the 2012 season including: Schaeffer's Specialized Lubricants, American Racer Tires, Barry Wright Race Cars, Carolina Performance, Comp Cams, DBR Starters, Delph Communications, Eibach Springs, FK Rod Ends, Graphic Impressions, GW Performance, Hoosier Racing Tires, Integra Shocks and Springs, MasterSbilt Race Cars, Ohlins Shocks, Old Man's Garage, Performance Rod & Custom (PRC), The Joie of Seating, Vic Hill Racing Engines, VP Race Fuels, Wildside Custom Trailers, Wiles Driveshafts, and Wilwood Engineering.
About Schaeffer Oil:
Founded in 1839, Schaeffer's manufactures specialized synthetic oils, fuel additives and other products for the construction, trucking, agriculture, marine, mining and high-performance racing industries. The company has developed an expansive line of innovative products and additives which reduce fuel consumption, improve mileage, extend efficiency and lessen energy costs for the consumer. Now in its third century of business and recognized as the oldest oil company in the United States, Schaeffer's has remained a family-owned operation since its inception. In 2010, Schaeffer's Specialized Lubricants was named to the distinguished INC 5000 list. For complete details, visit www.schaefferoil.com.
The latest in news and information concerning the Schaeffer Oil Southern Nationals Series can always be found 24 hours a day / 7 days a week by visiting www.southernnationalsseries.com.