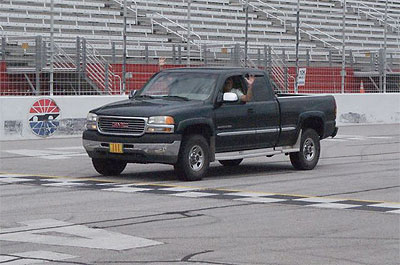 Fans Can Drive the Track, Take Photo in Victory Lane and Enjoy Free Legends Racing
HAMPTON, Ga. (March 26, 2013) – Atlanta Motor Speedway will once again host a "Drive the Track Day" on Saturday, April 27, complete with rides on the famed 1.54-mile racing surface, an off-season Legends race, as well the opportunity to visit Victory Lane for a photo with the AMS pace car, the NASCAR Sprint Cup Series trophy and AMS mascot, Monkey Wrench.
The on-track portion of the day's activities will begin at 10:00 a.m., when fans will be able to take their own vehicles on the track for a few hot laps. Those wishing to drive the track will need to purchase or have already purchased a ticket to the NASCAR Sprint Cup Series AdvoCare 500 race on Sunday, Sept. 1. A $30 donation to the Atlanta chapter of Speedway Children's Charities will also grant access to the on-track portion of the day.
While on the speedway's infield, visitors will have the opportunity to visit victory lane, where each race winner at the speedway climbs out of their machine during the Labor Day weekend. There, AMS guests will be able to have their photo made with the pace car, Atlanta's NASCAR Sprint Cup Series trophy, as well as our lively mascot, Monkey Wrench.
Beginning at 2:00 p.m., those in attendance will be able to watch the afternoon's scheduled Legends and Bandolero race from the infield, which will take place on the speedway's quarter-mile "Thunder Ring," located on the fronstrech. A full event of racing, featuring all divisions of competition featured in the "Thursday Thunder" summer series will be on display, featuring some of racing's future stars.
To learn more about Atlanta Motor Speedway's "Drive the Track Day," and for more information on AdvoCare 500 tickets, starting at just $39, visit www.atlantamotorspeedway.com or call the AMS Ticket Office at (877) 9-AMS-TIX or (770) 946-4211.