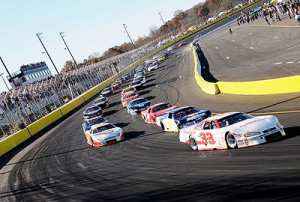 We have seen changes, some more drastic than others, in every year's version of the famed World Crown 300 since the Gresham family renovated Peach State Speedway and created Gresham Motorsports Park in 2009.
Gresham Motorsports Park officials have now decided that the 2013 edition of the event, which is also a Southern Super Series point race, will return to the original 300-lap format with live pit stops as opposed to the segment races with competition cautions of the past.
"It's the way it should be, really," said David Odell, a long-time competitor at the Jefferson, Georgia half-mile.
"There's no fun in it for the guys that you bring with you when they work hard all day long and then you have a competition yellow. From their aspect it's a whole lot more fun for them when we've got pit stops and everything involved. They just feel a lot more involved and important and you know it gets them more excited about going. It just gets back to racing the way it should be there and not a circus. You're not having three hundred-lap races, you're having one big three hundred lapper. You've got strategy involved and it's just a lot more fun for everyone."
Most recently the format involved three segments with competition cautions following each as well as an inversion chosen by race officials.
"This will be a better race for the fans and crews involved," said Southern Super Series Gresham winner Bubba Pollard. "We saw at the Larry Fleeman Pro Late Model race a few weeks back, that tire strategy can make the race real interesting."
Pollard has run the World Crown 300 every season since 2004. Pollard has run the event as a straight 300 lap show and with the other distances back when it was a Pro Late Model show. With a second and a third place finish on record Pollard looks to finally land his number 26 machine in victory lane.
"No matter what the format is we want to put on a good show for the fans," said Pollard. "The race will be exciting and the endurance in the Georgia heat will make it more of a challenge. We have to prepare ourselves as drivers just like the guys who will be doing the stops for us."
The World Crown will offer $20,000 to the winner making it one of the richest Super Late Model events in the country. A season ago Chase Elliott pocketed the 20 grand after winning all three segments. A season prior Chris Wimmer did the same as the first non-Georgia winner in over a decade. Come July 4th many others will hope to have the World Crown resting on their head.
The 30th Annual World Crown 300 Presented by Slack Auto Parts is set for July 4th at Gresham Motorsports Park. After the fireworks on the track, the sky will light up over Georgia, as a fireworks show presented by Royal Oak Charcoal will dazzle the fans and children in attendance. For more details and ticket information visit the track's website at www.RaceGMP.com.
For more information on the Southern Super Series, visit www.SouthernSuperSeries.com. The Facebook page for the Southern Super Series is located at www.facebook.com/southernsuperseries and on Twitter it's @SoSuperSeries For advertising or sponsorship questions, please contact the track representatives. For media inquiries, please contact Matt Kentfield at 51 Sports via matt@51sports.net