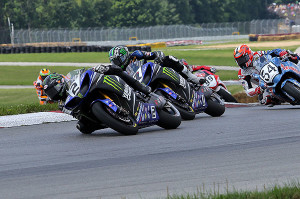 Courtesy of Yamaha-Motor USA / Photos by Brad Chase, MSA:
A jumped start by three-time defending SuperBike Champ Josh Hayes at the beginning of AMA Pro National Guard SuperBike Race 2 at Mid-Ohio Sports Car Course July 14th played a huge part in the outcome of the race. Hayes received a five-second penalty for the infraction, which meant that his Monster Energy/Graves/Yamaha teammate Josh Herrin was the winner of the 21-lap contest.
Hayes took the checkered flag first, but he wasn't quite five seconds ahead of his teammate Herrin, which meant that Herrin, who rides the #2 Monster Energy/Graves/Yamaha YZF-R1, won the race by a margin of just over one-tenth of a second. It was Herrin's second win of his sophomore SuperBike season.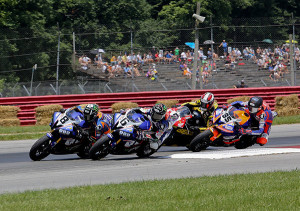 Neither of the two Yamaha R1 teammates was sure, at first, who won the race, but AMA Pro Racing Timing and Scoring did, even though the appearance on track did not bear that out.
"I actually didn't know I won till (CBS Sports Network Pit Reporter) Danielle Teal interviewed me and told me," Herrin said. "It was kind of a crazy race, and I was so freaked out that I could hardly talk! Josh (Hayes) is an awesome Champion, and I've learned a lot from him. I've still got work to do to and, to get this win the way we did is definitely unusual, but we'll take it. I guess I really won't believe till I see the (Yamaha) win ad this week."
Despite finishing second, Hayes still added valuable points to the Championship lead that he re-gained with yesterday's SuperBike Race 1 win at Mid-Ohio. The defending triple-Champ now has a four-point lead in the title chase over his teammate Herrin, who moved into second-place as a result of his race victory today.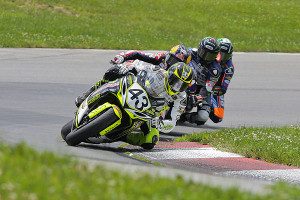 "I'm proud of the way I rode the race," Hayes said. "I was pushing absolutely as hard as I could, but Josh (Herrin) rode a great race, and he really stepped up this weekend. As for the start, I really didn't think I jumped it, and if I did, I thought I had it stopped like Martin (Cardenas) did at Barber, but I guess that wasn't the case. I'm happy to leave Ohio with the points lead, and I gained a few extra points today."
The Monster Energy/Graves/Yamaha team now travels across the country to Monterey, CA, where they will be back in action this coming weekend for Round 5 of the AMA Pro National Guard SuperBike Championship, which takes place at Mazda Raceway Laguna Seca.
For more news, results, and other team info, be sure to check out Yamaha's Facebook page and follow us on Twitter @YamahaMotorUSA.