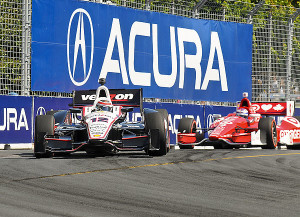 By Dave Lewandowski,
www.indycar.com

(All new MSA photos by Joe Proietti)
Scott Dixon was dominant in Race 2 of the Honda Indy Toronto — from the first standing start in IZOD IndyCar Series history to the completion of 85 laps for a Perfect Finish.
Dixon, who won Race 1 of the Honda Indy Toronto by 1.7 seconds over Sebastien Bourdais following a Lap 84 restart, faced a similar situation in Race 2 and won under caution to sweep the weekend doubleheader and earn the $100,000 SONAX Perfect Finish Award.
"It's been a long time since I've had such a dominant day," said Dixon, who led 81 laps. "I'm just happy for the team."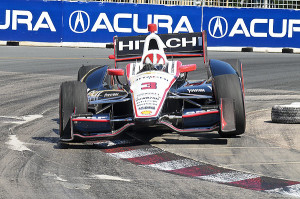 It was the third consecutive victory for the two-time series champion, who will celebrate his 33rd birthday July 22. His last three-in-a-row stretch was in 2007 (Watkins Glen, Nashville, Mid-Ohio), and the last in the series was accomplished by Ryan Hunter-Reay (Milwaukee, Iowa, Toronto) en route to his 2012 series championship.
Dixon also earned his 32nd Indy car victory to overtake Dario Franchitti, Bourdais and Paul Tracy for seventh on the all-time list. He's won three races since Franchitti won his last in the 2012 Indianapolis 500. Bourdais' last Indy car victory was Nov. 11, 2007, in Mexico City. Tracy, who is retired from Indy car racing, last won on June 24, 2007, at Cleveland.
Al Unser Jr. is next up with 34 victories (nine on ovals, 25 of road/street courses).
Of Dixon's total, 17 have been on ovals and 15 on road/street courses. Dixon made his first Indy car start at Monterrey, Mexico, on March 11, 2001, and picked up his maiden victory at Nazareth less than two months later in a PacWest Racing car. He's been with Target Chip Ganassi Racing since '03.
"If we can get more victories, we're obviously doing something right," Dixon said. "I credit a lot of that to the team."
Helio Castroneves, who entered the race with a 39-point lead over Hunter-Reay in the championship standings, finished second and is 29 points clear of Dixon, who entered the July 7 race at Pocono Raceway seventh in the standings (92 points back).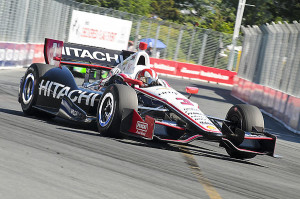 "It's quite a turnaround in a couple of weeks. I hope we can keep (momentum) going," said Dixon, whose next race is Aug. 4 at the Mid-Ohio Sports Car Course where he's won in the past two visits.
Bourdais earned his second consecutive podium finish (his first since 2007) and Franchitti finished fourth. E.J. Viso, who started 10th, placed fifth.
"Things just turned our way," said Bourdais, whose push-to-pass malfunctioned at the start. "I had a really good car on the restart. I was hooked up."
Notables included Mike Conway advancing 16 positions to finish seventh (he totaled 29 positions gained in the two races), Alex Tagliani earning his first top 10 since St. Petersburg, E.J Viso posting his second top five in the past four races, and Carlos Munoz placing 17th after starting 24th.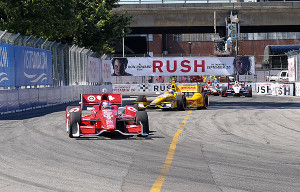 Munoz was a race day replacement for Ryan Briscoe in the No. 4 National Guard Panther Racing car, who suffered a fractured right wrist in Race 1. It was the second IZOD IndyCar Series race (he was runner-up in the Indianapolis 500) for the Firestone Indy Lights championship points leader.
"It was a long race and a hard race for me," he said. "It was basically my first time in an IndyCar on a street course and I didn't know what to expect. We continued to drop lap times and I got more and more comfortable with each lap, and by the end we put together quite a good lap, which are all positive things. It's good work from the National Guard crew and my goal was to finish, and I finished. I'm very happy to have this opportunity today."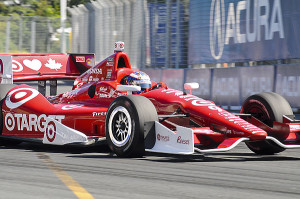 A standing start was to have accompanied Race 1, but it was aborted because of an engine sensor issue that left the No. 67 Sarah Fisher Hartman Racing car of Josef Newgarden stranded (it took 32 seconds to grid the 24 cars).
INDYCAR officials, in conjunction with the promoters, arranged for a standing start for Race 2, which went off without a hitch. The No. 20 Fuzzy's Ultra Premium Vodka car of Ed Carpenter stalled after leaving its position.