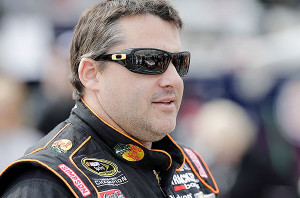 David Caraviello, NASCAR.com:
Replacement driver for current Wild Card holder not yet determined for Watkins Glen
Tony Stewart broke both bones in his lower right leg Monday night after another crash in a sprint car.
Stewart-Haas Racing confirmed early Tuesday morning that the three-time NASCAR Sprint Cup Series champion broke the tibia and fibula in his right leg in a crash at Southern Iowa Speedway, a half-mile dirt oval in Oskaloosa, Iowa. Stewart was transported to an area hospital after the accident, and immediately underwent surgery.
According to Stewart-Haas Racing, a replacement driver for Sunday's Cheez-It 355 at Watkins Glen International has not yet been determined. Stewart is 11th in the standings, and with one victory this season, leads the race for the first Wild Card in the Chase for the NASCAR Sprint Cup.
Stewart's No. 14 team has canceled a planned test for Tuesday at Atlanta Motor Speedway. Another update on Stewart's condition is expected Tuesday afternoon.
The Des Moines Register reported that Stewart was leading the Front Row Challenge winged sprint car event with five laps remaining when another car spun and collected the top three drivers. The newspaper added that Stewart was alert and talking with medics after he was placed on a stretcher and transported from the track via ambulance.
Monday night's accident was the latest in a string of spills Stewart has taken in sprint cars in recent weeks. On July 16, Stewart was involved in a 15-car pileup at Canandaigua (N.Y.) Motorsports Park that sent a 19-year-old female driver to the hospital. Last Monday night at Ohsweken Speedway in Ontario, Canada, Stewart was racing for the lead when his vehicle flipped five times.
Although former NASCAR driver Jason Leffler was killed earlier this year in a sprint-car crash in New Jersey, Stewart maintains close ties to his short-track roots by scheduling roughly 70 sprint car events per year. Friday atPocono Raceway, Stewart brushed off the Ohsweken accident as routine.
"You guys (in the media) need to watch more sprint car videos and stuff. It's starting to get annoying this week about that. That was just an average sprint car wreck. When they wreck, they get upside down like that. That was not a big deal," he said. "… I guarantee you, there were 15, 20 guys across the country who flipped just like that this weekend. We're just fine. If it's bad, we'll let you guys know."
Stewart's absence at Watkins Glen — a track where he's won five times — would have a major impact on the Chase picture, opening the door for SHR teammate and Brickyard winner Ryan Newman to potentially move into the second Wild Card spot.