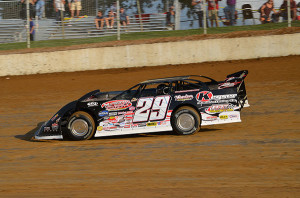 Story & photos by Phillip Prichard, MSA:
Darrell Lanigan won The World of Outlaws Late Model Series race on 22 August 2013 at Little Valley Speedway in New York. This victory enabled Lanigan to become the first driver to win 50 World of Outlaws races.
Lanigan jumped to the lead at Little Valley Speedway, he led all 50 laps of the race to win $10,650 for the victory. This win marked the ninth-win of 2013 for Lanigan which is leading the series in wins.
The win came in his familiar Rocket Chassis machine that he used for much of his record-breaking 2012 title run.  The car had been out of commission since a hard crash at the Dream at Eldora Speedway in June but Lanigan made the call the rebuild the car after he was disappointed with the performance of his two new cars that he had been running.
Dan Stone finished in the runner-up spot at Little Valley Speedway after his late race charge to the front came up just short as he finished a mere 0.377 of a second behind Lanigan. Points leader Josh Richards came home third with Shane Clanton in fourth and Rick Eckert rounded out the top-five.
Darrel Lanigan is the 2008 and 2012 World of Outlaws Late Model Series National Champion. In 2012, he won 15 events, had 33 top 5 finishes, 37 top 10 finishes and 18 Heat wins. He earned $426,700 in the 2012 which is unheard of in the Late Model Series. The 2012 winnings, also earned him a special award from the National Dirt Late Model Hall of Fame at Florence Speedway prior to the North/South 100 race.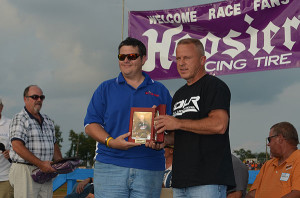 Lanigan began racing in 1988 and won a dirt Late Model feature at his hometown Florence Speedway during rookie season.  In 2003, he won the $100,000 Dirt Late Model Dream at Ohio's Eldora Speedway and the $60,000 Dirt Track World Championship at Kentucky's Bluegrass Speedway – the only driver to ever capture both prestigious races in the same season. From 1998-2001, made nearly 20 starts with the ARCA asphalt stock car series. He won the pole position for the October 1998 event at Lowe's Motor Speedway in Concord, N.C., and scored an ARCA career-best finish of second in March 1999 at Atlanta Motor Speedway.