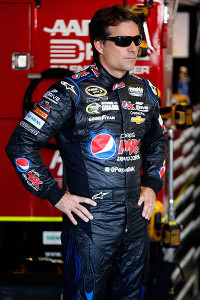 3 Champs, 1 Goal: Become The Penultimate Warrior
Sunday's AdvoCare 500 continues a Labor Day tradition reaching into NASCAR's formative years.
Great racing and legendary winners have ushered out summer and – in recent seasons – solidified the lineup for the Chase for the NASCAR Sprint Cup™.
This weekend figures to be no different as the series heads to the penultimate race of the regular season.
Three Chase spots have been claimed leaving nine positions to be determined, either on Atlanta's 1.54-mile asphalt or next week at Richmond International Raceway.
Sunday's race (7:30 p.m. ET, ESPN, Performance Racing Network Radio, Sirius XM Radio) may be more about who doesn't have provisional Chase standing than those who may punch their tickets for NASCAR's post season.
Look no further than three former series champions whose title hopes could soar or be dashed over 501 miles of high-speed competition under the lights.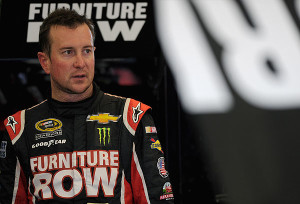 Reigning champion Brad Keselowski enters the regular season's next-to-final race ranked 11th, four points out of the top 10. Kurt Busch, the 2004 titleholder, stands 12th (-six) and four-time champion Jeff Gordon is 13th (-11).
None of the three has won in 2013. A victory certainly would push each into the top 10 – and also provide potential Chase Wild Card, available to the two highest-ranked drivers 11th through 20th in points.
Keselowski finished third in last year's Atlanta race. He has two top-10 finishes but has led just two laps in four starts.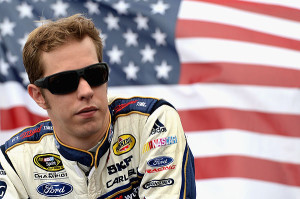 "I'm not going to be out of the worried zone unless I make it (the Chase) or it's over," Keselowski said recently. "We've got two races left. I think they'll be good race tracks for us."
Busch is responsible for making the No. 78 Furniture Row Racing Chevrolet a Chase contender fashioning, six top-five and 11 top-10 finishes and a pole. Earlier this week he announced a switch to Stewart-Haas Racing in 2014, joining new boss Tony Stewart, Kevin Harvick and Danica Patrick.
"My focus still remains on the present and trying to achieve our Chase goal in the No. 78," said Busch, a two-time Atlanta winner whose most recent victory came in 2010.
A year ago, Gordon finished second in Atlanta and Richmond to claim a Wild Card. Gordon's most recent of five Atlanta victories came in 2011. He has finished on the lead lap in 13 consecutive races.
"We just need to do our job and get the best results possible these next two races and see how things shake out," Gordon said.
Logano's Top 10-Streak Faces Atlanta Hurdle  
When Joey Logano posted consecutive 40th-place finishes at Daytona and Loudon, dropping to 18th in the standings, his freshman season with Penske Racing appeared destined to end the same as his previous campaigns – outside the Chase for the NASCAR Sprint Cup™.
Instead of disappearing into irrelevancy, Logano and crew chief Todd Gordon caught fire. Beginning with an eighth-place finish at Indianapolis, the No. 22 Penske Racing Ford hasn't finished outside the top 10 in five straight starts.
Logano won at Michigan several weeks ago, giving the team a shot at a Chase Wild Card entry. The 23-year-old Connecticut driver wasn't satisfied with that, following the victory with a hard-fought fifth-place in a battered Fusion that moved Logano into 10th-place in the standings.
It's a theme that sounds very familiar for the 23-year-old out of Middletown, Conn. Logano has rebounded before, earlier this season. After starting 2013 with four consecutive finishes outside the top 10, Logano chimed in with a third at Auto Club Speedway to catapult him to ninth in the standings. It was the first of three stints in the top 10 in points for Logano this season.
Now Logano must take what he's earned and keep it going for two more races.
Atlanta, statistically speaking, will be a challenge. Logano's best performance, 18th, came in last year's AdvoCare 500. In six races at the 1.54-mile superspeedway, he has an average finish of 26.0 and Driver Rating of 56.5. Both are worst among drivers ranking among the current top 12.
"I've never really run great there," he said of his previous tenure with Joe Gibbs Racing. "I've run in the top 10 but I've never really had a car that's been able to go up there in the top five or anything like that.
""But, like I've said, we're not gonna go in there thinking that we're gonna have a bad run."
Punchin' Tickets: Clinch Scenarios For Atlanta
Two races remain in the regular season – yet only three drivers know with absolute certainty that they're competing for a championship over the final 10 races. Jimmie Johnson and Clint Bowyer have each clinched a top-10 spot in the 2013 Chase for the NASCAR Sprint Cup, and Matt Kenseth locked up at least a Wild Card spot with his fifth win of the season, at Bristol. He'll likely clinch a top-10 berth either this weekend or next weekend at Richmond.
After Atlanta, count on many more joining Johnson, Bowyer and Kenseth. Three drivers control their own destiny, and four more could clinch at least a wild card. Below are the Chase for the NASCAR Sprint Cup clinch scenarios for this weekend's race at Atlanta.
The magic number for this weekend is 49 – any driver 49 points ahead of 11th will clinch a top 10 spot. (That number could drop to 48 depending on if the driver in question owns the tie breaker.)
Regardless of how any other driver finishes, the following will clinch at top-10 berth by accomplishing the below…
Carl Edwards: 38th-place finish or better (39th with lap led, 40th with most laps led)
Kevin Harvick: 31st-place finish or better (32nd with lap led, 33rd with most laps led)
Kyle Busch: 10th-place finish or better (11th with lap led, 12th with most laps led)
Matt Kenseth: 7th-place finish or better (8th with lap led, 9th with most laps led)
Dale Earnhardt Jr. (33 points cushion over 11th), Kasey Kahne (20 points cushion), Greg Biffle (17 points cushion) and Joey Logano (4 point cushion) all conceivably could reach the 49-point magic number.)
Martin Truex Jr., Joey Logano and Greg Biffle – all of whom have one win this season – can clinch at least a Wild Card spot with a win and some help. Kasey Kahne, with two wins, would clinch with a third win if two out of the following three drivers clinch a T10 spot: Kyle Busch, Kenseth and Harvick. If all three clinch a top 10, Kahne clinches if anyone other than Biffle, Logano, Truex or Newman wins.
Johnson, Kenseth Find Momentum Cuts Two Ways
How quickly momentum can be gained and lost.
Two races ago, holding a 77-point lead after a top-10 finish at Pocono Raceway, Jimmie Johnson appeared a prohibitive favorite to win a sixth NASCAR Sprint Cup Series title.
After finishes of 40th (engine failure) and 36th (accident), the fortunes of Johnson's No. 48 Hendrick Motorsports Chevrolet have changed perceptibly. His points lead over Clint Bowyer also has shrunk to 18 markers.
Nobody, particularly Johnson and crew chief Chad Knaus, want to be viewed as stumbling into the postseason.
"We certainly want to clean things up and have some great finishes rolling into the Chase," said Johnson, a three-time Atlanta winner. Johnson holds the track's top Driver Rating of 108.3. "There is still a lot of racing left. And once the Chase starts, it is its own animal."
A single race may have shifted momentum to Matt Kenseth, the Bristol winner.
Kenseth, ranked sixth, has clinched at least a Chase Wild Card berth but more likely will qualify as a member of the regular season top 10. Were the reset to occur today, he would be the No. 1 seed with 15 bonus points – three more than Johnson.
"I'm not always a huge believer in momentum as far as just looking at paper and looking at finishes but I am a believer in momentum as far as performance," said Kenseth, whose average finish had been 17.8 since his last victory in Kentucky. "We had all our speed back (at Bristol). We led some laps. Hopefully that gives you momentum."
NASCAR Sprint Cup Series Etc.  
Based on several tests over the past year, Goodyear's racing division will utilize "zone tread" technology for its race recommendation for Atlanta. For its new Atlanta right-side tire, Goodyear has combined one compound (run recently at Michigan International Speedway) to help control heat on the inner half of the tread with a different tread (run previously at Atlanta Motor Speedway) to give the cars more grip.  It will be paired with the more traditional left-side tire run at Atlanta last season. "Historically, Atlanta is one of the more difficult race tracks on tires and equipment and this tire gives us the ability to improve performance," said Robin Pemberton, NASCAR vice president of competition. "Combining the high speeds we always see at Atlanta with the high loads in the corners and the abrasive surface that brings tire wear into play, this is the ideal track to debut this technology." … Austin Dillon returns to the seat of the No. 33 Chevrolet this weekend, making his ninth start of the season. He has driven three different cars in 2013 (No. 33 Circle Sport Racing Chevrolet; No. 51 Phoenix Racing Chevrolet; No. 14 Stewart-Haas Racing Chevrolet), with a best finish of 11th at Michigan in the No. 33. … Toyota's next win will be No. 250 in NASCAR national series competition.
Top Spots Tend To Swap In Tight Series Points Battle
In a battle that is still too close to determine a favorite and one in which the lead continues to change hands, there is also a lot of swapping of positions among the drivers near the top of the standings. Sam Hornish Jr. saw his narrow advantage over the rest of the field heading into last Friday's Bristol race shrink further.
Austin Dillon finished third at Bristol, behind race-winner Kyle Busch and Brad Keselowski, to jump from fourth in the standings to second. Hornish's lead 13-point advantage over Elliott Sadler was reduced to six over Dillon with only 10 races remaining. Sadler, who now sits 11 markers behind Hornish, fell to third.
Indicative of how close the points battle is heading into Atlanta for Friday night's Great Clips/Grit Chips 300, seven of the drivers in the top 10 saw their positions in the standings change after Bristol. Only Hornish, Brian Scott (seventh; 60 points back) and Parker Kligerman (10th; -105) remain in the same spots.
Regan Smith dropped from third to fourth (-24), while Justin Allgaier and Brian Vickers switched positions. Allgaier is fifth, 39 points behind Hornish, and Vickers is sixth (-40). Sunoco Rookie of the Year contender Kyle Larson (eighth; -66) and Trevor Bayne (ninth; -67) also swapped positions.
This phenomenon of constant moving around among the top 10 is nothing new as these drivers have bounced around the top of the standings all year long. Among the top-10 drivers, Hornish has experienced the littlest movement staying safely ensconced between first and fourth place in the standings all year. On the flipside, Dillon has bounced between first and seventh for most of the year. Sadler has been as high as second, but as low as 12th, while Smith has ranged from first to 11th in the standings. Allgaier has fluctuated between second and seventh for the majority of the season.
Top-Five Drivers Hoping For Continued Success In Atlanta
With seven weekends remaining in the 21-consecutive-week stretch of NASCAR Nationwide Series races, drivers continue to jockey for position before their well-deserved two-week break. Due to their past success at Atlanta, four of the top-five drivers hope that the Great Clips/Grit Chips 300 will provide them with a good opportunity to buckle down for the late-season stretch and confirm their place among the championship contenders' conversation.
In last September's Atlanta race, Sam Hornish Jr., Austin Dillon, Elliott Sadler and Justin Allgaier all posted their best finishes at the 1.5-mile track in the series. All four of them finished with top-10 performances: Sadler (fourth), Allgaier (fifth), Dillon (sixth) and Hornish (ninth).
Hornish, who holds a six-point edge over Dillon, has only one other series start at Atlanta, which resulted in a 15th-place showing back in 2007. Dillon's sixth-place finish last year was his only NNS start at Atlanta. In seven starts, Sadler has four top-10 finishes, but those are coupled with finishes of 30th, 37th and 42nd. Allgaier's last two starts at Atlanta have resulted in fifth- and sixth-places finishes. Through four races, his worst showing was 17th in 2009.
Of the drivers in the top five, Regan Smith is the only driver without a top-10 finish. He only competed in two NNS events (2006, 2007) at Atlanta, coming in 21st and 23rd.
Friday night's race should play a big role in helping provide focus to the ever-changing championship picture. After winning at Atlanta last year, Ricky Stenhouse Jr. went on to win his second straight series title.
NASCAR Nationwide Series Etc.
Kyle Larson, who finished fifth at Bristol on Friday night, increased his lead in the Sunoco Rookie of the Year standings to 67 over Alex Bowman. … Eleven drivers will be attempting to make their NNS Atlanta debuts this Friday: Tanner Berryhill, Bowman, Chris Buescher, Ken Butler, Landon Cassill, Matt DiBenedetto, Jamie Dick, Parker Kligerman, Kyle Larson, Nelson Piquet Jr. and Ryan Sieg.
Due North: Trucks Resume Road Course Racing In Canada 
Although it is not the first time a NASCAR national series will compete outside of the United States, this weekend's Chevrolet Silverado 250 will be the first time the NASCAR Camping World Truck Series has raced "North of the Border."
While racing in Canada might be new to the series, hosting NASCAR is not new for Canadian Tire Motorsport Park. The historic, 10-turn, 2.459-mile road course located approximately an hour and a half outside Toronto, has hosted the NASCAR Canadian Tire Series since 2007 with an annual stop in May during Victoria Day festivities.
The track is co-owned by Ron Fellows who is no stranger to NASCAR racing. Fellows has won six times in NASCAR national series competition including twice in the NASCAR Camping World Truck Series – both at Watkins Glen International.
Fellows, track President Myles Brandt and the entire staff have made improvements to the track to make it possible to host the NCWTS and the fruits of their labor will be evident in Sunday's running of the Chevrolet Silverado 250 (2 p.m. ET FOX Sports 1, Motor Racing Network Radio, Sirius XM Radio).
The 64-lap race marks the series' return to road-course racing for first time in more than a decade. Fellows finished third in the most recent series road course event held at Watkins Glen in June 2000.
This will also be the second new venue to host a truck race this season. Eldora Speedway in Ohio ran its first series race in July.
Hornaday's Road Course Experience Could Provide Advantage
No drivers entered in Sunday's Chevrolet Silverado 250 competed in the series' last road race at Watkins Glen International in 2000. Four-time NASCAR Camping World Truck champion Ron Hornaday Jr., however, has more experience racing a truck on left and right-turn layouts than most of the younger drivers combined.
He currently is the only full-time driver entered in Sunday's road-course race at Canadian Tire Motorsport Park who has competed at a road course in the series.
Three of Hornaday's 51 career truck series wins have come on road courses – at Topeka's Heartland Park in Kansas, 1995; Sonoma Raceway 1995 and Watkins Glen, 1996. Hornaday has 14 road course starts with three poles and nine top-five and 11 top-10 finish. He most recently competed on a road course in a truck in 1999 at Watkins Glen International. He finished fifth in the race won by Canadian Ron Fellows.
Canadian Natives, Roy And Guenette To Make Series Debut
NASCAR Canadian Tire Series regulars Martin Roy and rookie Alex Guenette will both attempt to qualify for the NCWTS race this weekend in their native country. Roy currently sits sixth in the standings with Guenette 12th.
For Guenette, the NCATS rookie is looking forward to making his series debut on a track he feels everyone will love.
"They will love the track. It is fast, a track with flow. The owners have invested a lot of money to improve everything," said Guenette. "It is a mix between Watkins Glen and Road Atlanta. The TV show should also be super for the fans with many different corners and passing zones. I am sure this will become a classic year after year."
Guenette will also be one of four drivers competing in both the NCATS event and NCWTS race on Sunday. Joining him will be truck regulars Jeb Burton, Ty Dillon and James Buescher.
NASCAR Camping World Truck Series, Etc.
Mike Skeen, who has won the last four Pirelli World Challenge GT Series races held at CTMP, will make his NCWTS debut in a truck fielded by Sharp-Gallaher Racing.
Kwasniewski Earns Fourth Win, Hayley Claims Sixth Pole
NASCAR Next driver Dylan Kwasniewski won his fourth K&N Pro Series event on Saturday, taking the checkered flag at the Biscuitville 125 at Virginia International Raceway. The 2012 K&N Pro Series West champion leads the East series standings by 28 points heading into the Labor Day event at Greenville (S.C.) Pickens Speedway. Saturday's win was the ninth K&N victory for Kwasniewski, spanning both series.
On the opposite end of the country, fellow NASCAR Next driver Cameron Hayley claimed his sixth K&N Pro Series West pole en route to a third place finish in the Toyota/NAPA Auto Parts 150 at Spokane (Wa.) County Raceway, an event won by teammate Greg Pursley.
This week will see the NASCAR Whelen Southern Modified Tour at Langley (Va.) Speedway, the NASCAR Canadian Tire Series presented by Mobil 1 at Canadian Tire Motorsports Park in Bowmanville, Ont., and the NASCAR K&N Pro Series East will close out the holiday weekend with an event at Greenville.