Virginia Tech, Tennessee to play in track's infield in 2016: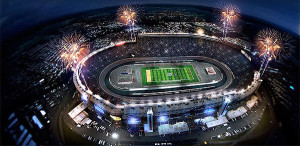 Complete with confetti cannons, fireworks, school mascots and video messages from the governors of Virginia and Tennessee, Bristol Motor Speedway formally announced Monday morning it will play host to an NCAA college football game in the iconic track's infield on Sept. 10, 2016 between Virginia Tech and the University of Tennessee.
With all the gusto you'd expect from one of NASCAR's most famous venues, the athletic directors and head football coaches from both schools joined Speedway Motorsports Inc. President Marcus Smith and Bristol Motor Speedway President Jerry Caldwell to officially sign the contract between the schools and the track — an idea Smith said was 17 years in the making.
"I remember being in [former BMS President] Jeff Byrd's office along with my dad (SMI Chairman Bruton Smith) when they first talked about this," Smith said. "At the time it was just a crazy idea but if you know anything about Bruton Smith, you know he has a habit of making dreams into reality."
With the speedway as a backdrop and two race cars — each painted with a one of the school's colors and logos — the two athletic directors and coaches spoke about the enthusiasm they expected for the event, which is being billed as the "Battle at Bristol" and "College Football's Biggest Ever Game."
Frank Beamer, Virginia Tech's longtime football head coach, was even jokingly introduced as the only person to have driven around the track in a car and then coach a college football game there.
"This is just big," Beamer said. "Two great programs, two great fan bases and now that it's official, tickets are just going to take off. It's out there and it's special and VT is glad to be a part of it."
Virginia Tech Athletic Director Jim Weaver summed it up, "As big as anything that's ever happened in the world of football."
That's certainly what both schools and Bristol Motor Speedway are hoping for and with a crowd capacity of 160,000 — a sell-out for this game would set a new college football attendance record.
"Nothing rises to the level of what we're talking about today," Tennessee Athletic Director Dave Hart said. "With the capacity of Bristol Motor Speedway and the two universities about equal distance away … it's the perfect match. … I feel very privileged to be a part of this coming to fruition."