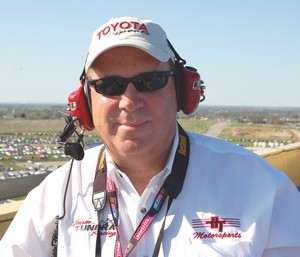 Gresham Motorsports Park (GMP) announced on Thursday, Oct. 24 that John Close has been named as the Interim General Manager of the Jefferson, GA motorsports and event complex.
Close – a 30-year professional motorsports media and marketing specialist – served as the Communications Director at GMP in 2009-2010.
"It's a homecoming of sorts for me," stated Close. "It was a great honor to be associated with GMP when we reopened in 2009. Now, I am very fortunate to again be a part of the team at one of the best and most modern motorsports and event facilities in the United States. For a life-long 'racer' like me, it doesn't get any better than this."
According to Track Properties LLC president Jim Gresham, Close's hiring will mark a new direction for the 88-acre Georgia racing and public event complex.
"John's wide range of experience at multiple levels of the racing – including an extensive media, marketing and business career in NASCAR – is going to help GMP expand its brand and events both locally and nationally in 2014," stated Gresham. "GMP will be hosting more and a wider variety of races this coming season. There are also several other new community events John and our GMP management team have on the drawing board. We're looking forward to our best season ever."
"We're definitely going to have more races this season," echoed Close. "Not only on the GMP half-mile oval, but also on the quarter-mile track. It's important that we give local racers a place and an opportunity to compete. We're also developing some events that will allow fans to bring their personal daily drivers, custom and classic cars, hot rods, trucks, and bikes to GMP and put them through their paces. GMP is going to be a very busy, fun place to be in 2014."
About Gresham Motorsports Park –
Gresham Motorsports Park is located east of Atlanta, just off I-85 at Exit 140, next to the Jackson County Airport on Lyle Field Road in Jefferson. GA.
The sprawling motorsports and event complex – which underwent a multi-million dollar renovation in 2009 – features ¼- and ½-mile paved racing ovals, a 4,000-seat main grandstand and state of the art electronic computer scoring, lighting and sound systems.
GMP is currently booking race and festival dates for the 2014 calendar year. To inquire about booking the facility for your group, please call GMP at 706-367-9461.
Additional information about Gresham Motorsports Park can be obtained atwww.GreshamMotorsportsPark.com.
You can also follow GMP on Twitter @GreshamMotorsportsPark or on Facebook at Gresham MP.