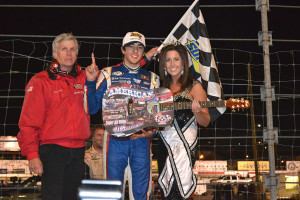 Chase Elliott has had a very successful 2013 racing season. Between NASCAR and ARCA wins and writing Short Track racing history, the second generation racer has added a lot of new trophies to his collection this year.
On Monday, he scored another victory.  But he didn't have to turn a wheel on the racetrack to pick up this one.
That's because the Dawsonville, Georgia racer has been chosen as the 2013 Georgia Racing Hall of Fame's Driver of the Year award.
The award honors a current Georgia race driver who has a Hall of Fame worthy season on the track.  Elliott's 2013 season was one that wrote history and cemented the 17 year old as a potential future Hall of Famer.
Elliott joins Bubba Pollard (2011) and Shane Clanton (2012) as a recipient of the award.
Elliott, the son of Georgia Racing Hall of Famer Bill Elliott, became the youngest Superspeedway winner in ARCA history with win at Pocono on June 8, 2013.  He followed that be becoming the youngest (at the time) NASCAR Camping World Truck Series winner with a thrilling September 1 win at Canadian Tire Motorsports Park in Bowmanville, Ontario, Canada.
Elliott also saw a significant amount of success in 2013 on the Short Track scene.  He became the first driver to win all four Super Late Model majors with a win in the All American 400 at Nashville (along with previous wins in the World Crown 300 at Gresham Motorsports Park in 2012, the Snowball Derby at 5 Flags Speedway in 2011, and the Winchester 400 at Winchester Speedway in 2010).
2013 also saw Elliott score asphalt late model victories at Gresham Motorsports Park, South Alabama Speedway in Opp, AL, 5 Flags Speedway, Montgomery Motor Speedway in Montgomery, AL, Watermelon Capital Speedway in Cordele, GA, Lebanon I-44 Speedway in Lebanon, MO.
He also scored his first dirt crate late model race in just his third ever start on March 29at Tri-County Race Track in Brasstown, NC.
"It's been a solid year for us as a whole I think," said Elliott.  "We've been able to accomplish some awesome things on a lot of different types of tracks in many different series; with the super speedway win at Pocono in the ARCA series, our first NASCAR truck win in Canada, and being able to win the All American a few weeks ago.
"I have worked with a lot of good guys this year who have really worked hard and put in a lot of their time for us to be successful.  It has been an exciting year and we are hopeful for a great 2014."
And Elliott could add to his win total, as he is poised to compete in both the Snowball Derby and the Snowflake 100 at 5 Flags Speedway next month.  He is a former winner of both events, having won the famed Snowball Derby, one of the premier races for Super Late Models, in 2011.  He has twice won the Pro Late Model Snowflake 100, held the night before the Snowball Derby, in 2010 and 2012.
The Georgia Racing Hall of Fame Driver of the Year award is determined by polling a group of prominent Motorsports journalists, who are asked to choose a racer from the state of Georgia who competes on any level in any form of Motorsports whose accomplishments over the past year they feel qualifies them for the award.  Those votes are tallied and the driver receiving the most votes is receives the award.
Other drivers receiving votes included Unadilla, Georgia's David Ragan, Dawsonville, Georgia's Donald McIntosh, Senoia, Georgia's Bubba Pollard and Fayetteville, Georgia's Shane Clanton.
Elliott will be honored as the Georgia Racing Hall of Fame Driver of the Year at the 2013 Georgia Racing Hall of Fame induction banquet, the same night that Charles Barrett, Frank Christian, Huston Platt, Hank Blalock and Freddy Fryar will be inducted as members of the 2013 class of inductees.
The 2013 Georgia Racing Hall of Fame Induction banquet will be held on Dec. 13, 2013 at 6 pm at the Georgia Racing Hall of Fame, located inside the Dawsonville Municipal Complex in Dawsonville, Georgia.
A limited number of seats for the banquet are available.  Reservations are required to attend.  For information on purchasing a ticket or on the banquet, call the Hall of Fame at (706) 216-RACE (7223) or go online to www.georgiaracinghof.com.
For more information on Chase Elliott, visit chaseelliott.com.  For more information on the Georgia Racing Hall Of Fame, visit www.georgiaracinghof.com.
About the Georgia Racing Hall of Fame – The Georgia Racing Hall of Fame is owned by Dawsonville History Museum, INC.  The Hall of Fame inducted its first class in 2002, and became a 501(c)3 non-profit organization in 2010.  The museum, recognized by the state legislature as the official home of the Georgia Racing Hall ofFame, recognizes prominent members of Georgia's racing heritage.  The Hall of Famealso plays host to other events saluting the state's racing history, including the annual Lakewood Speedway reunion.  The Hall of Fame and Museum are housed in the Dawsonville City Municipal Complex just outside of downtown Dawsonville, Georgiaon Hwy. 53.  The museum is open Monday – Saturday from 10 a.m. – 4 p.m., andSunday 12 p.m. – 4 p.m.  Holiday and Summer hours vary.  For more information, call (706)216-RACE (7223) or go online to www.georgiaracinghof.com.