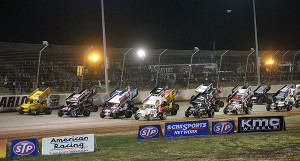 By Phillip Prichard using WoO Press Release: 
Billy Moyer of Batesville, Ark., made a spectacular debut at the World of Outlaws World Finals, sweeping fast-time honors in both rounds of Thursday's Qualifying Night program at The Dirt Track at Charlotte on November 7-9, 2013.
The legendary driver was perfect in his first-ever World Finals appearance, topping an ultra-competitive field of 74 cars that were signed in for the World of Outlaws Late Model Series portion of the huge tripleheader weekend. The event also attracted 55 winged machines for the companion World of Outlaws STP Sprint Car Series meet and 49 entries for the Super DIRTcar Series Big-Block Modified action.
World Finals Qualifying Night featured two rounds of WoO LMS time trials – the first to line up Friday night's heat races and the second to align Saturday night's preliminaries.
Moyer, 56, turned a lap of 15.413 seconds in Group 'A' during the first round of time trials and bettered that with a circuit of 15.304 seconds in Group 'B' during Round 2. His clockings were the overall fastest of both qualifying legs, giving him the 17th and 18th WoO LMS fast-time honors of his career.
The three-time WoO LMS champion also became the third Late Model driver to sweep both qualifying rounds of the seven-year-old World Finals, joining Steve Shaver of Vienna, W.Va. (2007) and Jonathan Davenport of Blairsville, Ga. (2010).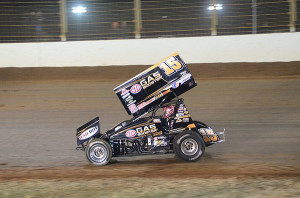 With the evening's large field split for both rounds of qualifying, drivers in Group 'A' competed for starting spots in Heats 1-3 on Friday and Saturday and those in Group 'B' qualified for positions in Heat 4-6 both nights. Moyer will start from the pole position in Friday night's first heat and Saturday evening's fourth preliminary.
WoO LMS regulars Darrell Lanigan of Union, Ky., and Shane Clanton of Zebulon, Ga., also registered group fast times during Qualifying Night. Lanigan was quickest in Group 'B' during Round 1 with a lap of 15.484 seconds, while Clanton was best in Group 'B' during Round 2 with a circuit of 15.619 seconds.
Clanton's strong showing during the second round was a complete turnaround from the problems he experienced earlier in the night. During Round 1 he was 35th-fastest out of 37 qualifiers in Group 'A' after hitting a rut and breaking the right-front frame rail on his Kennedy Motorsports car.
Round 1 Ohlins Shocks Time Trial Results For Fri., Nov. 8 Heat Races (Position/No./Driver/Hometown/Best Lap):
Group 'B'
1. 21-Billy Moyer/Batesville, AR 15.413
2. 24-Rick Eckert/York, PA 15.582
3. 0-Scott Bloomquist/Mooresburg, TN 15.616
4. 1-Josh Richards/Shinnston, WV 15.635
5. 201-Billy Ogle Jr./Knoxville, TN 15.687