The 2013 Georgia Racing Hall of Fame Induction banquet was held on Dec. 13, 2013 at the Georgia Racing Hall of Fame, located inside the Dawsonville Municipal Complex in Dawsonville, Georgia.
The capacity-room crowd was treated to a buffet-style meal and entertained by vintage racing video from GRHOF's archives prior to the awards and induction ceremony.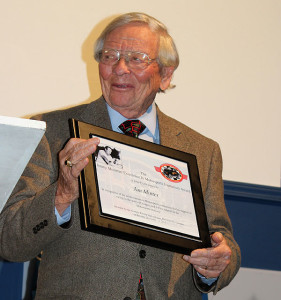 The Georgia Racing Hall of Fame honored Minter for his contributions to racing as a journalist, as he received the Jimmy Mosteller Excellence In Motorsports Journalism Award.
While Minter would become one of the most influential newspapermen in the business, he never turned his back on motorsports, making sure that the racers were treated as the athletes they were.
He was an early supporter of the fledgling NASCAR circuit, reporting on races from Atlanta's Lakewood Speedway, Peach Bowl Speedway Atlanta International Raceway (now Atlanta Motor Speedway) and others.  He worked to make sure that racers from every level and from every form of racing got the coverage they deserved, and that hard work helped to bring respect to racers across the state and across the region.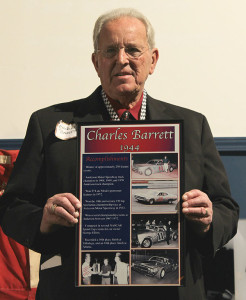 Charles Barrett – Cleveland, GA – Winner of approximately 250 feature events – Won 27 Late Model sportsman features in 1972 – Won the 10th anniversary 150 lap Sportsman championship race at Anderson in 1972 – 1968, 69, 70 Anderson track champion- Won several championship events at Anderson between 1967-1972 – Competed in several NASCAR Sprint Cup events for car owner George Elliott, including a 10th at Talladega in 1973, 18th at Atlanta in 1973.
Hank Blalock – Decatur, GA – Deceased – Competed in Midget Cars across the East Coast – Served in the US Coast Guard during World War II  – Began racing in 1946 in Midgets – Scored wins at Lakewood Speedway in Atlanta, GA the Peach Bowl in Atlanta, GA, Columbia Speedway in Columbia, SC, Augusta Speedway in Augusta, GA,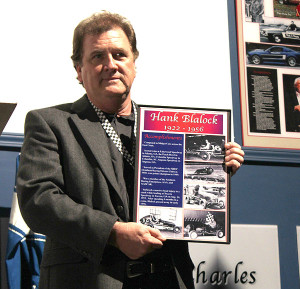 Blalock was injured in a flip at Plant Field in Tampa, FL late in 1947 while leading, suffered brain concussion, burns, and a shoulder fracture – Served as President of the SRDC (Southern Racing Drivers Club) in 1948 – Was points champion in 1949.
Competed at Lakewood Speedway in Atlanta, GA, Lake Winneepesaukah in Chattanooga, TN, Macon Speedway in Macon, GA, Looper's Speedway in Gainesville, GA, Skyway Speedway in Calhoun, GA, Columbia Speedway in Columbia, SC, Lithonia Speedway in Lithonia, GA, Augusta Speedway in Augusta, GA, Garden City Speedway in Augusta, GA, Savannah Speedway in Savannah, GA, Birmingham International Raceway in Birmingham, AL, Bowman Grey Stadium in Winston-Salem, NC, Broadway Speedway in Knoxville, TN, Pensacola Motor Speedway in Pensacola, FL, Langhorne Speedway in Langhorne, PA, Greenville-Pickens Speedway in Greenville, SC, Boyd's Speedway in Ringgold, GA, New Orleans Motor Speedway in New Orleans, LA, and Idle Hour Speedway in Phenix City, AL – Was considered a strong competitor, always finishing in the points and in the money – Was a member of the Southern Racing Enterprises, AAA, and NASCAR.
Blalock suffered a massive head injury in a crash while leading at Toccoa Speedway in Toccoa, GA on Aug. 14, 1955.  After spending 6 months in a coma, Blalock passed away in early 1956.
Frank Christian – Dahlonega, GA – Deceased – Was a pioneer in multi-car ownership, winning 22 races in his career.  Drivers included his wife, Hall of Famer Sara Christian, Bob Flock, Speedy Thompson, Buddy Shuman, Banjo Matthews, Fonty Flock, Buck Baker, and Curtis Turner.  Christian himself competed in several events as an owner/driver.  His cars had an average starting place of sixth and an average finishing place of 12th.  Christian's cars scored 35 poles in a six year span.  Christian is credited with bringing the moonshine runners out of the mountains and into the first organized modern stock car race, held at Atlanta's Lakewood Speedway in November of 1938.  Was the car owner for the first Chevrolet to win a NASCAR Sprint Cup race, with Fonty Flock as a driver, in 1955 at Columbia, SC.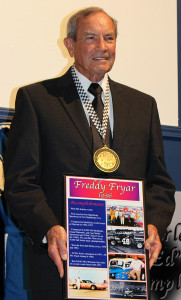 Freddy Fryar – Chattanooga, TN – Won 826 feature events.  Began racing in the early 1950s, following his brother Harold's footsteps, at the age of 14.  First raced at Fort Oglethorpe Speedway in Fort Oglethorpe, GA.
Competed in Modifieds on the beach at Daytona in 1956, 57. Finished second to Bobby Allison in the NASCAR Modified Championship in 1964. Competed in NASCAR Modifieds, Grand Nationals, and Late Model Sportsman and USAC Stock Cars in the 60s, 70s, and 80s. Won seven NASCAR Series track championships.  Won state championships in Louisiana, Mississippi, and Texas.
All Pro Series champion in 1983.  Won All Pro Truck championship in 1984. Ran NASCAR's Winston Cup series in several events from 1956-1971.  Won the Snowball Derby twice, 1979 and 1981. Won at Mobile International Speedway, Jackson International Speedway, Montgomery Motor Speedway, Caraway Speedway, Gresham Motorsports Park (then Georgia International Speedway), Corpus Christi Speedway, Five Flags Speedway and more.
Retired from racing in 1987.  Worked for various NASCAR teams for 15 years, and served as a driving instructor at the Richard Petty Driving School.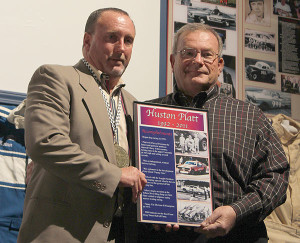 Huston Platt –  Buford, GA – Deceased – Began drag racing in 1959 – Established his reputation piloting the famed "Dixie Twister", beating out several big names, including Richard Petty during Petty's stint into drag racing in 1965.
Platt's 66 Chevy II became the fastest and quickest unblown injected Chevy in the country, turning runs in the upper 8 seconds at 160 mph and setting several records – Competed in match races against Ronnie Sox, Junior Johnson, Phil Bonner, Arnie Beswick, Tommy Grove, among others.
Was an independent, without factory backing. – Was a pioneer in the development of the famed "Funny Cars", which remains one of the most popular forms of drag racer today – Platt traveled around the country and into Canada to compete in his 1968 Chevy Camaro Funny Car known as the "Dixie Twister", which could turn times in the high 7 seconds and 185 plus mph – Served as his own engine builder.
Worked with the Logghe brothers in developing special wheelie bars to keep cars like this on the ground off the starting line – Went on to race and defeat several major racers from around the country, including Don Nicholson, Connie Kalitta, Larry Reyes, Gene Snow and others.
After a tragic accident at the Yellow River Drag Strip in 1970, Platt worked to improve safety aspects in drag racing – Platt would win the Funny Car Division II Championship in 1971 – Would retire a couple of years later – Would later take his restored Dixie Twister around the country on display and in exhibition runs.  Was inducted in 2009 to the East Coast Drag Times Hall of Fame.  Passed away Nov. 30, 2011.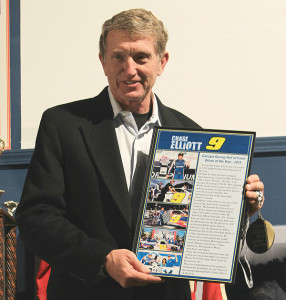 Chase Elliott: GRHOF 2013 Driver Of The Year
Elliott, the son of Georgia Racing Hall of Famer Bill Elliott, became the youngest Superspeedway winner in ARCA history with win at Pocono on June 8, 2013.  He followed that be becoming the youngest (at the time) NASCAR Camping World Truck Series winner with a thrilling September 1 win at Canadian Tire Motorsports Park in Bowmanville, Ontario, Canada.
Elliott also saw a significant amount of success in 2013 on the Short Track scene.  He became the first driver to win all four Super Late Model majors with a win in the All American 400 at Nashville (along with previous wins in the World Crown 300 at Gresham Motorsports Park in 2012, the Snowball Derby at 5 Flags Speedway in 2011, and the Winchester 400 at Winchester Speedway in 2010).
2013 also saw Elliott score asphalt late model victories at Gresham Motorsports Park, South Alabama Speedway in Opp, AL, 5 Flags Speedway, Montgomery Motor Speedway in Montgomery, AL, Watermelon Capital Speedway in Cordele, GA, Lebanon I-44 Speedway in Lebanon, MO.
He also scored his first dirt crate late model race in just his third ever start on March 29 at Tri-County Race Track in Brasstown, NC.