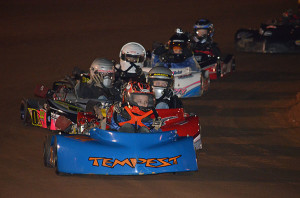 Story and photos Phillip Prichard:
The Checkered Flag Kartway honored Shane Stephens on 12 January in a Tribute Race celebrating Shane's life and his racing accomplishments.  Scores of drivers in 116 karts in 14 classes ran four sessions in each class – a practice, qualifying heats, a second practice and the mains.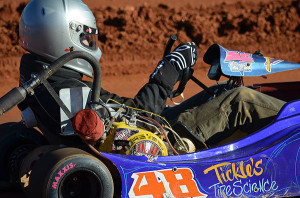 Shane Stephens starting racing in 1982, racing go karts and super late models. He raced at various tracks in north Georgia. He loved racing and educating others about racing. He would help other racers in tuning, advice and any other way that he could.  On a normal kart race day, he would race 6 to 7 different classes. He won number classes and championships. Shane was killed in an automobile accident in December of 2012.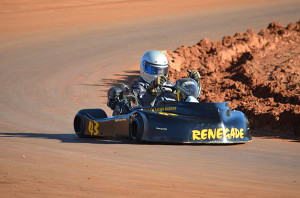 The Shane Stephens Tribute Race was organized by Heather Arnold Rhodes of Slingin Dirt Photography. Heather is the track photographer at Checkered Flag Kartway, Lavonia Speedway and Hartwell Speedway.
The following classes and winners were run prior to final race of the day:
Box Stock Lite Class:  Winner was Andrew Dove, #4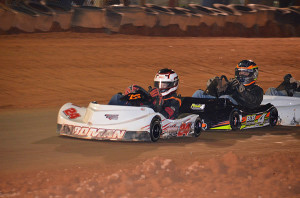 Green Plate Class: Caleb Barnett, #111
Super Heavy Class: Peter Petropoulous, #02
Red Plate Class: Keil Smith #18
Box Stock Heavy Class: Clint Cash, #12
Purple Plate Class: Levi Seagraves, #12
Flathead Lite Class: Kyle McCallaster, #7
Senior Stock Class: Doug Cash, #7
Predator 375 Class: Jeffery Durham, #09
Champs Class: Hunter Burdette, #21
Hogs Class: Mindy Spain, #00
Junior Unrestricted Class: Lance Chittwood, #87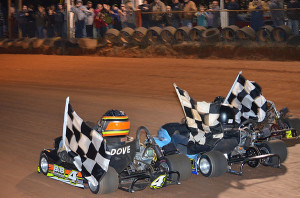 The final race of the day was the Box Stock Medium Class, racing 48 laps in honor Shane Stephen's Number #48 car number.  Prior to the race, the drivers performed a three wide salute to Shane and the fans, the first three kart drivers carried checkered flags. In an exciting race, one scary incident occurred; Chris Thompson flipped his kart on the front stretch but he was ok. Andrew Dove in the #4 was crowned the winner of the event.
Shiloh Checkered Flag Kartway, known as the Lil' Shalladega is located at 1665 Jones Chapel Shiloh Road, Danielsville, Georgia 30633. Check out their website at: http://www.shiloh-cfk.com/.  In the winter months, the track races very Sunday afternoon at 1:30 pm and in the summer months, the tracks races on Saturday evenings at 5 pm.