Stewart Faces Uphill Battle At Daytona: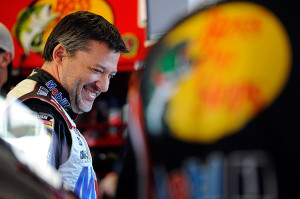 Everyone has looked forward to Tony Stewart's return for months. On Saturday, Smoke finally returned to the No. 14 Chevrolet for the Sprint Unlimited. Earlier in the day, however, his race car suffered engine failure during NSCS practice, relegating him to the back of the starting field for the Budweiser Duel and Daytona 500. He'd love nothing more than to add a win in the Great American Race to his resume, but his starting position will make it difficult to erase his 0-for-15 record. His fans are encouraged to use #StandWithSmoke throughout Speedweeks.
The No. 3 Returns To NSCS Action In Grand Fashion
This weekend's Daytona 500 marks the iconic return of the No. 3. Piloting the Richard Childress Racing Chevrolet will be Austin Dillon, who on Sunday captured the pole for the Great American Race. Dillon is the eighth driver to earn his first series pole at the Daytona 500. The last time the No. 3 was on the pole was in August 1996 at Watkins Glen with Dale Earnhardt at the helm. In 1996, Earnhardt earned his only pole for the Daytona 500. In his first race for Furniture Row Racing, Martin Truex Jr. will start in the second position.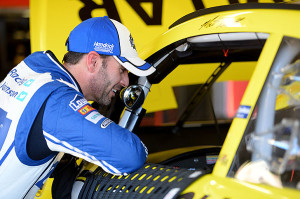 Johnson Looking For More Of The Same
Last February, Jimmie Johnson began what became his sixth championship season with a victory in the Daytona 500. Johnson hopes to duplicate both feats this year, starting with a win in the 56th running of the Daytona 500. Only three drivers have won back-to-back Daytona 500s previously: Richard Petty (1973-74), Cale Yarborough (1983-84) and Sterling Marlin (1994-95). A third victory in the race would add the California driver to an elite list that includes Petty (seven), Yarborough (four), Dale Jarrett (three), Bobby Allison (three) and Jeff Gordon (three). Johnson posted his first Daytona 500 win in 2006.
A Brief Tutorial On How To Make The Daytona 500
One thing is guaranteed regarding the Daytona 500 … Austin Dillon and Martin Truex Jr. comprise the front row. That is, of course, if they don't suffer any complications during the Duels on Thursday night. The remaining will be seeded according to the Duels. The highest 15 finishers in each Duel race – excluding Dillon and Truex – will fill positions 3-32. The top-15 finishers in the first Duel race will line up on the inside row, while the top 15 from the second race will comprise the outside row. The four fastest drivers from qualifying who have not already earned a spot will be slotted in positions 33-36. Positions 37-42 are provisional positions with the final spot going to the car owner with the most recent eligible past NSCS champion.
NASCAR NATIONWIDE SERIES – DRIVE4COPD 300, SATURDAY, FEBRUARY 22, 1:15 P.M. ET ON ESPN
Patrick, Earnhardt Among Stars Powering DRIVE4COPD 300
The DRIVE4COPD 300 usually features a star-studded field of drivers and this year in no exception. Danica Patrick returns to Daytona with Turner Scott Motorsports for the second year in a row, while Dale Earnhardt Jr. joins JR Motorsports teammates Regan Smith and Sunoco Rookie of the Year contender Chase Elliott in the season opener. Other NASCAR Sprint Cup Series regulars expected to participate include Kyle Busch, Matt Kenseth, Brad Keselowski, Kyle Larson, David Ragan and Josh Wise. All of these drivers have one thing in common: previous experience in the NASCAR Nationwide Series.
Buescher Returns To Daytona Looking For Second Win
James Buescher had a great year in 2012. In addition to winning four races in the NASCAR Camping World Truck Series and the series championship, the Plano, Texas, driver won the season-opening NASCAR Nationwide Series DRIVE4COPD 300. Last year, Buescher ran fulltime in the truck series, while competing in only 20 races in the NNS. In 2014, Buescher moves to the NNS where he will compete fulltime in the No. 99 RAB Racing Toyota. In addition to his win, he has three top-10 finishes in four career NNS starts at Daytona.
Familiar Teams Enter Race With Solid Stable Of Drivers
Former Daytona 500 winner Trevor Bayne leads Roush Fenway Racing's three-car effort that also includes Ryan Reed and Chris Buescher in Saturday's season-opening NASCAR Nationwide Series DRIVE4COPD 300. Elliott Sadler, Matt Kenseth and Kyle Busch return for Joe Gibbs Racing, while Brad Keselowski will pilot the No. 22 Ford for Team Penske. Richard Childress Racing's will have three race cars entered with Ty Dillon, Brian Scott and Brendan Gaughan. Perhaps with their strongest lineup in years, JR Motorsports will field cars in the season opener for Dale Earnhardt Jr., Regan Smith and Chase Elliott.
NASCAR CAMPING WORLD TRUCK SERIES – NEXTERA ENERGY RESOURCES 250, FRIDAY, FEBRUARY 21, 7:30 P.M. ET, ON FOX SPORTS 1
Can Sauter Repeat At Daytona?
No one was better on superspeedways in 2013 than Johnny Sauter. Sauter became the first driver since 2008 to sweep the Daytona International Speedway and Talladega Superspeedway races in the same season when Todd Bodine accomplished the feat. Sauter will also try and match another of Bodine's records. Bodine is the only driver to ever win back-to-back NASCAR Camping World Truck Series races at Daytona, which he did in 2008-09.
Crafton Hopes To Duplicate Last Year's Hot Start
Matt Crafton celebrated his first NASCAR Camping World Truck Series championship last season due in large part to his strong start. Crafton notched 16 consecutive top-10 finishes to start the season highlighted by a win at Kansas Speedway. The win at Kansas propelled the California native into the points lead and he never looked back. Crafton's goal this year: become the only driver in series history to win back-to-back titles.
The France Family Tradition Continues
It is well-known that Bill France Sr. is the man responsible for building Daytona International Speedway. On Friday night, Ben Kennedy becomes the first France family member to compete in a national series race at the 2.5-mile oval. Kennedy, the son of Lesa France Kennedy, and great-grandson of the track's founder will compete in the NextEra Energy Resources 250. Kennedy, who will graduate in May from the University of Florida, is driving fulltime for Turner Scott Motorsports and contending for Sunoco Rookie of the Year honors this season.
Trucks Get Facelift For 2014
Friday night's NextEra Energy Resources 250 marks the dawn of a new era for the NASCAR Camping World Truck Series when all three competing manufacturers will unveil trucks with new body styles. After several years of research, testing and preparation, the Chevrolet Silverado, Ford F-150 and Toyota Tundra will all feature new body styles to match their showroom counterparts.
King Returns To Site Of Historic Win
John King turned a lot of heads when he piloted the Red Horse Racing truck to Victory Lane in the 2012 NextEra Energy Resources 250. The win, which was his first in NASCAR's three national series, remains his only victory as he's run a limited scheduled since. Friday night, King returns to Daytona in a truck fielded by NTS Motorsports. His NTS teammate Brennan Newberry started on the pole in last year's event, so another surprise performance shouldn't be too surprising.