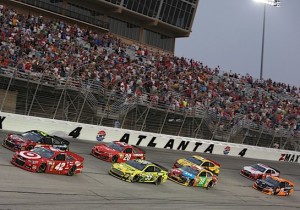 Atlanta Motor Speedway will sell 1,000 tickets to the Aug. 31 Labor Day Weekend NASCAR Sprint Cup Series night race for the price of $59 at 9 a.m. ET on Monday, Feb. 24.The tickets, located near the start/finish line in the lower Champions grandstands are being sold through the Speedway's popular Racing Roulette ticket promotion.
The Speedway capped the price at $59 for any winning car number over 60. The price of $59 was set by Dale Earnhardt Jr. and his No. 88 as he won the Daytona 500 on Feb. 23. The tickets are regularly priced at $99. A limit of two tickets may be purchased per individual at this price.
The promotional tickets will be available until the allotment is sold out. The tickets may be purchased in three different ways. Fan can purchase in person at the Atlanta Motor Speedway ticket office, by phone at 877-9-AMS-TIX or online at www.atlantamotorspeedway.com.
After the allotment of Racing Roulette tickets have been sold, Atlanta Motor Speedway will sell tickets to the NASCAR Sprint Cup Series night race on Labor Day Weekend at a discounted rate through Feb. 25. Fans will be able to purchase tickets at the same price offered to renewal customers with savings up to $20.
All fans who purchase tickets will become members of the Atlanta Motor Speedway Insiders Club, enabling them to purchase their tickets on a payment plan and be eligible to win exclusive race weekend fan experiences.
For more information on the NASCAR Sprint Cup Series Labor Day weekend race, contact the Atlanta Motor Speedway Ticket Office at (770) 946-4211, (877) 9-AMS-TIX or visit www.atlantamotorspeedway.com.