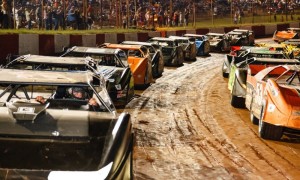 The 2014 racing season at Dixie and Rome Speedways has brought several changes with the recent release of the season's schedule. In addition to starting the year earlier with a practice at Dixie on March 29th, there will also be a practice at Rome Speedway for the first time ever on Saturday, April 5th.
Also, the usual Sunday night ½ mile track will see a Saturday night program for the first time in nearly 20 years on April 19th.
"The fans have been wanting more races at Rome for a long time, and we are as excited as they are to add two more races to the schedule this season," said track owner Mickey Swims.
In addition to making the fans happy, Swims is bound to make the drivers happy as well by raising the purses in all divisions this season.
"We are very fortunate to have some of the best local drivers in the country who support us every week, and we felt like they deserved to race for a little more," said Swims.
The new purses include $2,000 to win in the Super Late Model division, $700 to win in the Steelhead Late Model division, and $600 to win in the Crate Late Model division. The Bomber divisions, Super and Econo, will run for $400 and $300, respectively. Ponystocks will now be $300 to win, and finally, Cruisers will be $200 to win.
"Last season was some of the most exciting racing we have ever seen, and we think this will ensure an even better season this year," said Swims.
Last season saw sixteen different winners in the Super Late Model division and a point battle that came down to the last race. Swims is optimistic that this season will make that division even more competitive.
"With $2,000 to win every week in Super Late Model, who knows who might show up here on Saturday nights." It has been an exciting offseason for Dixie and Rome Speedways, and with all the recent developments, the upcoming racing season already looks to be a memorable one.