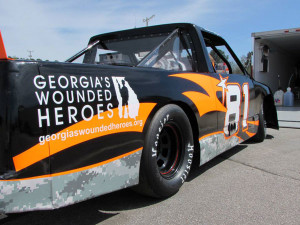 A total of six drivers came up with both hard cash and hardware as Gresham Motorsports Park opened its 2014 racing season Saturday.
The storied Jefferson, GA motorsports complex hosted its first-ever Stockerama – a six-division battle on both the GMP quarter-and half-mile ovals in one evening.
In all, four divisions – the Mini-Stocks, Sportsman/Renegades and Front-Wheel Drives competed on the GMP quarter-mile.
Veteran Mini-Stockers Scotty Beck and Steve Hill put on a spirited race swapping the lead three times in the final 10 laps of the quarter-mile lid-lifter. On the final circuit, Hill spun allowing Beck to roll under Waylan Nicholsen's checkered flag as the winner.
In the Sportsman/Renegade showdown, Jackie Daniel's 1979 Chevy Camaro came home with $400, a GMP hat and a trophy for top honors in the Sportsman Division while Bryan Beckner rally crossed his way to first-place money, a new cap and some hardware too.
After some good fun with a 'Cheers For Beards' contest at Intermission, the Trucks hit the GMP high-banks with 17-year-old Riley Thornton continuing his rise up the racing ladder with a win in the 30-lap main event for the 'Tailgaters.'
Thornton took home a first-place prize of $800 – as well as an additional $100 in Product Certificates from CV Products – giving him a cool $900 in cash and carry for his victory.
The Outlaw Late Models then closed the show with Matthew Wragg turning in a dominating performance. Wragg's vintage 1990's Lefthander Racing Chassis Outlaw-bodied stocker was on rails and he was never headed in the 30-lap curtain closer for the evening with Russell Shore, Jason Bates, David Murphy and Brian Hardman rounding out the top-five finishers.
A full event results rundown is available below.
The next GMP Stockerama will be held on Saturday, May 31. The eight-week break between races was strategically planned to allow racers competing in the new quarter-mile events time to build new racers and refurbish old ones. Meanwhile, the GMP Trucks and Outlaws will be back on May 3 as part of GMP's first Pro Late Model headline event of the season.
This weekend, GMP will host a second-straight, first-time event when its all-new Street Drag and Car Show program will debut this Saturday, April 12.
Adult admission is just $5 for both the Car Show and Street Drag program while participant vehicle registration is also only $5. Finally, racers can purchase race brackets (double elimination format) for just $5 each.
Street Drag brackets include –
Grudge (Any Make, Engine, Model Car/ Truck/Mini Van)
American Muscle (8 Cyl, 'Slightly Modified' – Cams, Headers Ok)
Stock 2WD Trucks (8 CYL Any Make, Model, Year)
Compact Truck (4 Cyl, Any Make, Model, Year)
Four-Wheel Drive Trucks (All Makes, Models, Years)
Mini Van (Any Make, Model,Year)
Tuners (Turbo 4 Cyl, Any Make, Model,Year)
Compact 4 Cyl OEM STOCK (Non Turbo, Any Make, Any Year)
Six Bangers OEM STOCK (Any Make, Model Car/Truck 6 Cyl)
Hot Rod (Any Engine, Any Make, Model, Year)
Meanwhile, there will be judging in the following eight Shown N' Shine categories division –
Best Appearing Hot Rod (30's-40's)
Best Appearing Classic Car – (20's-50's)
Best Appearing American Muscle Car (60's-70's)
Best Appearing Truck (Any Make, Model, Year)
Best Appearing Custom Car (Any Make, Model, Year)
Best Appearing Custom Bike (Any Make, Model, Year)
Best Appearing ATV (Any Make, Model, Year)
Best of Show (Open To All Entries)
All Street Drag bracket winners – as well as Show N' Shine category winners – will receive a trophy.
The Car Show portion of Saturday's event will be held from 2-5:30 p.m. before the Street Drag portion of the program goes green at 6 p.m.
For More information about all GMP events and racing divisons, please log on to www.racegmp.com.
Saturday, April 5 Stockerama Results
Mini Stocks – 25 Laps
1. Scotty Beck
2. Steve Hill
3. Allen Cantrell
4. Brandon Amos
Sportsman – 25 Laps
1. Jackie Daniel
2. Rob Hubbard
Renegades – 25 Laps
1. Bryan Beckner
FWD's – 25 Laps
1. Gary Zajdek
2. Brian Sutton
Trucks – 30 Laps
1. Riley Thornton
2. Matt Vasser
3. Kevin Basser
4. Kristen Wallace
5. Jami Weimer
6. Ty Roberts
7. Dawson Gay
8. Ronnie Wehunt
Outlaw Late Models – 30 Laps
1. Matthew Wragg
2. Russell Shore
3. Jason Bates
4. David Murphy
5. Brian Hardman
6. Marlin Gunter