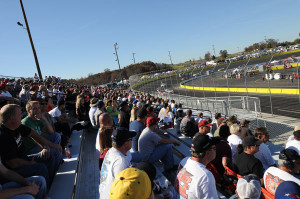 Gresham Motorsports Park today announced the syndication package for its four nationally televised events has eclipsed the 100 million households across the United States and Puerto Rico.
According to Rick Benjamin, the host of the shows and president of Carolina's Production Group, the GMP race syndication numbers are off the charts.
"In the seven years we've been creating and distributing television programming, we've never had a property that has been as popular with the television programmers as the Gresham Motorsports Park television package has been," Benjamin stated. "We started out thinking we'd be in the upper 70s to low 80-million household count, but now we're over 100 million households that will be able to see these races and still climbing. At this point, I wouldn't be surprised to see the numbers approach 110 million households. The sports networks we work with nationwide are excited to be able to showcase the great racing at Gresham Motorsports Park to their audiences."
In all, GMP's four-race television package – a May 3 Pro Late Model 100, a July 12Southern Super Series 125, the 31st-Annual World Crown 300 on August 9, and aSeptember 13 Pro Late Model 100 – will be featured on a tape-delayed basis. Three of the events will be a one-hour telecast while the World Crown 300, one of the most prestigious short-track stock car events each season, will be shown in a two-hour broadcast.
Each race will be shown approximately two weeks after it was contested at GMP.
"The response has been very impressive – both by the television community and by our racers," said GMP general manager John Close. "We had eight in-car cameras to sell to our racers for each event and we sold out all of them in just two days. Racers, regardless of what or where they race, want to compete on television and we're giving them the opportunity to do that in 2014."
Close went on to say the television races at GMP are also an opportunity for fans to not only see a great race, but to be seen as well.
"We're encouraging all our fans to come out and be on national television too," Close indicated. "We're telling them to dress up and make signs for their favorite drivers – to have all the fun they normally have at GMP only this time they can be on television. We're really looking forward to the first GMP television race here onSaturday, May 3. It's going to be a blast."
Here's a list of the current networks scheduled to carry the Gresham Motorsports Park races this season. Household (HH) reach numbers are expressed in millions.
AFFILIATE                                    HH                   Territory
Comcast Sports Southeast             5.6mhh          GA; FL; NC; SC; MS; AL; TN; AR; KY; MO
Comcast SportsNet, Chicago          4.9mhh          IL; IN; IA; WI
Altitude Sports                               3.1mhh          CO; UT; WY; ID; NE; KS; NM; MT
Time Warner Cable                         2.2mhh          OH
Cox Sports Television                    2mhh             LA; FL; GA; AR; MS; TX; OK; VA
Time Warner Cable                        1.6mhh          NY
Time Warner Cable                        1.2mhh          NC; SC
Time Warner Cable                        1mhh             TX
Time Warner Cable                        650khh          WI
Time Warner Cable                        450khh          MO; KS
SWX Sports                                  400khh          Spokane, WA
Cox3, OC                                      350khh          Orange County, CA
Midco Sports Network                    250khh          ND; SD; MN
KOTR MY 11                                220khh          Monterey-Salinas, CA
MAV TV Network                           26mhh          National Cable Network
Tuff TV Network                            36mhh           National (digital television network)
AMG TV Network                          14mhh           National (digital broadcast network)
Heartland Network                         10.5mhh        National (digital television network)
Untamed Sports TV                       1.8mhh          National (programming service); Puerto Rico
DIRECTV Sports Pak                    3mhh             National (outer market package)
DISH Multi Sports Pack                 500khh          National (outer market package)
TOTAL HOUSEHOLDS                    101.9 MILLION
To see a Video Press Release about the 2014 Gresham Motorsports Park television initiative, please click on the You Tube link posted in the center of the top page of www.racegmp.com.
About Gresham Motorsports Park
Gresham Motorsports Park is located east of Atlanta, just off I-85 at Exit 140, in Jefferson, GA.
In 2014, GMP will host 21 racing events including four Pro and Super Late Model events – including the 31st-Annual World Crown 300. Gresham Motorsports Park will also feature eight 'Stockerama' events where six divisions – Outlaw Late Models, Trucks, Mini Stocks, Renegade Street Stocks, Sportsman Stocks and FWD's (Front Wheel Drives) – will compete on both the GMP ½- and ¼-Mile ovals all on one night.
Eight Street Drag/Show N' Shine programs – along with a national Drifting event onSunday, May 11 – will round out the 2014 Gresham Motorsports Park on track schedule of events.
For more information about the entire 2014 Gresham Motorsports Park racing season – please visit the Schedule page www.racegmp.com.
You can also follow GMP on Facebook and Twitter.