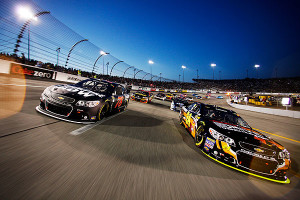 Part Two Of Regular Season: Unique Tracks And Iconic Races Abound
This weekend's Toyota Owners 400 at Richmond International Raceway kicks off the second stretch of races during the regular season. This 11-race stretch features unique tracks and iconic races, including Richmond, which is the third short track of the three on the schedule. Drivers visit both restrictor-plate tracks during this stretch and make their first road-course appearance of 2014 at Sonoma, where nine different drivers have won the last nine races. In addition, the longest test of endurance in NASCAR – the Coca-Cola 600 – and the always-entertaining NASCAR Sprint All-Star Race fall within this next block of racing.    
With Two In Hand, Harvick Could Make It Three
It is very possible that on Saturday night Kevin Harvick will pick up where we last saw him … in Victory Lane. At Darlington, Harvick became the first driver to win two races in 2014. This weekend at Richmond International Raceway, he very well could be the first to win three races. In 26 races at the short track, the California native has three victories, including two of the last five. His most recent triumph there came in the spring event last season. Harvick has led 945 laps with 16 top-10 finishes, both personal bests.
Can Edwards Make It Two In A Row At Richmond?
In the NASCAR Sprint Cup Series' last visit to Richmond, Carl Edwards posted his second victory of 2013. This Saturday, he returns to the short track having already picked up his first win of 2014 at another short track – Bristol. His win virtually locked in his spot in the Chase for the NASCAR Sprint Cup, but a second win would cement his place in the postseason (barring he doesn't miss any races or fall out of the top 30 in points). Edwards, who is currently third in points, has one win and 10 top 10s in 19 starts at Richmond.
Gordon Looks To Build Upon Points Lead, Win
Jeff Gordon's 2014 campaign has started off on the right foot. Through the season's first eight races, he has put together one of his strongest starts ever with six top 10s, including a runner-up performance at Texas. Although he hasn't won yet, he leads the points standings for the second consecutive week, one point over Matt Kenseth. With two wins and 26 top-10 finishes at Richmond – the site of this weekend's race – Gordon is looking for another strong finish to keep him atop the standings and a win to virtually lock him into the Chase.
Uncharacteristic Start Of Season For Johnson, Kenseth
Almost a quarter of the way through the season and with the NASCAR universe heading into a weekend off, something does seem a little off. Jimmie Johnson and Matt Kenseth remain winless. The last time neither Johnson nor Kenseth posted a win in the first eight races of a season was in 2001. At this point last year both drivers already had two wins. Overall, 15 of Johnson's 66 wins have come in the first eight races, while 12 of Kenseth's 31 wins have. Both drivers have wins at Richmond (Johnson – three, Kenseth – one), the site of the next race.    
NASCAR NATIONWIDE SERIES – TOYOTACARE 250, FRIDAY, APRIL 25, 7 P.M. 

ET ON ESPNews
Who will be the next to pull into Victory Lane for the first time? Will it be Brian Scott, Ty Dillon, Dylan Kwasniewski or perhaps even Chris Buescher? In two of the last three NASCAR Nationwide Series races a first-time winner has celebrated victoriously. Kyle Larson posted his first series race win at Auto Club in late March with Chase Elliott winning at Texas in the following event. This is the fifth consecutive season the series has crowned a first-time winner.
JRM Displaying Championship Form
It has been a good start to the 2014 season for JR Motorsports. In seven races, drivers Regan Smith and Chase Elliott have accumulated an impressive three wins, four top-five and 13 top-10 finishes. Elliott won the two most recent races (Texas and Darlington), with his teammate capturing the checkered flag in the season opener at Daytona. Elliott currently leads the series standings by 13 points over Smith. JR Motorsports is still searching for its first NASCAR Nationwide Series championship.
RCR To Make 1,000th Nationwide Start
With the series headed to Richmond International Raceway, Richard Childress Racing is approaching a milestone. When the green flag falls on Friday night's race, RCR will have four cars entered in the race with drivers Cale Conley, Ty Dillon, Brendan Gaughan and Brian Scott behind the wheels, marking the 1,000th series start for the organization. RCR drivers have celebrated in Richmond's Victory Lane six times in the NNS, most recently in fall 2012.  
NASCAR CAMPING WORLD TRUCK SERIES – SFP 250, FRIDAY, MAY 9, 8:30 P.M.

 ET ON FOX SPORTS 1
Drivers Remain Busy During Break
While the next race for the NASCAR Camping World Truck Series isn't until May 9 at Kansas Speedway, several drivers will be on the track this week. More than a dozen teams are spending Monday and Tuesday at Charlotte Motor Speedway testing for their upcoming race there on Friday, May 16. Timothy Peters and Jeb Burton will also compete in the Denny Hamlin Short Track Showdown Thursday night April 24 at South Boston (Va.) Speedway.
Tight Points Battles Heading Into Kansas
Timothy Peters and Johnny Sauter enter the SFP 250 at Kansas Speedway tied for the lead in the points standings. Both drivers are four points ahead of defending champion and the most recent race winner Matt Crafton (82-78). Ben Kennedy holds the early lead in the Sunoco Rookie of the Year race with a nine-point advantage over Tyler Reddick (29-20).