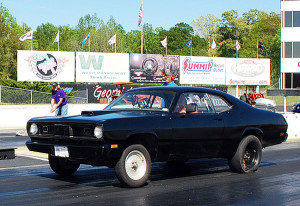 After the first Summit ET Series event of the day was completed, racers were given a time trial to prepare for the second race. Every good parent dreams of their children doing well, and the Bowden family is no exception.  Dad Bobby Bowden parked his '86 S-10 pickup back in 2005, and focused his attention on helping Chris and Austin Bowden excel in the Jr. Dragster ranks.  Both sons have won numerous events, and today that dream was realized when his 17 year old son Chris raced a Jr Dragster in the morning event, and then jumped into Bobby's truck to race with the "big cars", winning the second race. Another one of the many parents helping out their children is Alton Clements, who was at the track helping his son Alton Clements III work the bugs out of a new 2005 NMCA Super Street 10.5W Mustang built, tuned and owned by Ed Rice.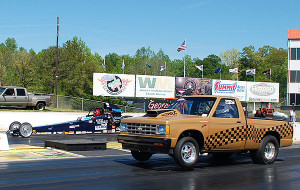 Super Pro racer Gary Dunn from Flowery Branch, GA recently won his bracket at the recent NMCA/NMRA event with his father in law's gold '82 S-10 pickup, and returned in a different vehicle today, an '05 Racecraft dragster owned by Steve Brown.  He did this because the beautiful weather gave his father in law Winston Brooks a chance to enjoy driving his S-10 pickup again, which in recent years has been driven with great success by Gary.  Dunn met Buckhead, GA racer Art Schafer's dragster in the final, and became the instant winner when Schafer's car left the starting line too soon, red-lighting with a -0.004 second reaction time.  Dunn's car then spun the tires, so knowing the win was already his, he chose to lift and eased it to an 11.60 at 44.87mph (4.86 dial).  Defending Super Pro champion Brian Smith ('09 Undercover dragster – Flowery Branch, GA) was the lone semi-finalist.  Although successful, Dunn and Brown's day was not easy, as they had to deal with problem like a faulty primer pump and a bad ignition coil during the day.  Dunn also thanked Steve for letting him drive.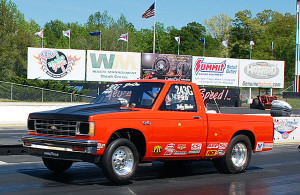 Pro racer Chris Bowden from Homer, GA is still racing in the 13-17 Jr Dragster class, and got a chance to pull double duty today with the help of his parents, Patty and Bobby Bowden.  Bobby pulled his '86 S-10 truck out of retirement and put Chris into the driver's seat for the first time.  Proving he was a quick study, Bowden went several rounds in the first event, and then was unstoppable in the second event of the day.  Although his final round opponent, Chad Brewer ('73 Nova – Canton, GA) had a great 0.013 second reaction time, Bowden had an equally good 0.016 react, and coupled that with a close 0.01 over 6.44 at 101.64mph (6.43 target).  Brewer was only 0.003 seconds behind Bowden, with a 6.82 at 100.50mph (6.80 dial).  Dickey Forrester ('68 Camaro – Hickory Flat, GA) and Travis Bryant ('68 Camaro – Bowman, GA) were the semi-final finishers.  Happy father Bobby Bowden added, "I don't know what to think.  It happened so fast."
Jimmy Harmon of Bowdon Junction, GA has raced for many years, but not so much in the past couple of years.  Tonight he brought a winning car back to the track, a '70 Gold Duster formerly raced by Johnny Prater, who won the 1995 Division Two championship in the same car.  Harmon entered Sportsman class for the day, and before he knew it, he was in the final round, facing off against another long time racer, Ed Nalley ('83 Chevy pickup – Carnesville, GA).  Harmon parlayed his reaction time advantage against Nalley into a win, carding a 12.44 at 106.22mph (12.39 dial).  Nalley's truck was spot on, with a 12.009 at 106.53mph (12.00 dial), but the slower react placed him 0.017 seconds behind Harmon at the big end of the track.  Nick Wagner ('04 Neon – Jefferson, GA) ended his day in the semi-final round.  "It's just an old car we put back together," Harmon humbly added.  He then added his friends in Wilson Gang racing were absent today because Jesse's mother had passed away, but they would be back soon.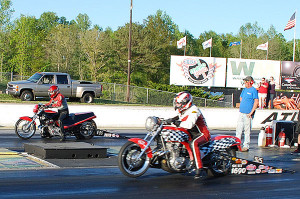 David Fletcher felt on top of the world with his second win of the day in Super Pro Bike, which also gave him a good early lead in the points.  Fletcher's Lawrenceville, GA based '84 Kawasaki made a great 9.27 at 130.19mph on its 9.23 dial, aided by a very good 0.006 second reaction time.  Sutton's light was green this time, but he couldn't overcome Fletcher's reaction time advantage, and came in second with a closer 9.02 at 137.61mph (9.00 dial).  Jay Rhyne ('82 Suzuki – Athens, GA) won the semi-finalist portion of the purse.  "I made it!  This is the best start to a season that I have ever had," added Fletcher.  He then thanked the Atlanta Dragway crew for all their work.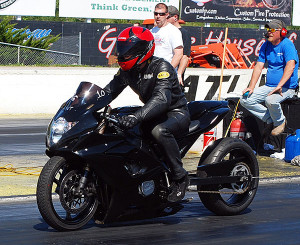 Street ET Bike winner Andrew Patterson came from Taylors, SC to compete today, and was rewarded with an extremely close win against Don Chavous ('86 Suzuki – Lawrenceville, GA).  Patterson's '06 Suzuki crossed the finish line stripe by the narrowest of margins, 0.001 seconds, in front of Chavous. Patterson's time was 8.852 at 146.70 (8.79 dial) and Chavous' time was 8.673 at 143.67mph (8.60 dial).  Ken Fore ('05 Suzuki Boulevard – Lavonia, GA) made it to the semi-final round for the second time today, along with Devin Field ('13 Yamaha – Hoschton, GA).  "I had fun today.  This was the first time I have been here since 2006.  We just made a last minute decision to come here today," added Patterson.
Sanctioned by the National Hot Rod Association (NHRA), Atlanta Dragway is located just off I-85 at Exit 149 in the Banks Crossing area of Commerce, Georgia. Information on all 2014 events, including the 34th annual Summit Racing Equipment NHRA Southern Nationals on May 16 – May 18, 2014, may be obtained by calling the track office (706-335-2301) or logging on towww.atlantadragway.com.