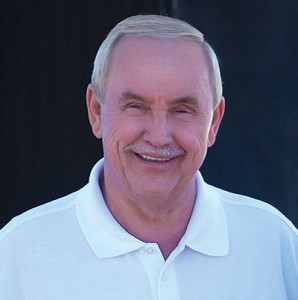 Longtime Georgia racing and Gresham Motorsports Park supporter Larry Fleeman will be honored as the title partner ofSaturday's Pro Late Model 100 event at GMP.
The 'Larry Fleeman Memorial 100' marks the third year Fleeman will be on the marquee for a premiere event at GMP. In 2012 and 2013, GMP honored Fleeman – who passed away on May 2, 2012.
"Larry Fleeman was one of the best friends Georgia auto racing ever had and he was particularly generous in his continual efforts to support Gresham Motorsports Park," said GMP general manager John Close. "Larry also happened to be one of the finest gentlemen anyone could ever meet and while it is unfortunate that he is no longer with us, it's very satisfying to be able to continue to remember Larry and celebrate his life and contributions to our sport through this memorial event."
The Larry Fleeman Memorial 100 will mark the first time a Pro Late Model event will be nationally telecast from Gresham Motorsports Park. One of the most exciting pavement divisions in the country, the one-hour taped delayed program of the Larry Fleeman Memorial 100 will be syndicated into more than 100 million households across the United States and Puerto Rico when it airs in mid-May.
A large field of Pro Late Model cars – including one driven by Larry Fleeman's son Russell – are expected to be on hand when the green flag drops on this year's Larry Fleeman Memorial 100 event.
"I miss my dad every day," stated Russell Fleeman. "He loved racing as much, and sometimes more, than I do. Our family is very happy to work with Gresham Motorsports Park to host an event in memory of my dad. We hope to end the night as the 2014 Larry Fleeman Memorial 100 winner."
Grandstand and Trackside gates for 
Saturday's
 Larry Fleeman Memorial 100 Pro Late Model race – which will also feature 30-lap main events in the GMP Outlaw Late Model and Pro Truck Divisions – will open at 
4 p.m.
Pro Late Model qualifying is set for 
5:30 p.m.
 with an on-track autograph session will follow at 
6:10 p.m.
Opening ceremonies – which will feature Nashville recording artist Shailee Cole singing the National Anthem – are slated for 
6:45 p.m.
 with the first race to follow at
7 p.m.
Adult grandstand admission is just $20 for this event while Senior/Military individuals are $15 each. Students 13-17 are $10 with children 12 and under are free.
For more information about the Larry Fleeman Memorial 100 and all the other 2014 events at Gresham Motorsports Park, please access 
www.racegmp.com
.
About Gresham Motorsports Park
Gresham Motorsports Park is located east of Atlanta, just off I-85 at Exit 140, in Jefferson, GA.
In 2014, GMP will host 21 racing events including four Pro and Super Late Model events – including the 31st-Annual World Crown 300. Gresham Motorsports Park will also feature eight 'Stockerama' events where six divisions – Outlaw Late Models, Trucks, Mini Stocks, Renegade Street Stocks, Sportsman Stocks and FWD's (Front Wheel Drives) – will compete on both the GMP ½- and ¼-Mile ovals all on one night.
Eight Street Drag/Show N' Shine programs – along with a national Drifting event on
Sunday, May 11
 – will round out the 2014 Gresham Motorsports Park on track schedule of events.
For more information about the entire 2014 Gresham Motorsports Park racing season – please visit the Schedule page 
www.racegmp.com. 
You can also follow GMP on Facebook and Twitter.