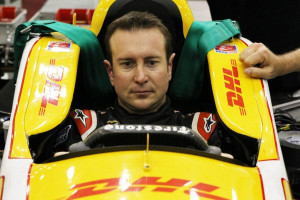 With just three official days of Indy 500 practice in the books, cup car champion Kurt Busch posted speeds fast enough for third in the overall practice rankings thus far. Busch's top speed of 224.159 mph came during Tuesday's rain shortened practice day – the second fastest speed posted that day. The Las Vegas native trails the month's speed leader, his Andretti Autosport teammate Ryan Hunter-Reay, by only 0.866 mph.
The upcoming qualification weekend in Indianapolis will mark the first busy back-and-forth trips for Busch as he works to become only the fourth driver in history to attempt the "Double" –
racing in both the Indianapolis 500 and NASCAR's 600-mile race in the same day.
Anticipating a rainy day in Indianapolis, Busch departed Indianapolis Motor Speedway, heading to Charlotte where he will spend the day checking in with his full-time driving home Stewart-Haas Racing.

He will return to Indianapolis for Indy 500 practice Thursday and Friday before
qualifying the No. 26 Suretone IndyCar Saturday morning. Saturday evening will
see Busch jetting, courtesy of Cessna, to Charlotte Motor Speedway for the
NASCAR All-Star Race before returning to Indy on Sunday for more qualifying and
practice.
On being ranked third on the overall time charts after three days of
practice:
"It definitely wasn't on my radar.
But what I've been able to do as a student is each day progress at a strong
rate, and progressing is being able to digest the information and then being
able to apply it the next day. Each day out, the Andretti Autosport team has
helped me with a game plan on what's next, so it's nice when you can have a
solid forecast of what to expect. As far as guys getting tows and posting those
good laps, some of my drafting experience helps from what I've seen at Daytona
and Talladega; Indianapolis has a little bit of Darlington characteristics into
it. What I mean by that is you have to be single file and you have to know
which corner you are approaching at all times, and it's a matter of give and
take with the other drivers out on the track. I haven't been around many guys,
mostly the Andretti guys but it's been thumbs up right now. It's been nice to
continue to find speed and to feel more comfortable in the car in the traffic."
On the biggest surprise so far in his Indy 500 experiences:
"The biggest thing that's been a surprise is honestly just the open arms that everyone has had here and supportive of me being here and just kind of rooting me on. It's nice to talk to Rick Mears or to bump into Juan Pablo Montoya and we're talking NASCAR and the crossover to IndyCar. Then again Michael (Andretti) has been amazing. He's a great owner to drive for and even the camaraderie with Ryan (Hunter-Reay) and Marco (Andretti); it's just been neat to experience it all."
On losing track time Wednesday to rain:
"I think it's a nice point… sometimes to just have a reset and have a day when we're not continuing to feed information and just have a day to digest. Once the track is good to go, we're
going to have cooler conditions and it's going to be more ideal for qualifying trim anyway. We'll have qualifying Thursday, Friday, Saturday and Sunday and then come back around and work on race trim again Monday."