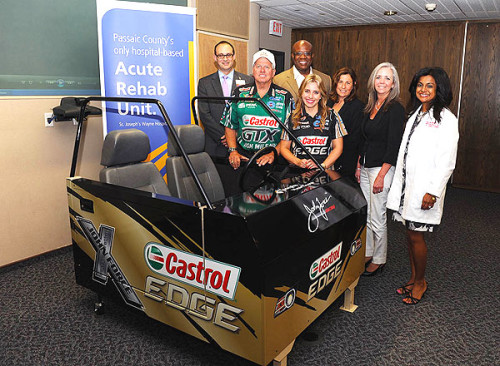 Castrol and John Force Racing today dedicated the delivery of a WT-960 TRAN-SIT® Car Transfer Simulator to be used at St. Joseph's Hospital. Numerous dignitaries from Castrol and St. Joseph's Hospital were on hand for the momentous occasion.
The state-of-the-art and high-tech WT-960 TRAN-SIT® Car Transfer Simulator will forever change how patients can reclaim their independence by providing them a convenient and safe method of regaining their basic driving skills within a controlled environment.
"The simulated car or vehicle that we have on the unit will allow our patients the freedom and
ability to get back on the road as well as feel safe about it. They will also be safe for other passengers and other drivers.
The fact that John and Brittany Force came out today to support this product and show that there is a need for rehabilitation equipment like this. We are very grateful to them and Castrol
BP," said Dr. Massod, Medical Director of the Acute Rehabilitation Unit.
"Today's dedication enhances our offering of services for patients trying to improve the quality of their lives and helping them get back to doing what they do every day," said Dan Kline, St. Joseph's Site Administrator Daryl Benton, US Marketing Director with Castrol, was also in attendance spoke about the importance of the who talked about the Castrol EDGE brand and how it ties to "Performance" and "Driven Stronger".
"I'm thrilled to be here having a chance to represent Castrol EDGE. A brand like Castrol EDGE is all about driving performance and by introducing John and Brittany Force that drive these high-performance vehicles, it's a natural fit," said Daryl Benton.
"For John to tell his story about recovery and rehabilitation and how he worked with a vehicle simulator that help to bring him back to win two more NHRA Funny Car championships is inspirational.
"Castrol sponsored drivers John Force and Brittany Force were also on hand for the dedication.The 16-time NHRA Mello Yello World Champion John Force spoke of his accident during the 2007 NHRA Fall Nationals in which his race car was involved in a horrific crash. He acknowledged how important the rehabilitation process was that allowed him to eventually get back into his 8000-horsepower Castrol GTX High Mileage Mustang Funny Car and win two more NHRA championship in 2010 and 2013.

John mentioned his motivating and stirring anthem of "Never Give Up, Never Back
Down, Never Quit!"
"When I had my accident in 2007, the doctors told me I'd be lucky to walk, let alone drive a race again. I was even more determined to prove them wrong and began going through recovery and rehab on car simulator just like this one. Since then, I've won two NHRA Funny Car Championships," said John Force.
Brittany Force, the 2013 NHRA Rookie of the Year and driver of the Castrol EDGE Dragster, also gave an inspirational and heartfelt talk about what it was like to see her father, John Force, fight back the odds of never racing again after his accident in 2007. She also spoke on how this piece of equipment Castrol is dedicating to the hospital is important in getting patients back on their feet and maintaining their ability to drive again.   
"We were worried about my dad after that horrible crash and questioned if he'd ever race again. After seeing is hard work and determination, he's inspired all of us," said Brittany Force.
About CastrolBP Lubricants USA Inc. markets premium lubricants and business building programs to leading retailers, motorsports dealers, independent service providers and new car  dealers. Our leading passenger car brands include Castrol GTX – a premium conventional motor oil and the Castrol EDGE line of advanced full synthetic super premium motor oils.  To find out more about Castrol products and programs, please call 1–888–CASTROL or log on to www.castrol.com/us.