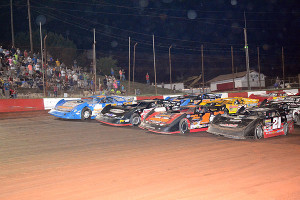 Story & photos by Phillip Prichard:  
Dixie Speedway kicked off the Memorial Day weekend by hosting the Ray Cook -promoted Old Man's Garage Spring Nationals Series presented by Schaeffer's Oil for a $6,000-to-win, 50-lap Super Late Model event.
Dixie Speedway is in their 45th season of racing at the Woodstock facility. In addition to the Super Late Model event, the following classes also competed: Crate Late Models; Steelhead Late Models; Pony Series; Econo Bombers; Super Bombers; and the Cruisers.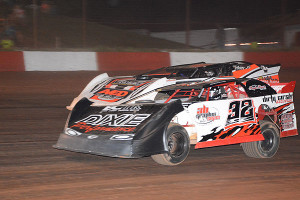 The race marked the final points paying event on the 10-race mini tour Old Man's Garage Spring Nationals Series promoted by racer Ray Cook.
On Saturday night, May 10th,  the championship awards presentation took place immediately following the main event.
Dale McDowell dominated the Memorial Day Weekend with his second weekend win on the Old Man's Garage Spring Nationals Series by Schaeffer's Oil and his third straight victory on Saturday night, May 24th at Dixie Speedway, as the track saw one of its largest crowds in its 45-year history.
The Chickamauga, GA driver led flag-to-flag for the $6,000 payday at Dixie.  McDowell earned $10,000 total for the weekend as he also won on Friday Night at Boyd's Speedway driving the Team Dillon Racing, E.C.R. powered Warrior Race Car Impala SS to the win.
McDowell was the fastest car in FK Rod Ends Time Trials with a time of 15.081 seconds, besting a field of 43 entries.
Heat Race Winners were Donald McIntosh, Michael Page, Jason Hiett and Tony Knowles. The Last Chance Showdown Consey winner went to Shawn Chastain.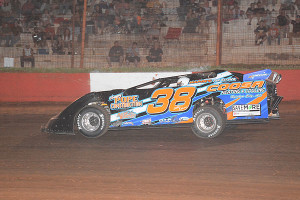 Billy Ogle Jr. captured the Series Title for the first time. Ogle picked up the $5,000 championship check in the Larry Garner-owned, Blount Motorsports Rocket Chassis.
Michael Chilton of Salvisa, KY finished second in the points and Donald McIntosh of Dawsonville, Ga. finished third.
Old Man's Garage Spring Nationals Series Feature Finish:
1. Dale McDowell-Chickamauga, GA
2. Billy Ogle Jr.-Knoxville, TN
3. Casey Roberts-Toccoa, GA
4. Austin Kirkpatrick-Ocala, FL
5. Randy Weaver-Crossville, TN
6. Michael Chilton-Salvisa, KY
7. Michael Page-Douglasville, GA
8. Tony Knowles-Newnan, GA
9. Eric Jacobsen-Rio Del Mar, CA
10. Joe Armistead Jr.-Senoia, GA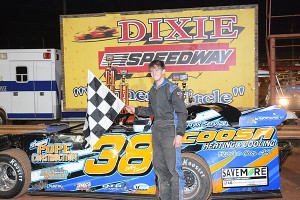 In the Crate Late Model Series:
Mark Page in the 18 was the victor
2. Hunter Jones (54)
3. Justin Shipley (08)
4. Mason Massey (15).
Steel Head Late Model Series:
Dillon Tidmore in the 38 was the winner
2. Scottie Pritchett (23)
3. Chris Fennell (29).
Dan Meadows (07) won the Econo Bomber series; Kenny Taylor (F5) won the Super Bomber series and Shannon Ethridge (21) won the Pony series.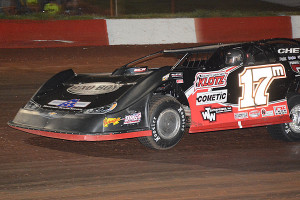 Dixie Speedway races every Saturday night until October 4. Visit their webpage at dixiespeedway.com for more details.
The 2014 Schaeffer Summer Nationals will kick off a ten race series starting 21 July, visit  southernnationalsseries.com for details.