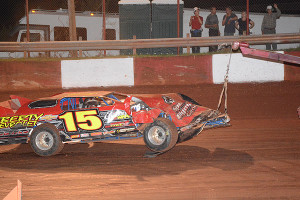 By Phillip Prichard
Rome Speedway kicked off their season opener race with a full slate of racing on Memorial Day weekend. In front of a near capacity crowd, fans were treated to six classes of racing with excitement brewing throughout the evening.
In the Super Late Model class, Crossville, Tennessee ace, Randy Weaver, capped off his Memorial Day holiday weekend as he recorded his first victory of the 2014 campaign at the ultra-fast Rome Speedway in Rome, Georgia!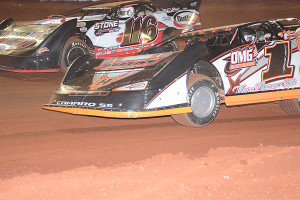 After posting the second fastest time during qualifying at Rome, Weaver started the unsanctioned main event from the outside of the front row. Weaver, nicknamed "Dream," got the jump at the drop of the green flag and paced the field for all thirty circuits en route to capturing the $2,000 top prize over Jason Hiett, Austin Kirkpatrick, Jake Knowles, and Casey Roberts.
Twenty-six Super Late Models were on hand for the Sunday night event. Weaver has 338 Career Feature Victories.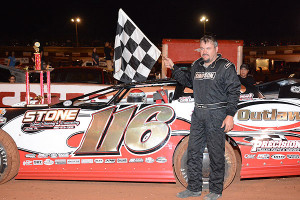 SUPER LATE MODEL Top Ten Results were
1.  Randy Weaver (116)
2. Jason Hiett (1)
3.  Austin Kirkpatrick (11) 4. Jake Knowles (66)
5. Casey Roberts (101)
6. Jason Welshan (29)
7. Tyler Millwood  (X)
8.  Jeff Smith (17s)
9. Doug Stevens (77)
10. Joe Armistead Jr (21).
Todd Hernandez in the T6 won the Steelhead Late Model event.
Chris Fennell (29) was second
Justin Litchford (4) was third
Joey Armistead (21) was fourth
Jason Smith (84) was fifth
Seventeen Steelhead Late Models were on hand for the event.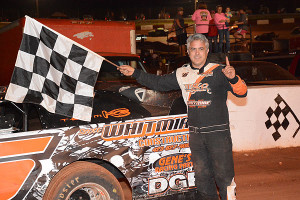 Mark Page captured the Crate Late Model series win after Zach Pilcher was disqualified after his engine was torn down as a result of a protest. Twenty-two Crate Late Models were on hand for the evening. A first lap wreck took out three of late models.
The Top Ten results were
1. Mark Page (18)
2. Justin Shipley (08)
3. TJ Brittain (05)
4. Kyle May (55)
5. Hunter Jones (54)
6. David Beam (44)
7.Mark Richardson (8)
8. Jimmy Ivester (37)
9. George Ervin (52)
10. Cody Richards (71)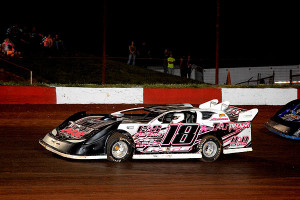 Andy Morris (40) won in the Super Bombers class, David Burtz (31) won the Econo Bomber class, and Mitchell Pope (56) won the Pony Stock class. 
Rome Speedway has five more events scheduled for 2014, check out www.dixiespeedway.com for details. Rome Speedway is known as the "World's Fastest ½ Mile Clay Track."