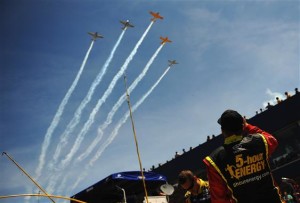 At long last, Jimmie Johnson knows what it feels like to visit victory lane at Michigan International Speedway.
The six-time NASCAR Sprint Cup series champion took the lead for good on Lap 191 after a cycle of pit stops and cruised to the checkered flag at Sunday's Quicken Loans 400 to end a 24-race drought here.
"We've figured out every way to lose this race and today we were able to get it done," he said after getting out of his No. 48 Chevy.
Johnson had encountered heartbreak several times when leading late here and admitted he was nervous as he dashed through the final few laps.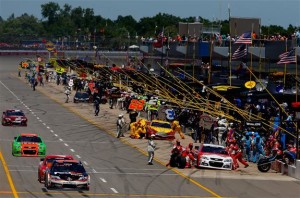 "About 200 yards before the finish line I knew if the car exploded I'd still make it across the line," he said with a chuckle, "so that's when I finally relaxed."
Johnson pitted on Lap 165 and took on four tires and enough fuel to finish the race, which was green the rest of the way. Anyone close to him pitted later and left Johnson comfortably ahead as Hendrick Motorsports captured its fifth straight Sprint Cup series race.
"We were really in a win-win situation," said Johnson, who led 39 laps and jumped to second in the Sprint Cup points standings behind Gordon. "Those guys had to come to pit road to make it to the end.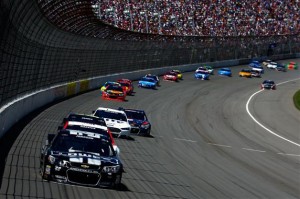 "Once the strategy unfolded, we knew we were in the catbird's seat."
Crew chief Chad Knaus said the team had an extra ace in the hole.
"We knew there was going to be some opportunities to play some strategy today," he said. "We were fortunate to have a fast racecar and hit the strategy correct."
The car was the same the team used to win Johnson's first race of the season at Charlotte.