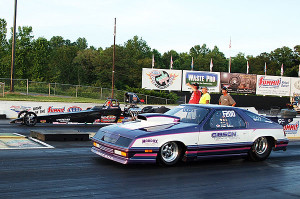 By Tim Glover
(Commerce, GA – June 14)  After the first Summit ET Series event of the day was in the books, racers were allowed to run a single time trial to prepare for the second Summit ET Series race of the day.
Andrew Patterson was hot in both Super Pro Bike and Street ET bike, making it to his third final round of the day.
Also making multiple final round appearances were Jeremy Hancock in Super Pro and Street ET Bike Racer Jimmy "ChaCha" Heisler, who made it to the final of Super Pro Bike twice in one day, along with making it to the semi-final round in Street ET Bike earlier in the day.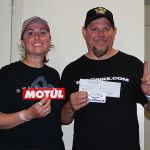 Walhalla, SC racer Tim Gibson ended a long winless drought in Super Pro with a win against the red hot Jeremy Hancock, who up to that point hadn't lost a round all day.  Gibson's Maddox Race Cars '84 Daytona won with a 0.004 react, coupled to a 6.104 at 114.30mph (6.07 dial).
Hancock's react was also very good at 0.019, but his 4.731 at 146.89mph (4.71 dial) in his '05 Undercover dragster put him 0.002 seconds behind Gibson at the top end stripe.  Daulton Rogers ('00 Undercover – Hiwassee, GA) and Lloyd Kaylor ('87 Regal – Winder, GA) earned the semi-finalist portion of the purse.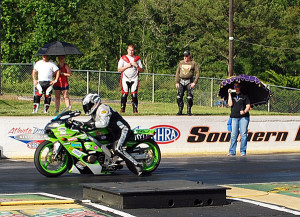 "First, I want to thank my Lord and Saviour Jesus Christ," said Gibson.  He then thanked Ed Nalley, Bill Boomhower, Maddox Race Cars, his wife Missy and son Jonathan.  Gibson noted his last final was in 2007 at the Night of Fire, and his last win was in 1998.  This was his Daytona's first win.  He noted he is preparing the car for his son Jonathan, who is 16 years old.  Gibson's wife Missy said winning on Father's day made this a perfect weekend.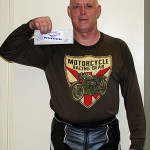 The mayor of Hickory Flat, who has been drag racing for over 40 years, added another entry to his win column with the Pro win.  Seeing he had a good lead near the finish line, Dickey Forrester lifted off the throttle a little early in his '68 Camaro, sealing the win with a 7.93 at 80.03 (7.87 dial).  The other finalist was Howard Warren ('72 Maverick – Douglasville, GA).  Warren's machine was closer to the dial but second across the finish line with an 8.429 at 79.85mph (8.40 dial).
Brooke Buchanan ('72 Nova – Six Mile, SC) and Mel Abney ('65 Chevy II – Cumming, GA) brought home the semi-finalist payout.  Forrester humbly added, "I've been doing this 40 years.  It was just a good day where things fell my way and the other guys just screwed up more than I did.
Sportsman winner Blayke Phillips from Jonesboro, GA paid a visit to Atlanta Dragway along with his father Bryan and brother Brandyn, who raced in Pro.  At the end of the day, Phillips found himself facing veteran racer Ed Nalley's '83 Chevy Pickup for the Sportsman final.  His '98 Firebird was on target with a 14.22 at 93.69mph (14.19 dial), and Nalley's machine was a little bit further off the mark, crossing the finish line with a 12.08 at 106.15mph (12.00 dial).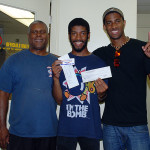 Austin Smith from Baldwin, GA was the sole semi-finalist in his well traveled '70 Nova.  Phillip's dad Bryan mentioned the win was a great father's day present for him.  Phillips, whose last win was in 2007 added, "I'm just really glad to take this win.  Thanks to my dad and brother for their help."
Both the winner and runner-up from Super Pro Bike Race #1 decided to enter again for race two.  In the final, Jimmy "ChaCha" Heisler and Andrew Patterson once again found themselves facing each other.  This time, Heisler changed both the lane and the end result by taking the win light with his Woodstock, GA based '00 Kawasaki.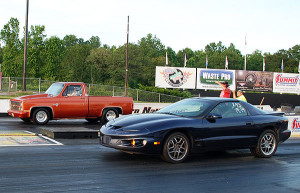 Patterson had the better reaction time (0.004 vs 0.031), but in the end Heisler carded a 10.79 at 121.25mph (10.76 dial) and Patterson's '06 Suzuki was a little off pace with a 9.00 at 145.93mph (8.90 dial).
Adam Edwards from Winder, GA was the semi-final finisher.  "I just wish Jay and Tim (who were competing at the NHRA Ford Thunder Valley Nationals in Bristol) were here to pick on."  He thanked Vanson Leathers, Broward Motorsports, Motul, Brock's Performance and Dragbike.com for their help.  The smiling Heisler then added, "I don't need no sissy bars to win in Super Pro Bike."
Dave Hamilton from Braselton, GA won his first ever event aboard his '06 Suzuki in Street ET Bike.  Hamilton met Randy Barnett in the final, and took the win with an 11.06 at 121.90mph (11.00 dial).  Barnett was a little later in the reaction time department, and broke out with a 9.16 at 141.18mph on a 9.18 dial.
Randall Long ('06 Suzuki – Madison, GA) was the semi-finalist.  Hamilton first thanked coach Don Chavous and Livengood Motorsports.  He then added he appreciated all the camaraderie shown by his fellow racers.  "It's neat to be competitive on a 600 with a stock wheelbase," added Hamilton.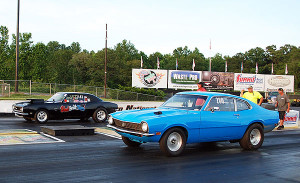 Sanctioned by the National Hot Rod Association (NHRA), Atlanta Dragway is located just off I-85 at Exit 149 in the Banks Crossing area of Commerce, Georgia. Information on all 2014 events, including the Night of Fire on June 28, 2014, may be obtained by calling the track office (706-335-2301) or logging on to www.atlantadragway.com.