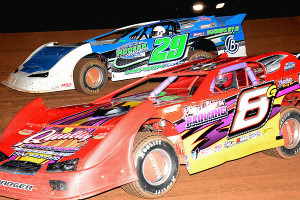 Story & photos by Phillip Prichard, MSA:
The East Alabama Motor Speedway hosted the USCS Winged Outlaw Sprint Cars, USCS Winged Outlaw Mini Sprints, Limited Late Models, Hobby, Bomber & Road Warrior Classes as a Father's Day Special Weekend. The action packed evening included heat races and feature races in the six classes.
In the www.rockauto.com USCS 600 Sprint A-Main, Matt McCullough in the 14 of Atlanta won the 20 lap feature. 2. Kyle Amerson (29) of Matthews, AL; 3. Bobby Zaiontz (1) of Columbus, MS; 4. Mike Magic (5m ) of Winder, GA; 5. 48 Shane Werner (48) of McDonough, GA;
6. Sam McCullough (14w) of Powder Springs, GA; 7. Sean Hosey (6) of Clarksville, TN and 8. Brandon Taylor (07) of Cumming, GA.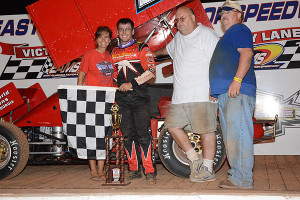 In the Limited Late Model feature, Bubba Gorman won the 15 lap feature in a dominating performance in the 8G car. Trevor McMillian in the 01 was second and Tanner Thomas in the 777 was third.
The highlight event of the evening was the 30 lap USCS Winged Outlaw Sprint Car Race. Johnny Bridges (07) started in the K & N Pole position but hopped the left front wheel of Eric Riggins Jr (47) on the initial start causing a restart on the initial lap. On the second lap, a six car skirmish piled up in turn 4 and brought out the red flag. Eric Riggins Jr., Brian Thomas, Terry Witherspoon, Bob Auld Clint Weiss and Jeff Willingham were involved. Willingham flipped end over end landing upright, he climbed out uninjured.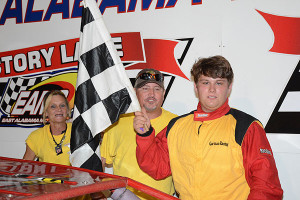 Derek Hagar of Marion, AR driving the 1A who originally started fourth, took the lead on the restart and stayed out front to the finish. Terry Gray, Johnny Bridges and Riggins battled for the second position with Gray capturing the second place.
Hagar's victory was his sixth USCS win of the 2014 season and was his fourth consecutive win in the series. The win was also Hagar's 27th career win.
United Sprint Car Series "Randy Helton Memorial" at East Alabama Motor Speedway Main Event Finish: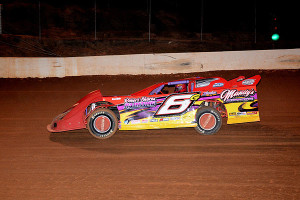 1. #1A – Derek Hagar, Marion, AR
2. #10 – Terry Gray, Bartlett, TN
3. #47 – Eric Riggins Jr., Charlotte, NC
4. #10M – Morgan Turpen, Cordova, TN
5. #43 – Terry Witherspoon, Jacksonville, FL
6. #07 – Johnny Bridges, Cherryville, NC
7. #21B – Brandon McLain, Indian Trail, NC
8. #67 – Brian Thomas, Pendergrass, GA
9. #83 – Bob Auld, Largo, FL
10. #0X – Clint Weiss, Jesup, GA
11. #4 – Jason Troutman, Vale, NC
12. #28 – Jeff Willingham, Ripley, MS
13. #99 – Tanner Witherspoon, Jacksonvolle, FL
14. #12C – Collin Cabre, Thonotosassa, FL
15. #33 – Joe Larkin, Suwanee, GA (DNS)
16. #51 – Jay Dunham, Grovetown, GA (DNS)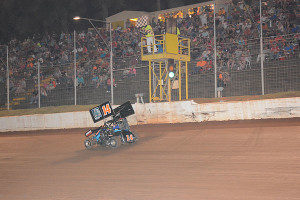 More information on the United Sprint Car Series Outlaw Thunder Tour can be found at www.uscsracing.com.
The other series winners at East Alabama Motor Speedway were:
Hobby – 11 Dylan Holmes, Bomber – 21 Logan Smith
Road Warrior – 5 Jason Lang.
Additional information on the East Alabama Motor Speedway is located at: http://www.eamsdirt.com/. The 36th Annual Alabama State Championship Races will be 25-28 September and the 40th Annual National 100 Championship Races sanctioned by the NDRL Series will be 30 October – 2 November.