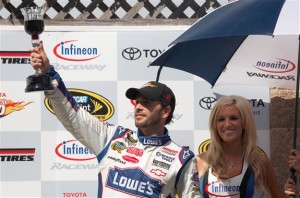 Jimmie Johnson's recent, dramatic turnaround has placed him squarely into the middle of the NASCAR Sprint Cup Series championship discussion, while also fueling yet another run of excellence for Hendrick Motorsports.
Rick Hendrick's drivers have won five consecutive races – Jeff Gordon (No. 24 Panasonic Chevrolet) at Kansas, Johnson (No. 48 Lowe's Chevrolet) at Charlotte and Dover, Dale Earnhardt Jr. (No. 88 Kelley Blue Book Chevrolet) at Pocono and Johnson again at Michigan. That streak is one short of the "Modern Era" record of six consecutive victories by an owner, set by Hendrick during the 2007 Chase for the NASCAR Sprint Cup. That year, Gordon won two in a row followed by a four-victory streak that carried Johnson to his second-consecutive series championship.
(Note: The Modern Era is considered to have begun in 1972, when the number of races in the NASCAR Sprint Cup Series season was drastically reduced, from 48 to 31. Since then, there have never been more than 36 points-paying races in a season. The all-time record for consecutive car owner victories is an incredible 16 by Carl Kiekhafer in 1956. Kiekhafer was a Rick Hendrick prototype, a multi-car team owner who dominated NASCAR's top series in 1955-56. Four different drivers won for Kiekhafer during his streak: Buck Baker, Tim Flock, Herb Thomas and Speedy Thompson. There were 56 races in the 1956 season which actually started on Nov. 13, 1955, meaning the season lasted 371 days.)
"I'm thrilled on multiple levels," Johnson said after his Michigan victory. "The success that we've had as a team, kind of hitting our stride and getting to Victory Lane three times in the last four weeks …
"Our teammates and their success, the company, and you look at our engines in our cars and what they're able to do … Rick gives us all the tools to go out there and do our jobs and to have everything so fast and so good, you want it to last forever. We know that it won't, but it's just a good time to sit back and reflect and enjoy it."
Added Hendrick: "Everybody is really putting out a lot of effort right now, and it's paying off."
Hendrick driver Kasey Kahne (No. 5 Great Clips Chevrolet) would enjoy coming up with a record-tying victory on Sunday, in the Toyota/Save Mart 350 road-course event at Sonoma Raceway. Kahne is one of those "odd-man-out" drivers still looking for a first 2014 victory – and an all-but-assured berth in the newly expanded Chase. It could happen. After all, it has happened. Kahne won at Sonoma in 2009, making him part of a list of nine different Sonoma winners over the last nine seasons.
Here's the list:
2005 – Tony Stewart
2006 – Jeff Gordon
2007 – Juan Pablo Montoya
2008 – Kyle Busch
2009 – Kasey Kahne
2010 – Jimmie Johnson
2011 – Kurt Busch
2012 – Clint Bowyer
2013 – Martin Truex Jr.
Notice the three Hendrick drivers on that list: Kahne, Johnson and the all-time road course king Jeff Gordon, who has a record nine career road-course victories. Not on that list: Earnhardt, whose current momentum could change a shaky Sonoma past. In 14 previous Sonoma starts, Earnhardt has yet to finish in the top 10.
The Sonoma/Save-Mart 350 is part of NASCAR's annual "road-course weekend" for national series competition, with the NASCAR Nationwide Series visiting the historic Road America facility in Elkhart Lake, Wisc. for a Saturday afternoon event.
In addition, also on Saturday, the K&N Pro Series West will race at Sonoma with four NASCAR Sprint Cup Series drivers slated to compete – Justin Allgaier, Austin Dillon, Kyle Larson and Ricky Stenhouse Jr.