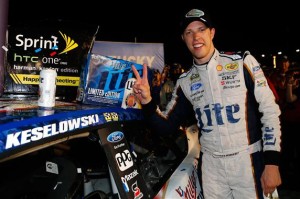 · Brad Keselowski's win is his second of the season and 12th of his career.
· Ford Racing's six wins equals the single-season total for 2012 and 2013.
· The win is Ford's 624th all-time series victory and the 33rd by Penske Racing with Ford.
· This marks the second time in 2014 that Ford Racing has won consecutive NASCAR Sprint Cup Series races. Brad Keselowski and Carl  Edwards captured Las Vegas and Bristol, respectively, during the first month of the season.
*BRAD KESELOWSKI – No. 2 Miller Lite Ford Fusion* – *VICTORY LANE INTERVIEW*
– HOW DOES IT FEEL TO HAVE SUCH A DOMINANT CAR? "It feels like don't screw
it up. Our car was awesome. The team did a great job and I'm just really thankful to have a car this good. I don't know how else to put it. The Miller Lite Ford Fusion was hauling and I just can't wait to get deeper in the season and the post-season. I think this is where we need to be to have a shot at another championship, so I'm just real proud of everyone
right now."
WHAT WAS YOUR THOUGHT WHEN YOU HAD TO CHASE DOWN KYLE BUSCH? "It
was gonna be tough. I knew it was gonna be really, really tough. I figured we'd get to him, but I didn't really think I'd be able to pass him. I caught a little break in lap traffic and the car was just that good. I was able to take advantage of it and get the lead. That was
awesome."
WELCOME
TO THE CHASE. "That feels good. Thank you, very much."