Story & photos by Phillip Prichard: 
Steve "Hot Rod" Lamance captured victory in the wild FASTRAK 2nd Annual Charlie Mize Memorial "Independence Day Bash" at the 3/8th mile clay oval Lavonia Speedway. Lamance won the $2000 winner's share of the $12000 purse for the event.
Twenty-four (24) FASTRAK machines were on hand at Lavonia Speedway in front of a great crowd to celebrate America's birthday. In qualifying, 62 year old, Steve Lamance in the Tim King Farms #85 entry was quickest with a speed of 16.925 seconds.
Racer and celebrity Kenny Wallace was on hand driving the #22 Air Force sponsored car. Kenny addressed the crowd, signing autographs and posing for photos with fans. Wallace would finish 15th in the feature.
Four Heat Races were used to lock in the field after the qualifying. The winners were: Arizona Sport Shirts Heat #1 – #85 Steve Lamance, Hoosier Tires heat #2 – # 4 Danny Sanders, TNT Race Cars Heat #3 – #07 Dale Timms and Chevy Performance Heat #4 – #77 Brian Connor.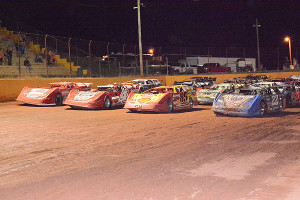 The race started off fast and furious with the first 5 circuits being clean but intense racing as Lamance jumping out in front on the field. Caution one would fall with #15 Jesse Ivester stalled after spin in turn 2. On lap 9, #121 Drew Cole and #71 David Smith we're racing hard exiting off turn 4, they made contact with Cole plowing hard into the outside retaining wall. On lap 10, a multi-car accident would take place in front of the Lavonia crowd. #15 Jesse Ivester would make contact with a crazy spin cycle by #22 Jordan Dill which then collected #23 Corey Gordon just barely missing the cross-over gate at the flag-stand also collecting #21 Frankie Beard.
Then trouble would happen again on the restart as #77 Brian Connor and #4 Danny Sanders battling for the 2nd spot, banged fenders hard drifting both up the top then violently Connor's car shot to the bottom and plowed hard into the infield pit wall. A few more yellow flags would fall with #23 Corey Gordon and #02 Darren Hill having a incident tangling in turn #3 and final caution would fall on lap 21 for debris in turn 3.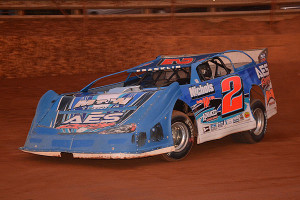 A 14 lap shootout concluded the event with contenders like #57 Lee Cooper, #71 David Smith, #2 Dennis "Rambo" Franklin and even #22 Kenny Wallace all trying to jockey for the position However it wasn't enough as the #85 Steve "Hot Rod" Lamance would take the checkered flag to claim his 3rd straight touring series victory at Lavonia Speedway.
Unofficial Race Results from 2nd Annual Charlie Mize Memorial "Independence Day Bash" on July 4th 2014 were:
#85 Steve Lamance, #4 Danny Sanders, #121 Royce Bray, #07 Dale Timms, #5 Chris Cape, #2 Kyre Mullaney, #57 Lee Cooper, #2f Dennis Franklin, #16 Colby Cannon, #71 David Smith, #22d Jordan Dill, #418 Ashley Poole, #21b Frankie Beard, #37 Jimmy Ivester, #22k Kenny Wallace, #8 Chris Chandler, #02 Darren Hill, #21c Cameron Crowe, #23 Corey Gordon, #77 Brian Connor, #12 David McCoy, #371 Drew Benfield, #15 Jesse Ivester, #121c Drew Cole.
In post race interviews Kenny Wallace even said that he looked up to Lamance as he just celebrated his 62nd birthday a few weeks ago. The crowd excited in celebration for Lamance and gave new "HotRod" a new nickname : "Lavonia Lamance" and it proudly sticks him perfectly.
For additional information on the FASTRAK Series, check out www.fastrakracing.com. The next time the FASTRAK Racing Series will be back at "The Smoothest 3/8th Mile Clay Surface in the South" is September 12th and 13th for the 2014 Georgia State Topless Championships with a $3,000 to win show racing along with the ULTIMATE Super Late Models Series running the same weekend. Check out Lavonia Speedway at www.lavoniaspeedway.net/