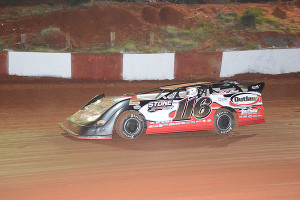 Randy Weaver had back-to back wins in the Ultimate Super late models series this weekend. Weaver attributes his success at Smoky Mountain Speedway and North  Georgia Speedway to his new Longhorn Chassis.
On Friday night, at Smoky Mountain Speedway, Weaver led the race flag-to- flag, taking home the $5000 prize money. Weaver was the fastest qualifier at 15.881 second. Casey Roberts was 2nd, Vic Hill was 3rd, Billy Ogle Jr. was 4th  & Dennis "Rambo" Franklin was 5th.
On Saturday night, at North Georgia Speedway, Weaver was on the pole with a fast qualifying time of 13.175 seconds. Weaver & Rambo Franklin started on the front row. Weaver cruised to the win taking home the $4000 prize money.  Riley Hickman was 2nd, Tom Maddox was 3rd, Ray Cook was 4th & Jeff Smith was  5th.