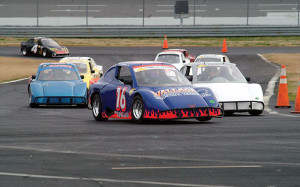 Gresham Motorsports Park today announced the elimination of the Mini Stock division from its Stockerama program effective immediately.
In a related announcement, the Jefferson, GA track indicated it has completed a sanctioning agreement with INEX US Legends and will include Legends and Bandoleros to the mix of Stockerama divisions beginning on Saturday, August 2.
"We didn't have a single Mini Stock show up for our last Stockerama program on June 21," said John Close, Gresham Motorsports Park general manager. "That was extremely disappointing. I, and a lot of other people, remember 10 or 15 years ago when 20 to 25 Mini Stocks would show up and put on an amazing show. Our records show the most Mini Stocks we've had here for an event since GMP reopened in 2010 has been 12 and, in recent years, that number has fallen to just a handful of cars regardless of what track we run them on – the half-mile or quarter-mile. The Mini Stock car counts seem to be down at other paved tracks that run them too. It's a darn shame, but times change.
"Meanwhile, we've been working on securing a sanctioning agreement to bring Legends and Bandoleros racing back to GMP since the first of the year," Close continued. "Those divisions are very popular with the fans and they provide a great entry level for young drivers to get into racing. We're really looking forward to having them here again as part of our regular mix of Stockerama divisions beginning on Saturday August 2 and also at our August 16 and September 20 Stockerama events."
The next GMP Stockerama is scheduled for this Saturday, July 19. That event will feature 25-lap Front Wheel Drive, Sportsman and Renegade main events on the quarter mile while the Outlaw Late Models and Pro Trucks will stage 30-lap feature battles on the GMP half-mile oval.
Trackside and spectator gates open at 5 p.m. Opening ceremonies are at 7 p.m. with the first race set for 7:15 p.m.
For more information about Gresham Motorsports Park, please log on to www.racegmp.com.
About Gresham Motorsports Park
Gresham Motorsports Park is located east of Atlanta, just off I-85 at Exit 140, in Jefferson, GA.
The sprawling motorsports and event complex – which underwent a multi-million dollar renovation in 2009 – features ¼- and ½-mile paved racing ovals, a 300-foot 'Stoplight-To-Stoplight Drag Strip, Autocross Course options, 4,000-seat main grandstand, a state of the art electronic computer scoring, lighting and sound systems.
Additional information about Gresham Motorsports Park can be obtained by calling 706-367-9461 or at www.racegmp.com.
You can also follow GMP on Twitter @GreshamMP or on Facebook at Gresham Motorsports Park.