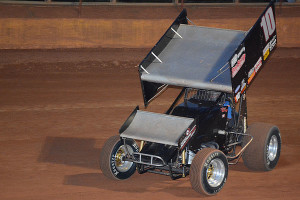 Story & photos Phillip Prichard:
The evening of July 17th was deemed the "Thursday Thriller " at Lavonia Speedway. The United Sprint Car Series visited the Lavonia Speedway to make-up a race that had rained out earlier in the year. Lavonia Speedway presented a full slate of racing with the USCS Mini-sprints, the Hobby Series, USCS 600 Sprint Cars, the Modified Street Series, the Fastrak Pro Late Model series, and the Rookie 4 class. Fans were treated to an action packed evening of racing.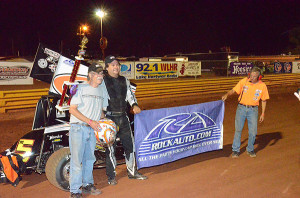 Veteran USCS mini-sprint driver Mike Magic from Winder, Georgia found some magic of his own at Lavonia Speedway. Magic, a two-time winner in USCS www.rockauto.com 600 Sprint Series competition, picked up his third career victory in spectacular fashion, blasting around the outside of K&N Filters pole-sitter Nick Snyder and never looking back from there, rolling all the way into www.rockauto.com USCS Victory Lane after taking the checkered flag in the 15-lap 600cc mini-sprint portion of the "Thursday Thriller".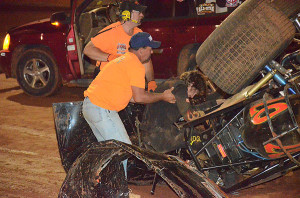 The 15 Lap, USCS 600 Sprint A-Main top five were: 1. #5M – Mike Magic, Winder, GA; 2. #29 – Kyle Amerson, Montgomery, AL; 3. #17C – Chris Openshaw, Bessemer, AL; 4. #88A – Shawn Nelson, Ooltewah, TN &             5. #14M – Matt McCullough, Atlanta, GA
In the Hobby Series, Robin Collins in the #1 dominated the race. The top five were: 1. Robin Collins #1; 2. Daniel Flower #97; 3. Mike Davison #327; 4. Brad Russell #23 & 5. Rusty King #85.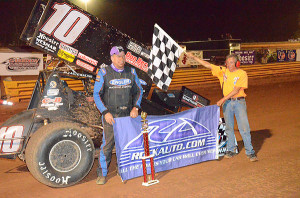 Terry Gray, ten-time United Sprint Car Series champion from Bartlett, Tennessee powered to the outside of K&N Filters pole-sitter Jay Dunham from Augusta, Georgia in the opening corner of the "Thursday Thriller" 30-lap feature event at Lavonia Speedway and held on for the entire distance. Despite two early-race red flags, Gray went on to bank his second USCS feature victory of the 2014 season. The win was Gray's 88th career series victory.
The first red flag flew when USCS www.rockauto.com 600 Sprint Series regular Kyle Amerson from Montgomery, Alabama jumped the cushion in turn three and flipped, landing on all four wheels, and the second came out when 1998 series Rookie of the Year and past regional series Champ Johnny Bridges from Cherryville, North Carolina spun coming off turn two and turned over after being slammed into by Johnny Gilbertson, who was unable to avoid Bridges' spinning machine. Both drivers were uninjured.
The USCS www.rockauto.com 600 Sprint Series 30–Lap A-main top five results were:  1. #10 – Terry Gray, Bartlett, TN; 2. #10M – Morgan Turpen, Cordova, TN; 3. #47 – Eric Riggins Jr., Charlotte, NC; 4. #4 – Danny Smith, Chillicothe, OH & 5. #24 – Danny Martin Jr., Sarasota, FL.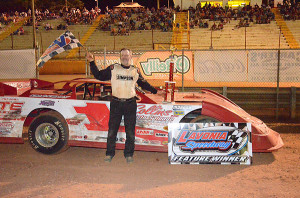 Rusty Jordan in the #5 cruised to the victory in the Modified Street Class. The top five finishers were:  1. Rusty Jordan #5; 2. Michael Segars #1; 3. Mark Wilbanks #6; 4. Rusty Chamberlin #3 & 5. Eligiah Williams #80.
Drew Benefield in the #371 was the pole sitter for the Fastrak Pro Late Model Series, but  Lavonia regular, Frankie Beard of Hartwell, GA quickly powered his #21 to take the lead. In an action packed race with 2 and 3 wide racing, Beard cruised to the victory. The top five finishers were:                1. Frankie Beard #21; David McCoy #12; 3. Royce Bray #31; 4. Drew Benefield #371& 5. Hot Rod Lamance #85.

Information on the United Sprint Car Series can be found at http://www.uscsracing.com/ and Lavonia Speedway at http://www.lavoniaspeedway.net/