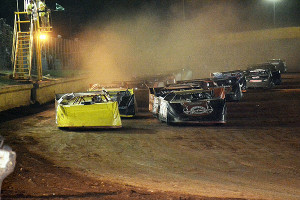 Story and photos by Phillip Prichard, MSA:
Brandon Overton of Appling, GA, captured his first-career Schaeffer's Oil Southern Nationals Series by Old Man's Garage victory at Modoc Raceway on July 24. Overton overtook race leader Brent Dixon on lap 33 and never looked back in route to the $3,500 payday. This was the third race in the Southern National schedule.
The 35 lap race was fast and action packed, taking 29 minutes to complete. Four cautions flags waved during the race. Dennis Franklin and Dixon brought the field of 22 to life with Dixon grabbing the early lead. Caution one would fly after one lap complete as second place runner Franklin and Chris Madden made contact on the back-chute sending Madden racing towards the turn three wall. Madden would go to the work area and come back and tag the tail for the restart and work his way up to finish seventh in the final rundown.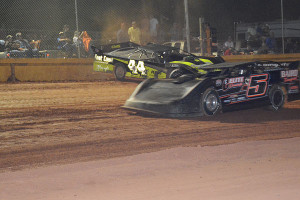 On the third lap, Vic Hill went over the turn two embankment and brought out the yellow flag. The next yellow would fly on the 28th circuit for debris on the back stretch. The final yellow would wave on lap 32 as Craig Vosbergen of Perth, Australia shredded his right-rear tire and slowed on the main straightaway.
There were only two leaders of the event, Brent Dixon led laps one-thirty two and, Overton led the final two laps for the victory.
Overton was the fastest qualifier at 15.754 seconds. Overton drove to the victory in the Troy Baird owned; Baird Transport and Elite Concrete sponsored Clements Racing Engines powered Bloomquist Race Car.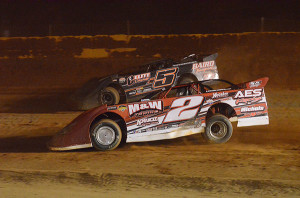 DirtonDirt.com Dash for Cash Finish (4 laps) was Dennis Franklin, Brent Dixon, Chris Madden, Brandon Overton.
Two B-mains were run of 8 laps each: In B-Main #1, the following eight transferred to the A-Main: Vic Hill, Billy Ogle Jr., Ivedent Lloyd Jr., Craig Vosbergen, G.R. Smith, Stacy Boles, Aaron Ridley, Scott Shirey. In B-Main #2, the following transferred:  Casey Roberts, Eric Jacobsen, Donald McIntosh, Kenny Collins, Anthony Burroughs, Jordy Nipper, Anthony Sanders, and Frank Coates.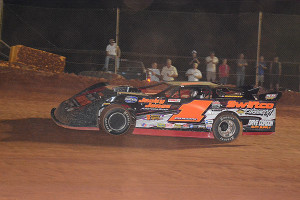 A-Main Finish:
1. Brandon Overton-Appling, GA
2. Brent Dixon-Elberton, GA
3. Dennis Franklin-Gaffney, SC
4. Casey Roberts-Toccoa, GA
5. Billy Ogle Jr.-Knoxville, TN
6. Eric Jacobsen-Rio Del Mar, CA
7. Chris Madden-Gray Court, SC
8. Ivedent Lloyd Jr.-Ocala, FL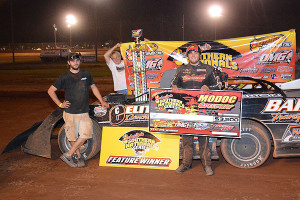 9. Donald McIntosh-Dawsonville, GA
10. Stacy Boles-Clinton, TN
11. Anthony Burroughs-Minden, LA
12. Austin Smith-Cedartown, GA
13. G.R. Smith-Concord, NC
14. Scott Shirey-Gaston, SC
15. Vic Hill-Mosheim, TN
16. Craig Vosbergen-Perth, Australia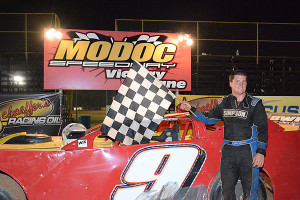 17. Anthony Sanders-Spartanburg, SC
18. Kenny Collins-Colbert, GA
19. Frank Coates-Hodges, SC
20. Tony Knowles-Newnan, GA
21. Jordy Nipper-Gray, GA
22. Aaron Ridley-Chatsworth, GA
In the 25 Lap, Crate Model Race, Ches Chester in the #9 dominated the event and took the checkered flag. Ben Faircloth (27) was second, Bob Robertson (21X) was third, Brandon Carpenter (B4) was fourth and Frankie Beard (21) was fifth.
In the Super Street Event, Kelly Guy in the #28 won. Jim Brophy (6) was second, Andy Stewart (45) was third, Jeremy Brassell (15) was fourth and Jimmy Maness (71) was fifth.
Check out Modoc Raceway at http://modocraceway.com/.