Story and photos by Phillip Prichard, MSA: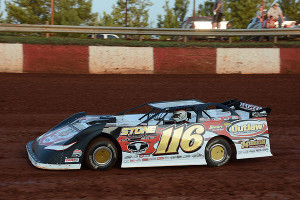 Randy "The Dream" Weaver of Crossville, Tenn. took advantage of Chris Madden's misfortune on lap 44 and went on to lead the remaining distance and take home his fifth career Schaeffer's Oil Southern Nationals by Old Man's Garage on Sunday Night July 27th at Rome Speedway. Madden led laps 1-44, Weaver led  laps 45-53, of the 53 lap event to take home the $5300 prize money. This was Weaver's second victory of the series, he won at 411 Speedway on the second race of series.
Only two yellow flags slowed the main event at Rome Speedway as Aaron Ridley spun around in turn four on the seventh lap and on lap 44 when Chris Madden came to rest of the top of turn four with a right rear flat tire.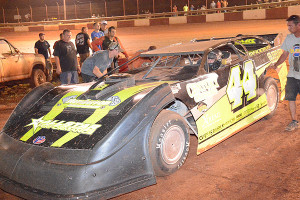 Weaver came to victory lane while driving the Outlaws Race Parts, The Bailey Company, Precision One Trailer Parts and VP Fuels sponsored Cornett Engines Longhorn Chassis.
Earlier in the evening, a DirtonDirt.com Dash for Cash (4 laps) was held for the four fastest qualifiers:  Billy Ogle Jr., Chris Madden, Randy Weaver, Dance Dacus.
B-Main No. 1 Finish (10 laps, top 8 transferred): Casey Roberts, Eric Jacobsen, Dingus Griffin, Anthony Burroughs, Donald McIntosh, Michael Page, Doug Stevens, Aaron Ridley, Austin Smith, Joey Coulter, Jim Manka, Scott Groves, Jerry Bradley.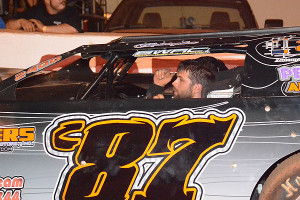 B-Main No. 2 Finish (10 laps, top 8 transferred): Vic Hill, Austin Kirkpatrick, Tony Knowles, Craig Vosbergen, Ivedent Lloyd Jr., Stacy Boles, Joe Armistead Jr., Pierce McCarter, David Payne, Frank Ingram, Buster Goss, Brian Smith, Bo Eaton.
The A-Main Finishers were:
1. Randy Weaver-Crossville, TN
2. Billy Ogle Jr.-Knoxville, TN
3. Eric Jacobsen-Rio Del Mar, CA
4. Michael Page-Rome, GA
5. Ivedent Lloyd Jr.-Ocala, FL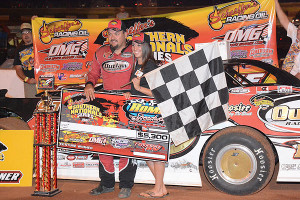 6. Chris Madden-Gray Court, SC
7. Vic Hill-Mosheim, TN
8. Dane Dacus-Lakeland, TN
9. Craig Vosbergen-Perth, Australia
10. Joey Coulter-Concord, NC
11. Anthony Burroughs-Minden, LA
12. Tony Knowles-Newnan, GA
13. Joe Armistead Jr.-Senoia, GA
14. Austin Smith-Cedartown, GA
15. Doug Stevens-Griffin, GA
16. Donald McIntosh-Dawsonville, GA
17. Stacy Boles-Clinton, TN
18. Pierce McCarter-Gatlinburg, TN
19. Aaron Ridley-Chatsworth, GA
20. Casey Roberts-Toccoa, GA
21. Austin Kirkpatrick-Ocala, FL
22. Dingus Griffin-Alexandria, AL
In addition to the Southern Nationals events, Rome Speedway a full night of racing with six additional features, heat races and hot laps.
In the Econo Bomber Series, David Burtz was the Feature Winner. In the Super Bomber Series, Andy Morris took the checkered flag and the win.
In the 20 Lap Steel Head Late Model event, Chris Fennel in the #87 was the winner with Oliver Gentry taking second place.
In the Pony Series, Shannon Etheridge was the winner.
In the Crate Late Model Series, Madden Crane in the 78 took the checkered flag for the win.
Rome Speedway will host the Boss Super Late Model Championship on August 31. Check out http://www.dixiespeedway.com/ for more details.